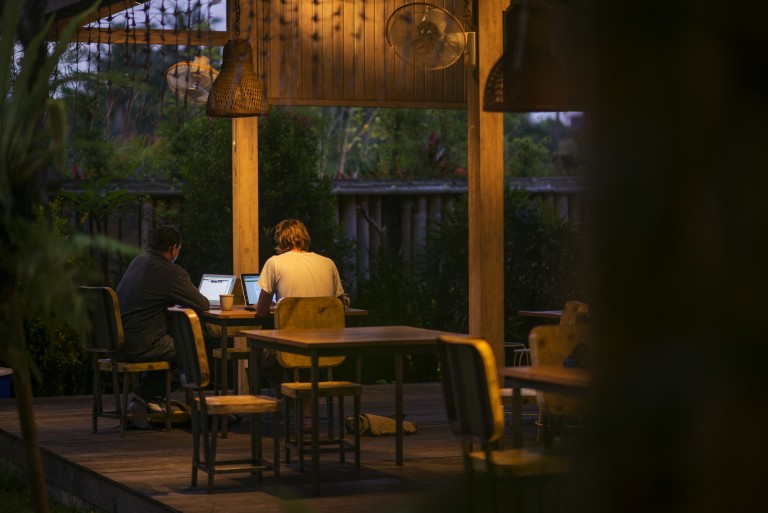 Co-Working Spaces and the Digital Nomad
Hubud [Hub-in-Ubud] is a collaborative working space home to a diverse community of local and visiting creatives, techies, entrepreneurs and businessfolks, change makers, downshifters and truth-seekers.
Imagine taking off to the other side of the world to an island paradise and starting a business – and the space you'd be working from is situated in the midst of intricate rice paddies and a jungle filled with monkeys. Well, this is a reality for a group of digital nomads who have landed in Ubud, Bali at a co-working space called Hubud. During my most recent visit to Bali, I had the chance to see such a workplace in action.
I arrived at the Hubud office, located on the aptly named Monkey Forest Road, shortly after ten on a Thursday morning. Immediately upon stepping into the bamboo structure, I could feel the creative buzz in the air. The open-concept bohemian building had a pleasant and welcoming atmosphere. Loose workstations lined the perimeter, leading to a grassy courtyard with lounge furniture and hammocks draping from the palms. To the left of the courtyard: more workstations and a well-sized boardroom. To the right: a snack bar featuring organic treats and sitting area overlooking a vast stretch of vibrant rice paddies. It was a warm, humid day, but the ceiling fans provided the perfect amount of airflow to make you feel comfortable and at peace. This was the hub where people came together and worked.
Hubud was founded in 2013 by freelance filmmaker Peter Wall, entrepreneur Steve Monroe, and designer John Anderson. This unconventional trio understood the growing global trend of "digital nomads", a section of the working population who is able to work while traveling — be it online freelancers, jobs with flexibility to work remotely for a period of time, or start-ups that can be managed via the computer — and created a collaborative and innovative space for them to work. Since it's opening, Hubud has been the heart of the action for more than 200 business people who have actively made the decision to change the way they approach work and create from a space that fosters and cultivates creativity.
While touring the property, I noticed how totally focused everyone was at their workstations – there was a feeling of determination in the air that was contagious. I got a sense that these people knew they were given a unique opportunity to be where they were (even by their own design), and they wanted to make it count.
Life as an entrepreneur has the potential to bring loneliness, as working alone can be isolating and can have a negative effect on your wellbeing. For some entrepreneurs, working from a home office can become mundane, with distractions of domestic life – dinner prep, chores, etc – slipping in. A co-working space, however, can provide a place to go daily, sit down at a desk and work among like-minded people in a structured environment. You feed off each other's energy and can even use one another as a sounding board or support throughout the day.
It's not just Bali that house these types of inspirational co-working offices – recently, more and more beautiful spaces have emerged in communities around the world, including Toronto. Make Lemonade is an example of somewhere that has created an energetic, inspirational space for women to work and succeed – with the elements of your typical office experience. They are on a mission to create a community of driven women who "create, dream, and get sh*t done."
Many of us entrepreneurs say, "wouldn't it be nice to just take off to a tropical paradise and work for myself?" Actually witnessing this lofty goal in action made the quest to getting there that much more attainable. The Hubud posse are doing something different – reinventing the way they approach work, thriving in their environment, and feeling absolute joy every. single. day. Be it Toronto, Bali or wherever your destination of choice is, you too can thrive in your co-working space of choice.