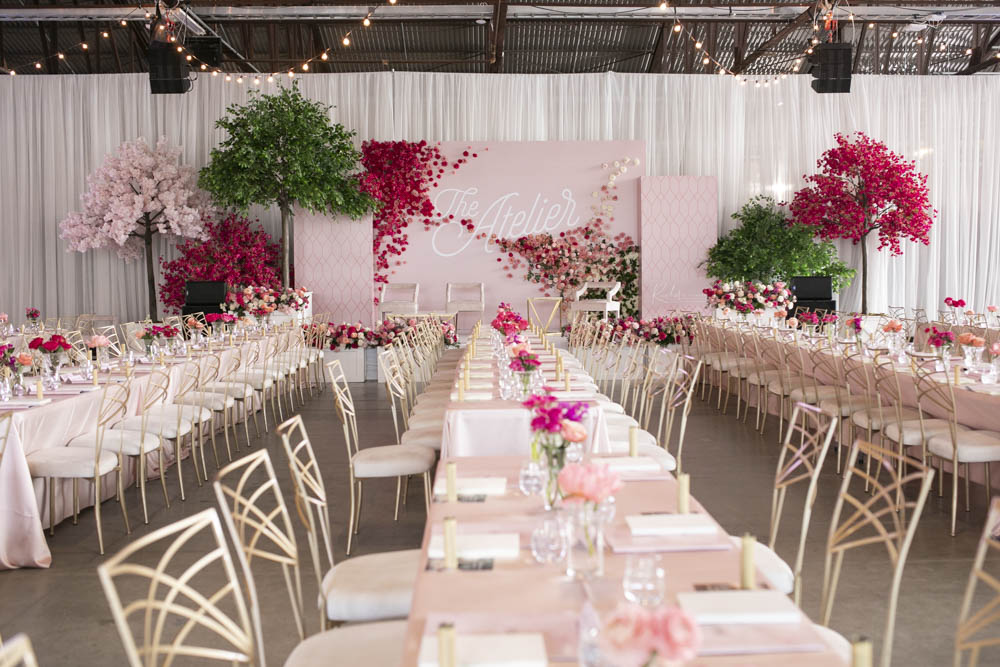 Behind the Scenes of The Atelier
Since our community of ambitious women in business is filled with creatives, interior designers, event planners, graphic designers and entrepreneurs, we thought it would be fun to showcase a 'behind the scenes' of The Atelier: Toronto 2019!
This was, by far, the largest and most grandiose event we've undertaken – we doubled in size from 300 guests in 2018 to 720 guests seated, and over 850 total people on-site in 2019! Pulling off an event of this scale and visual appeal truly takes a village – a village of the absolute best in the business who believed in what we were creating for our community and who we will be FOREVER grateful for!
Every event starts with a vision, and our vision for this event began with two key components: our venue and our event designer.
Pour yourself a glass of wine, kick back and read on to learn about how The Atelier: Toronto 2019 came together!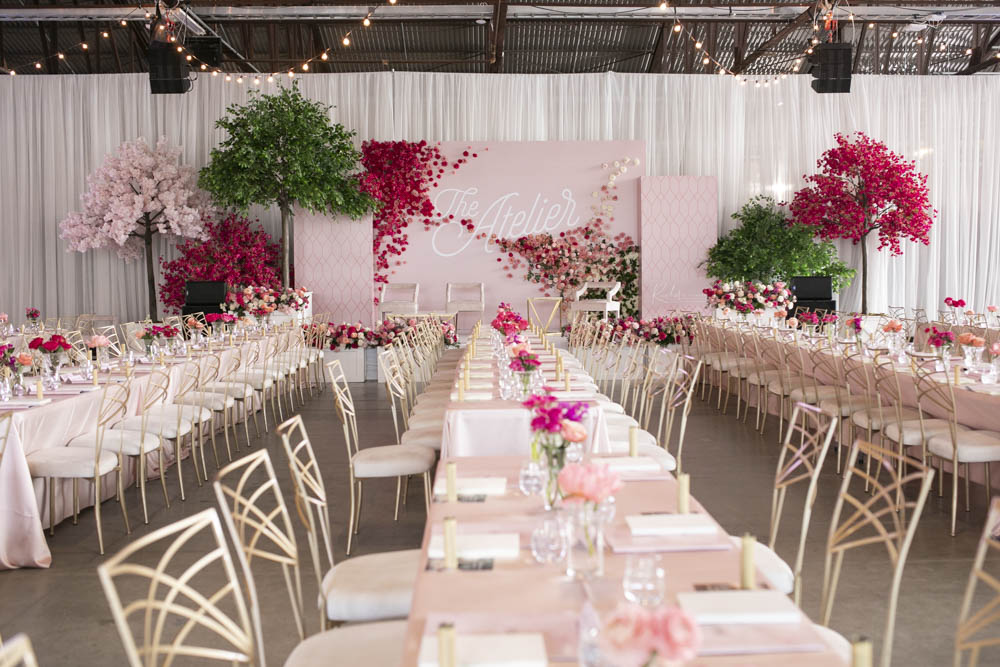 Venue
We knew we wanted to grow in size. Our inaugural event at Ravine Vineyard in Niagara-on-the-Lake completely sold out and we had a LONG waitlist. Our online community was growing quickly and we wanted to be able to host an epic gathering for as many women as we could.
An incredibly important element to our planning for each event is INSPIRATION as we take our community outside of the typical boardroom and conference room. The moment we walked into Evergreen Brickworks we knew we found our 2019 venue. The CRH Gallery at Evergreen Brickworks offered an open canvas for us to work with and the adjacent Koerner Gardens was the perfect space for mixing in an outdoor vibe (and BREEZE – we lucked out with a BEAUTIFUL spring day).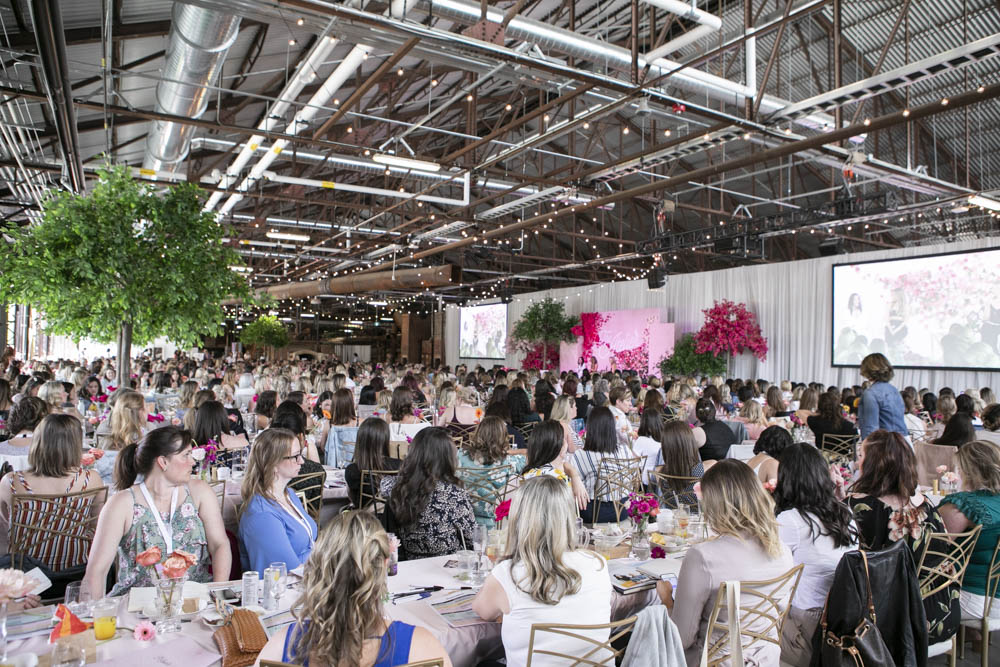 Decor Inspiration
We still have pinch me moments when we think about how we had the opportunity to work with one of the absolute BEST in the event design business: Rachel A. Clingen. This woman is nothing short of a creative genius and whenever we would meet on-site at the venue, our excitement level would increase ten-fold. It started with our first venue walkthrough together where we chatted about space capacity, the various activation areas throughout the space, event flow and decor inspiration. She immediately picked up on the feminine vibe and ran with the most beautiful colour palette of fuchsias, corals and pinks. Rachel was the force behind the epic stage design and installation, the incredible tablescapes and furniture, thousands upon thousands of stunning florals and she was also our conduit with so many incredible vendors that had a huge part in the day.
A special thank you to Brittany Gray, the Owner + Creative Director of Fancy Face (the amazing team behind our Beauty Bar), for introducing us to Rachel – THANK YOU SO MUCH!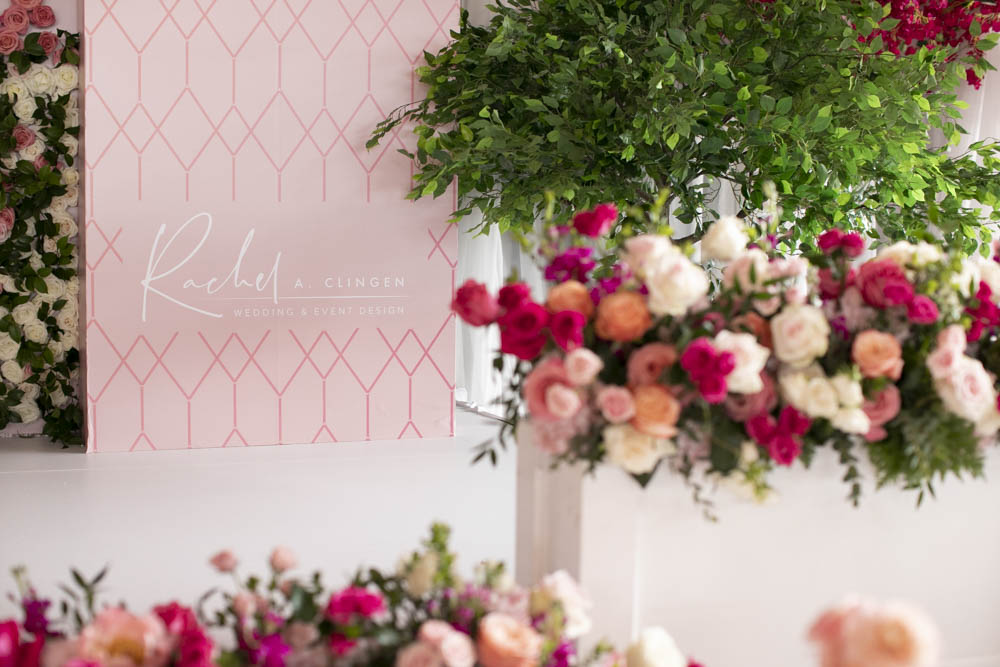 Let's Talk About That Stage
Wow. Just wow. The stage is the focal point for The Atelier – not only does it set the tone for the entire space but it provides the backdrop for our unbelievable roster of speakers.
We worked closely with Rachel A. Clingen, Emma Allen Designs, Event Graffiti, Detailz Couture Event Rentals, Eventure and EPiQVision to bring this beautiful presence to life.
Rachel communicated her overall vision and provided inspirational visuals to Emma through emails and conference calls. From Rachel's exciting depiction of the various anticipated elements, Emma was able to design the beautiful pattern and graphic that you saw on the stage, tabletops and bar fronts. Once this was finalized, the pattern was sent to Event Graffiti who produced the stunning vinyls for the stage frame.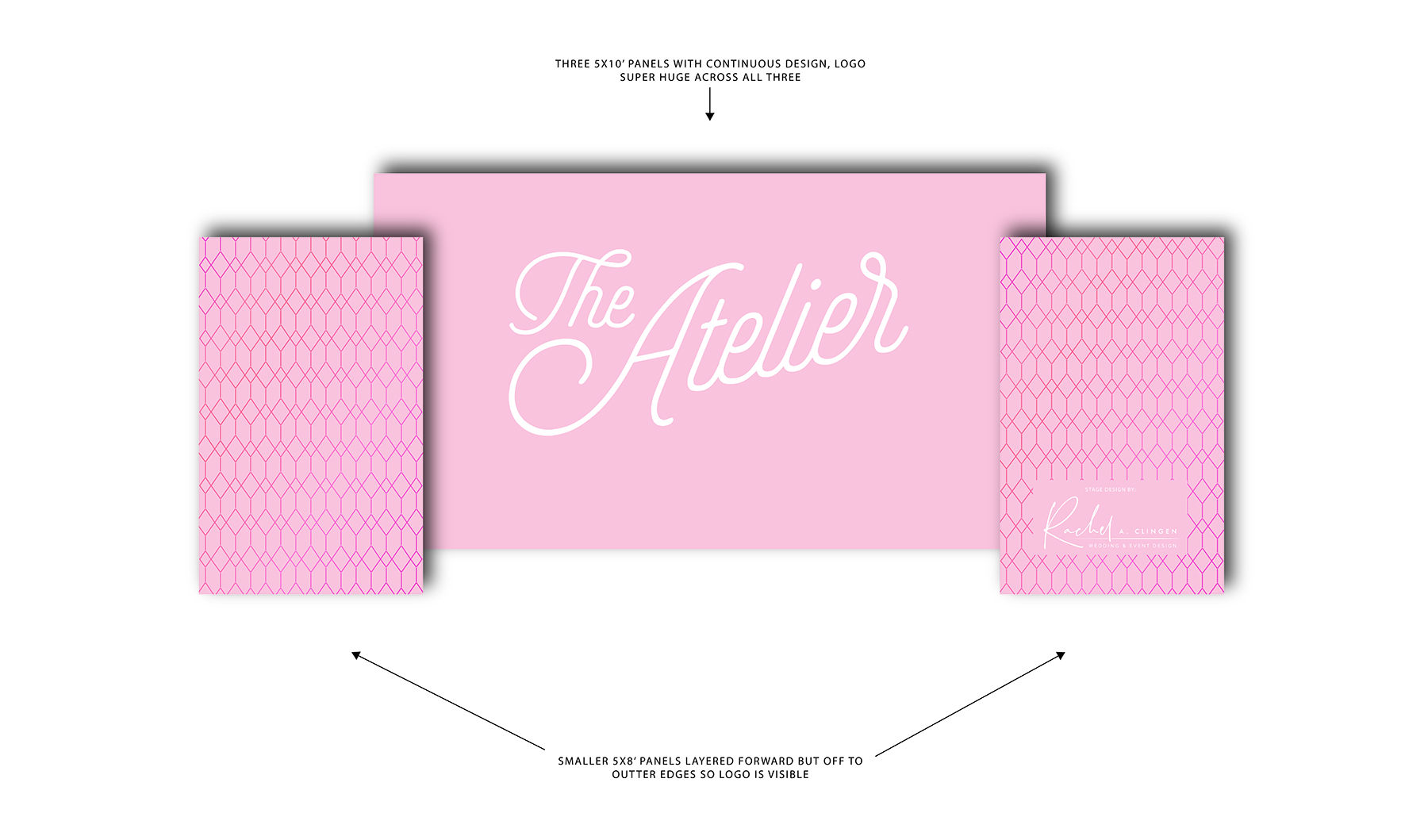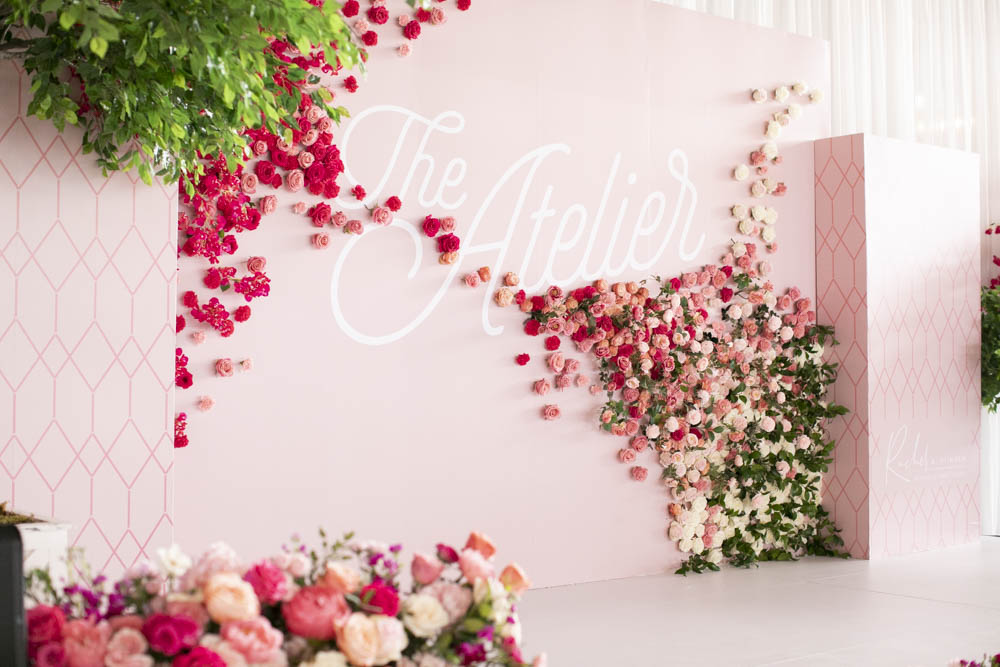 Event Graffiti also applied white vinyl to the stage provided by EPiQVision to complement the colour palette of the event and brighten up the visual appeal. The entire length of the exposed brick wall behind the stage was draped by David Clingen (yes, Rachel's husband – the sweetest POWER COUPLE!) and his team at Eventure. This truly made the stage 'pop' and provided a backdrop for the two large screens provided by EPiQVision for live video during the event.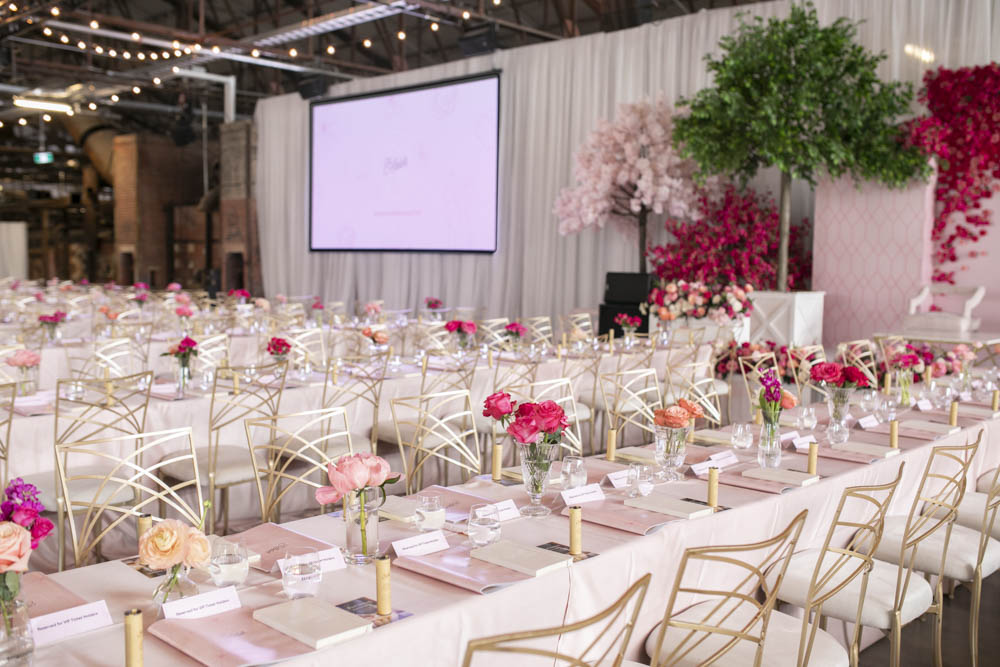 The stunning stage furniture, including the blush armchairs, coffee table, and side table are part of Detailz Couture's stunning collection and it perfectly complimented the overall design aesthetic of the event. The addition of the trees and hundreds upon hundreds of flowers were methodically set by Rachel and her team during event set-up, with the final product being nothing short of an epically beautiful, creative art installation. Watching her and her team in the zone left us in awe!
A massive, heartfelt thank you to Rachel, David, Emma, Event Graffiti, Detailz, Eventure and EPiQVision for producing the most stunning stage we are still dreaming about!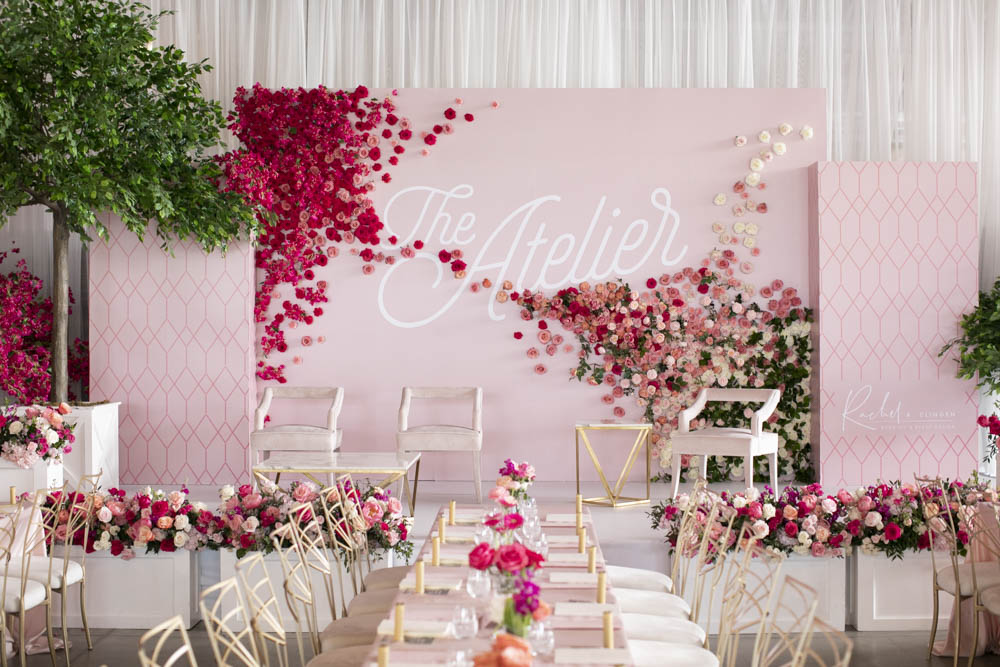 Decor Elements
When pulling together an event of this size and scale, it truly comes down to every last detail. From the massive stage installation to the font that's used on the name badge, each element is part of the overall experience. We had the absolute pleasure of working on this event (and really every aspect of our brand) with our faves at Night Shift Design Studio. Natasha and Sam were instrumental in the development of The Atelier brand from the very beginning (if you're interested in that amazing story, check out our blog here) and at the beginning of 2019, they undertook a website re-build and brand 'refresh' for us. This included creating sub-brands for our large scale and pop-up events and in particular, our logo for The Atelier: Toronto 2019.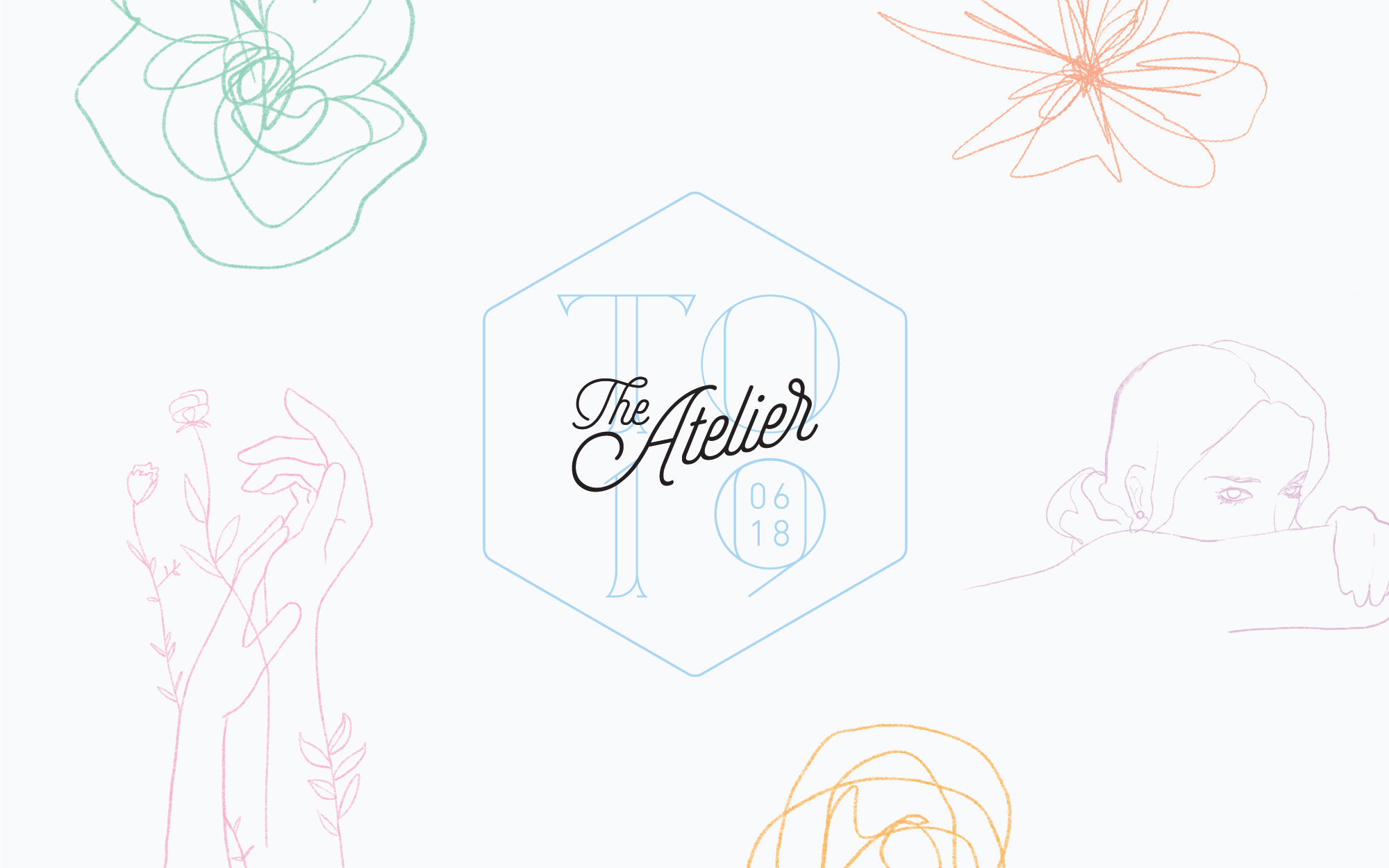 Night Shift Design Studio undertook the massive task of pulling together and designing our incredibly beautiful program, name badges, signage, and floor decals. For us, the design aesthetic is just as important as the quality of print, and we were SO fortunate to work with the amazing team at The Printing House (TPH) for the second year in a row! TPH is a cherished partner for us to work with because they innately understand our vision and desire for each and every element to exude our brand. They work with luxury brands on a daily basis, so when it came down to the details of the look/feel of our notebooks, the paper quality of our program, the lanyards used for our name badges and the large format menu signage (with stunning calligraphy by Emma Allen Designs) that was swapped out for each meal, each element was pulled together with ease.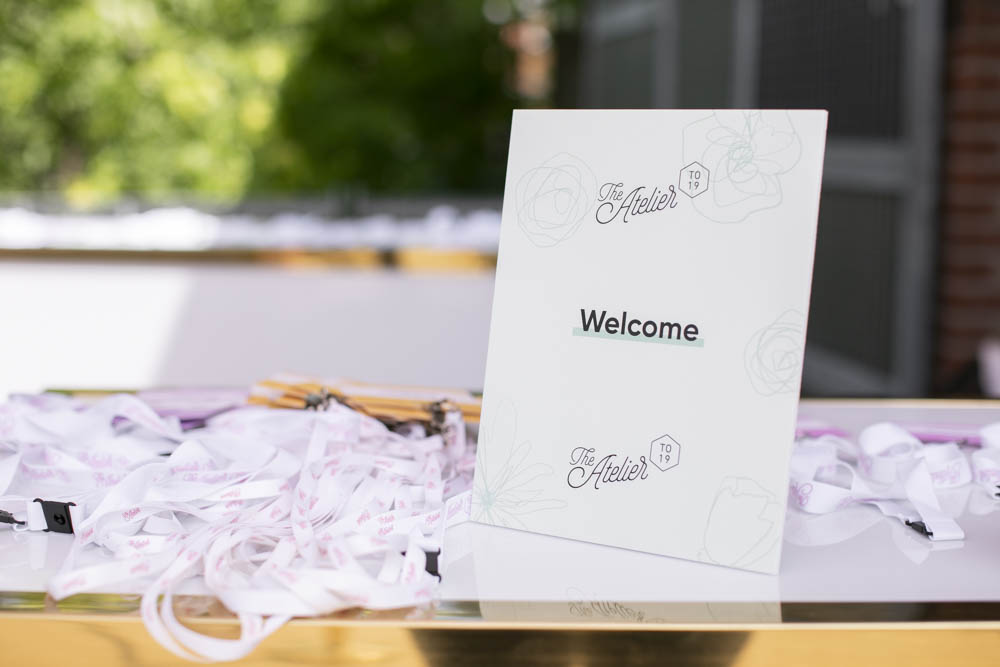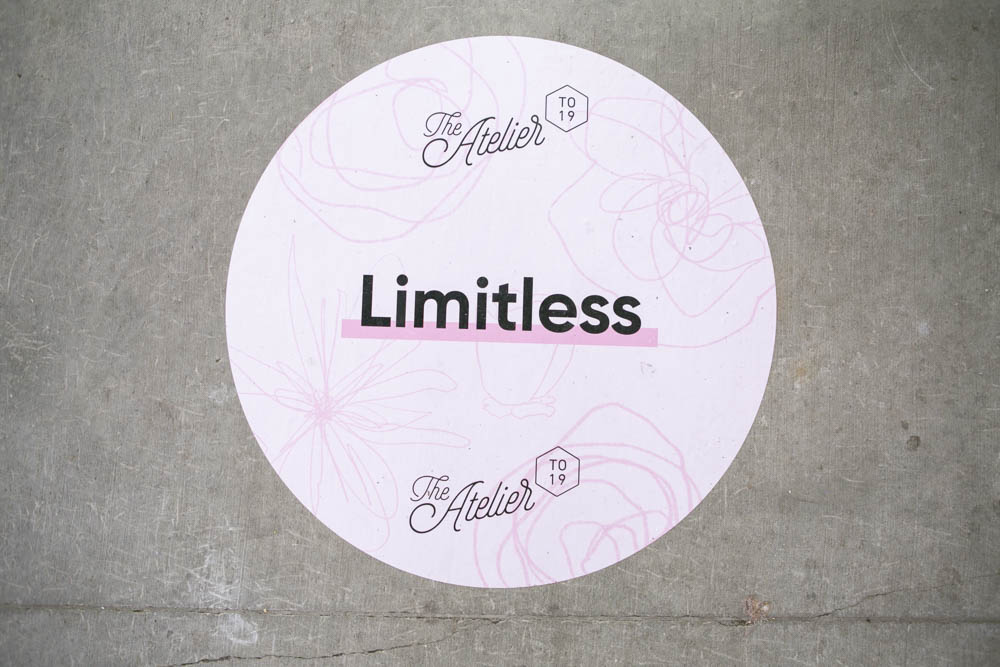 In addition to all of the paper elements, they created a large, stunning 'Insta'-moment installation complete with a vineyard backdrop and 'flamingle-ing' with life-sized flamingos for our guests! And for those attendees looking for business cards, they offered a promotional discount where cards were printed and picked up on-site the day of the conference. SO many of our guests took advantage of this offer and had the ability to put their best networking foot forward at The Atelier!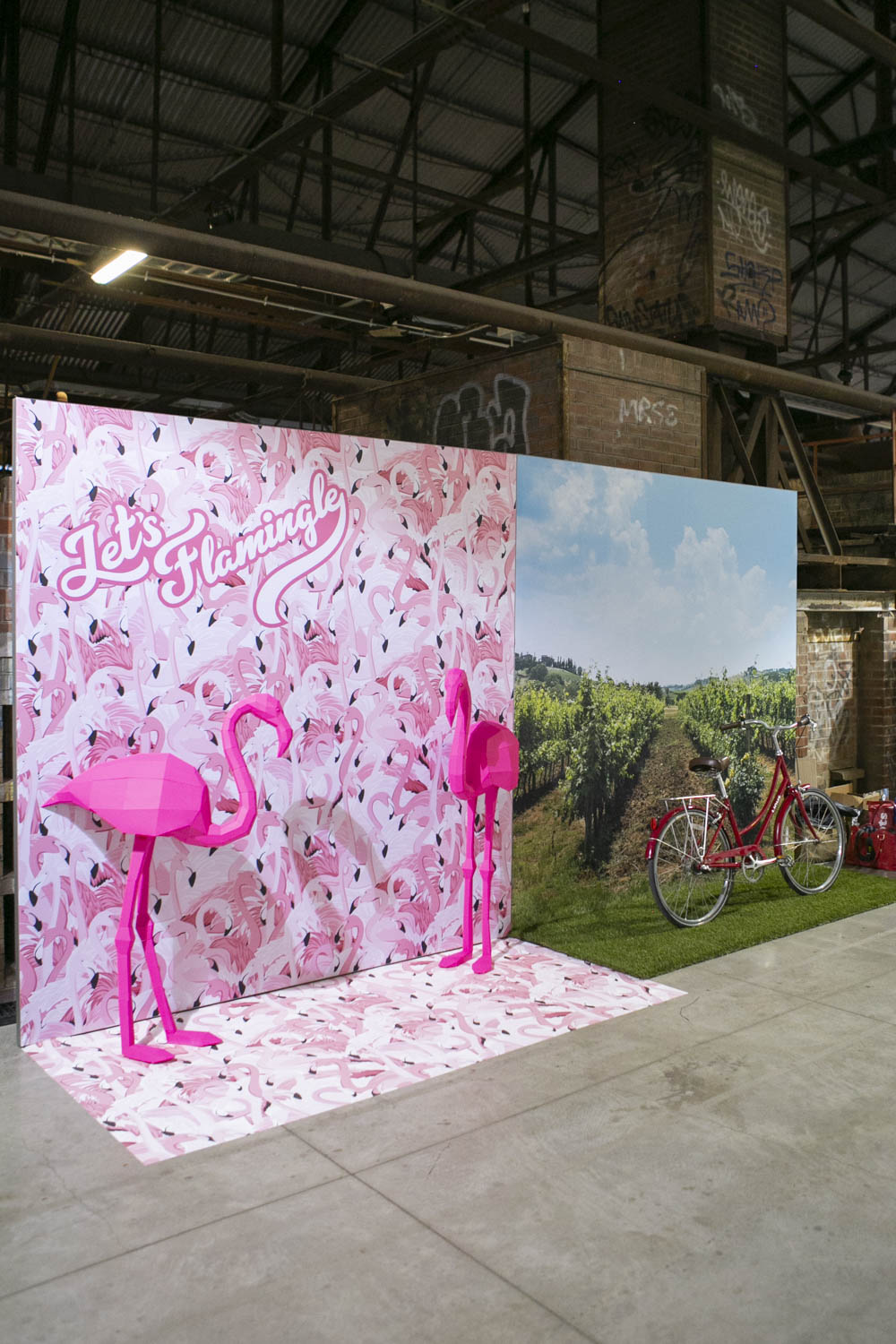 We truly work with the best of the best and feel so fortunate to have worked with both Night Shift and TPH from the very beginning. THANK YOU for supporting the vision of The Atelier and SO MANY ambitious women in business!
Insta Moment
Speaking of Insta-moment's… take a look at this beauty!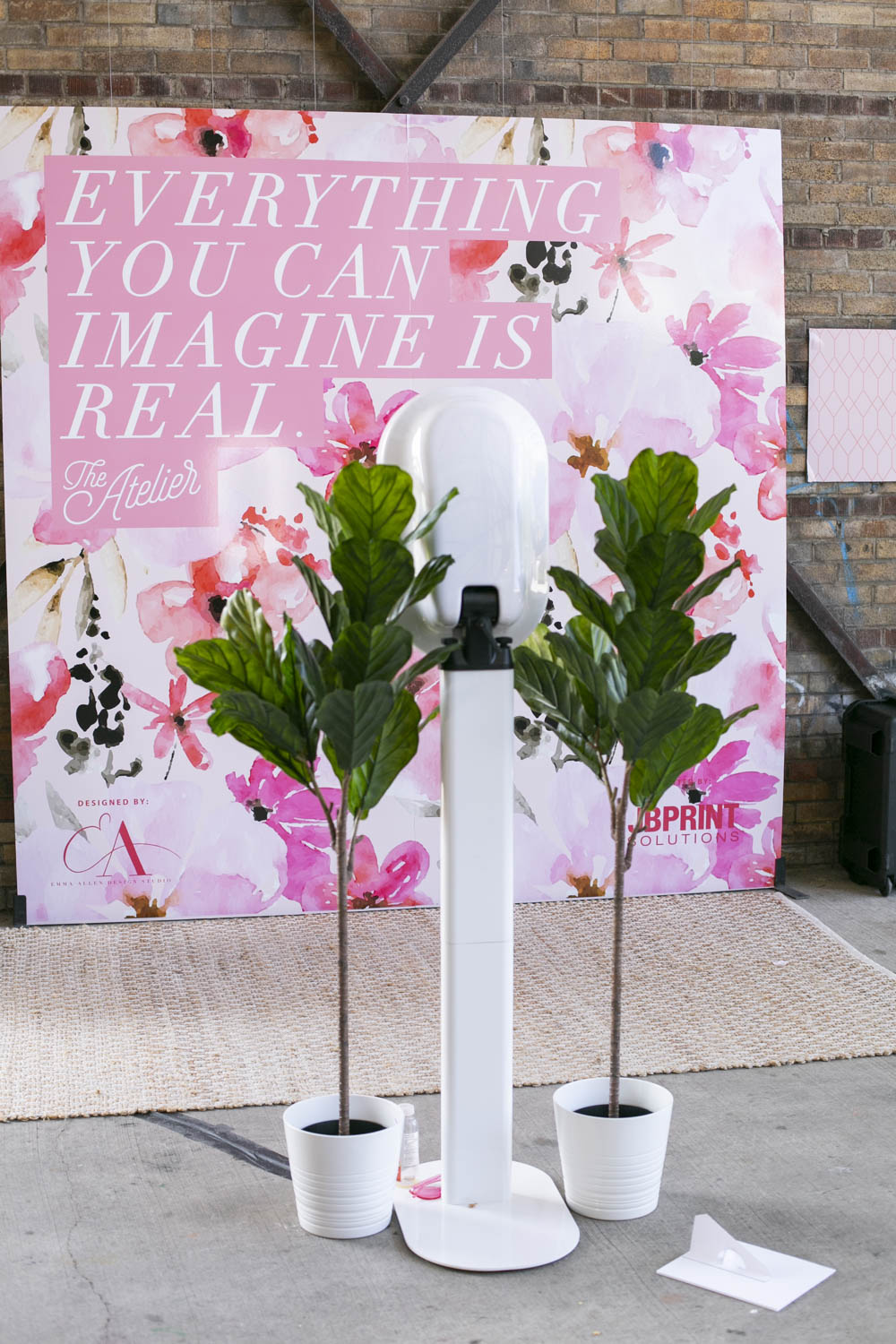 To read a bit more information about the backstory between how we were connected with Emma Allen Designs, check out her blog here. Her pitch to us was professional, heartfelt and authentic, and she was an absolute PLEASURE to work with! Her creativity, attention to detail and excitement for furthering women in business seamlessly aligned with The Atelier. Emma designed a stunning Insta-moment for attendees and it was one of the first things you saw as you walked through the door. Playing off of the design aesthetic of the whole event, it provided that immediate infusion of inspiration and was highly photographed by all! Once the design was finalized, Emma worked closely with JB Print Solutions on the execution of the installation. Betty Loo Photobooth rounded out the entire experience by offering photos and GIFs that were sent directly to attendee's phones.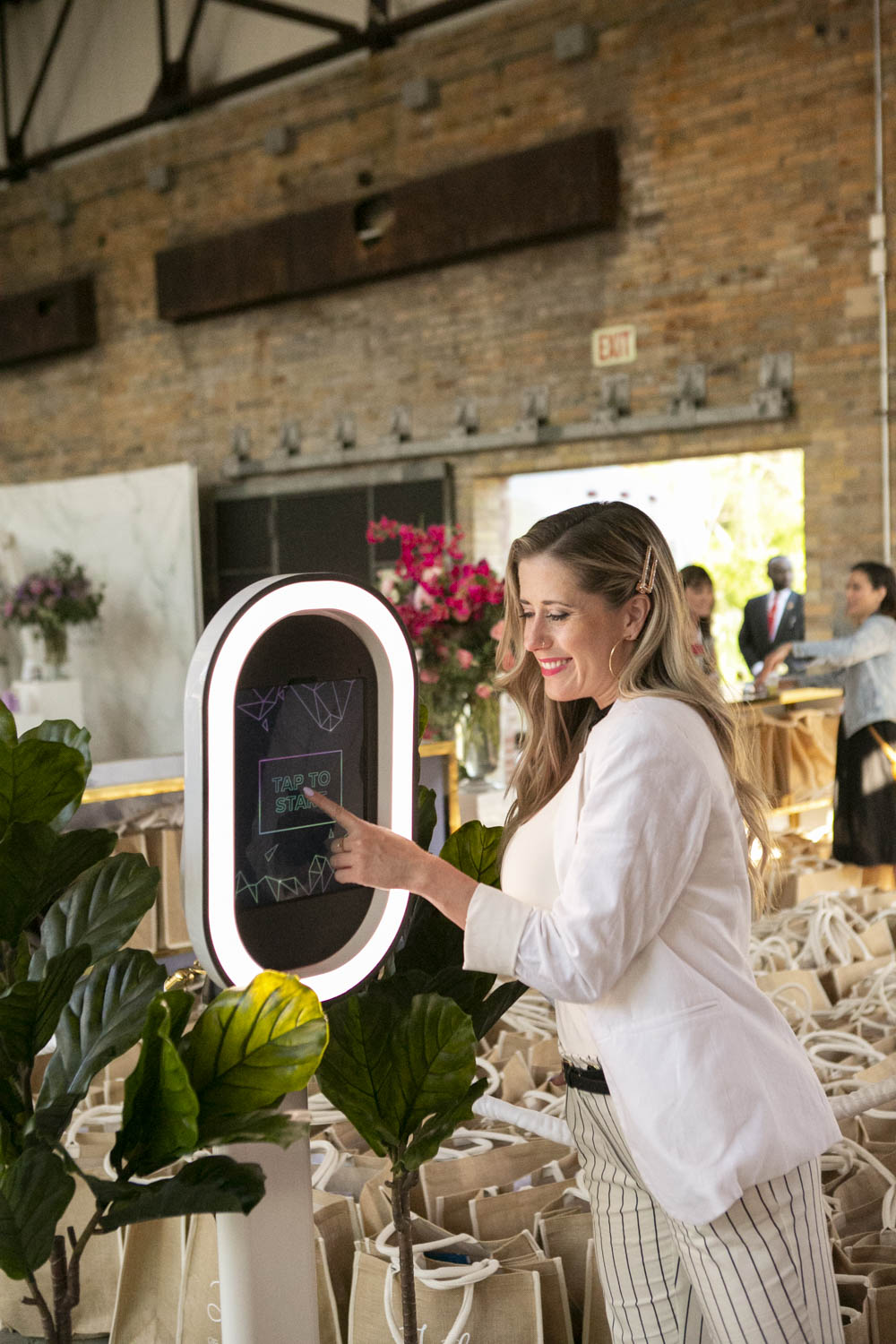 Primary Event Space
Because each design element is strategically interwoven, we were so fortunate to work with Michael, Jessica and the amazing team at Detailz Couture, and find those key pieces to complete the event space. Rachel knows their inventory well and after spending some time on their website, we booked a time to visit their showroom. We were blown away by the size and upscale design of their inventory, especially considering the number of women we were looking to accommodate for our event! Detailz provided the tables, stunning gold chairs, bars, bar-backs, Beauty Bar furniture and the gorgeous couches/chairs/tables for our VIP lounge.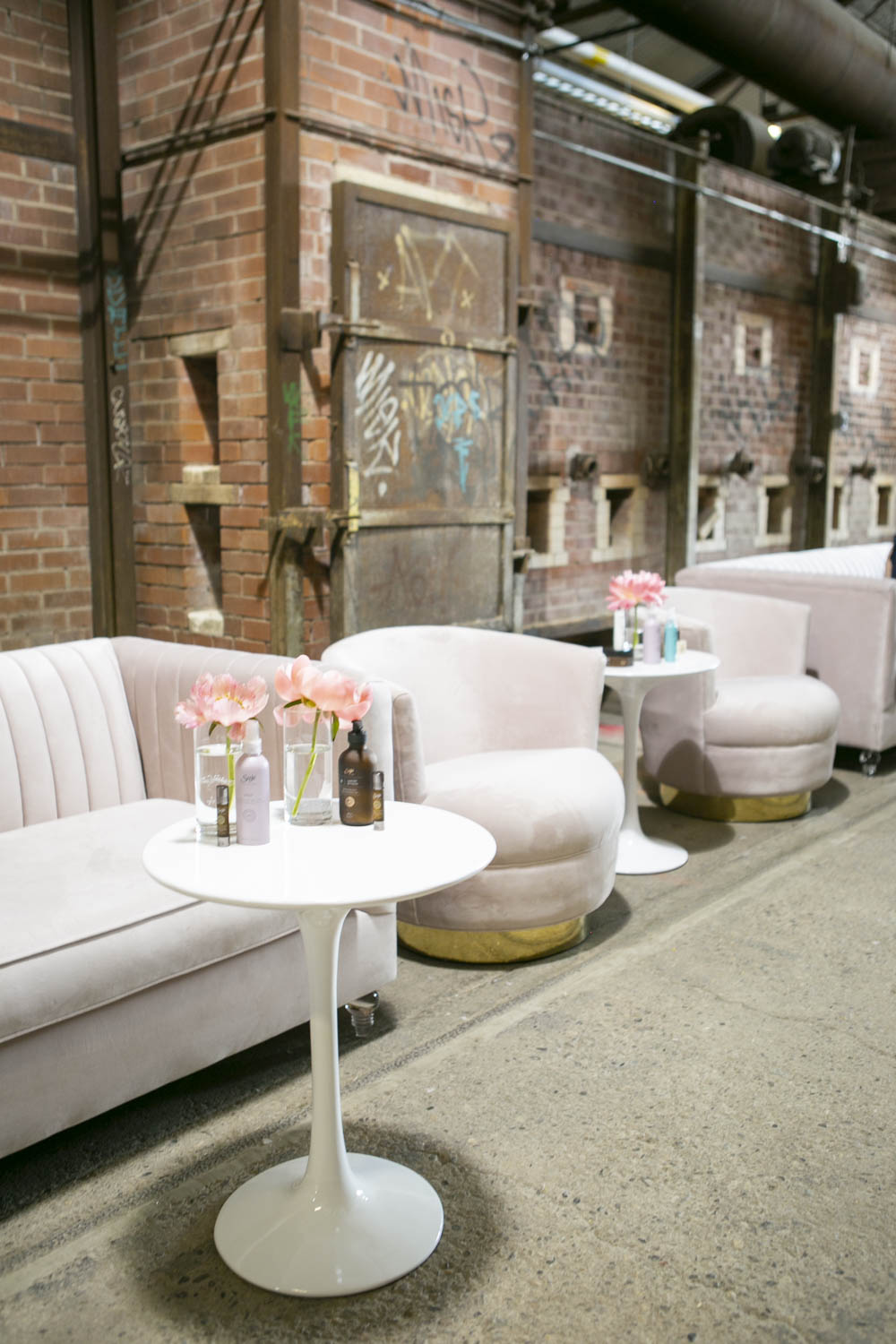 Event Graffiti truly amped up the food & beverage, VIP lounge and beauty bar spaces with their vinyls (designed by Emma Allen Designs with direction from Rachel A. Clingen). Every bar front and table-top was wrapped in vinyls printed in the same pattern that was used on the stage. This enabled us to tie together the primary CRH Gallery with Koerner Gardens, the floral colour palette and infuse Rachel's decor vision throughout the entire space.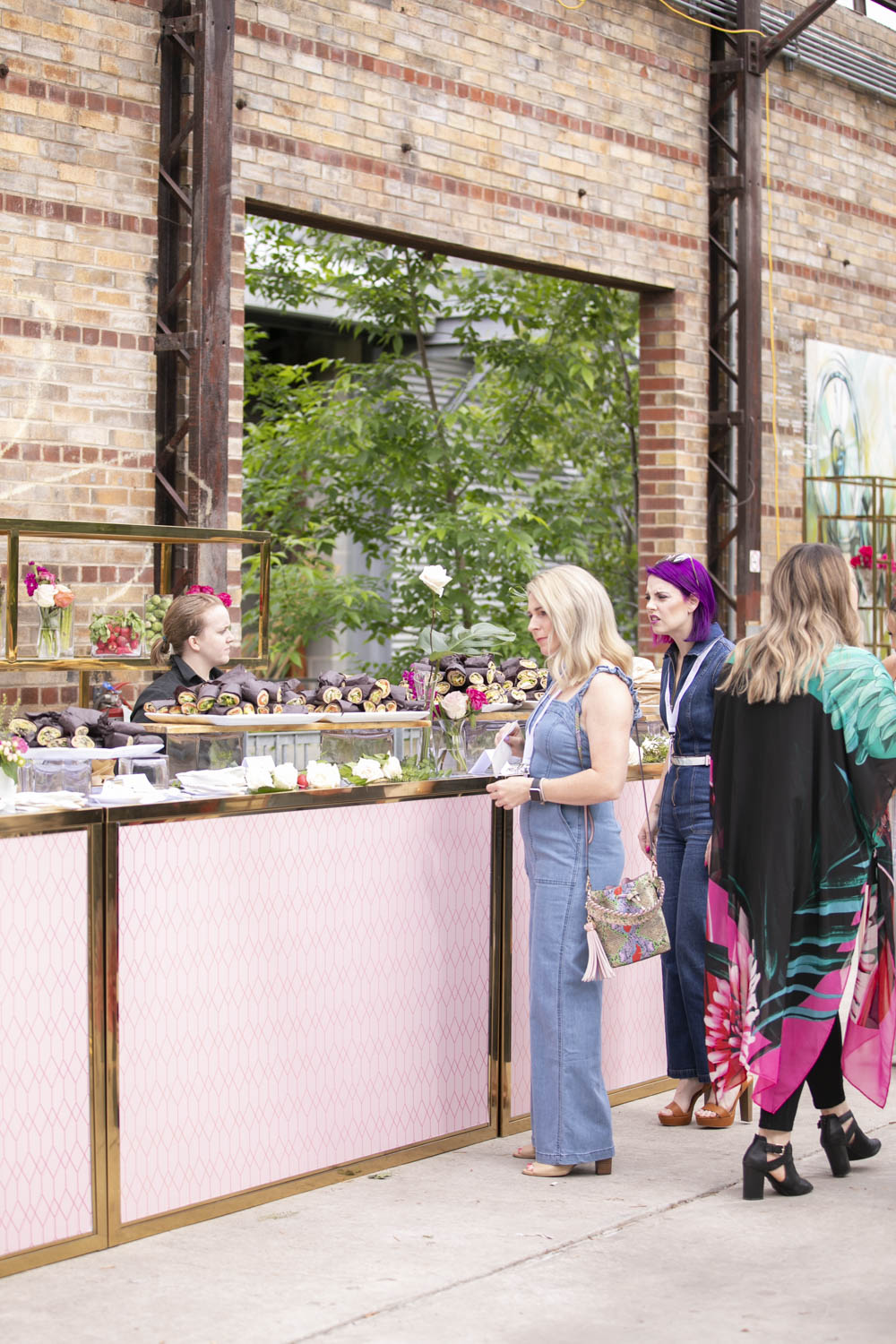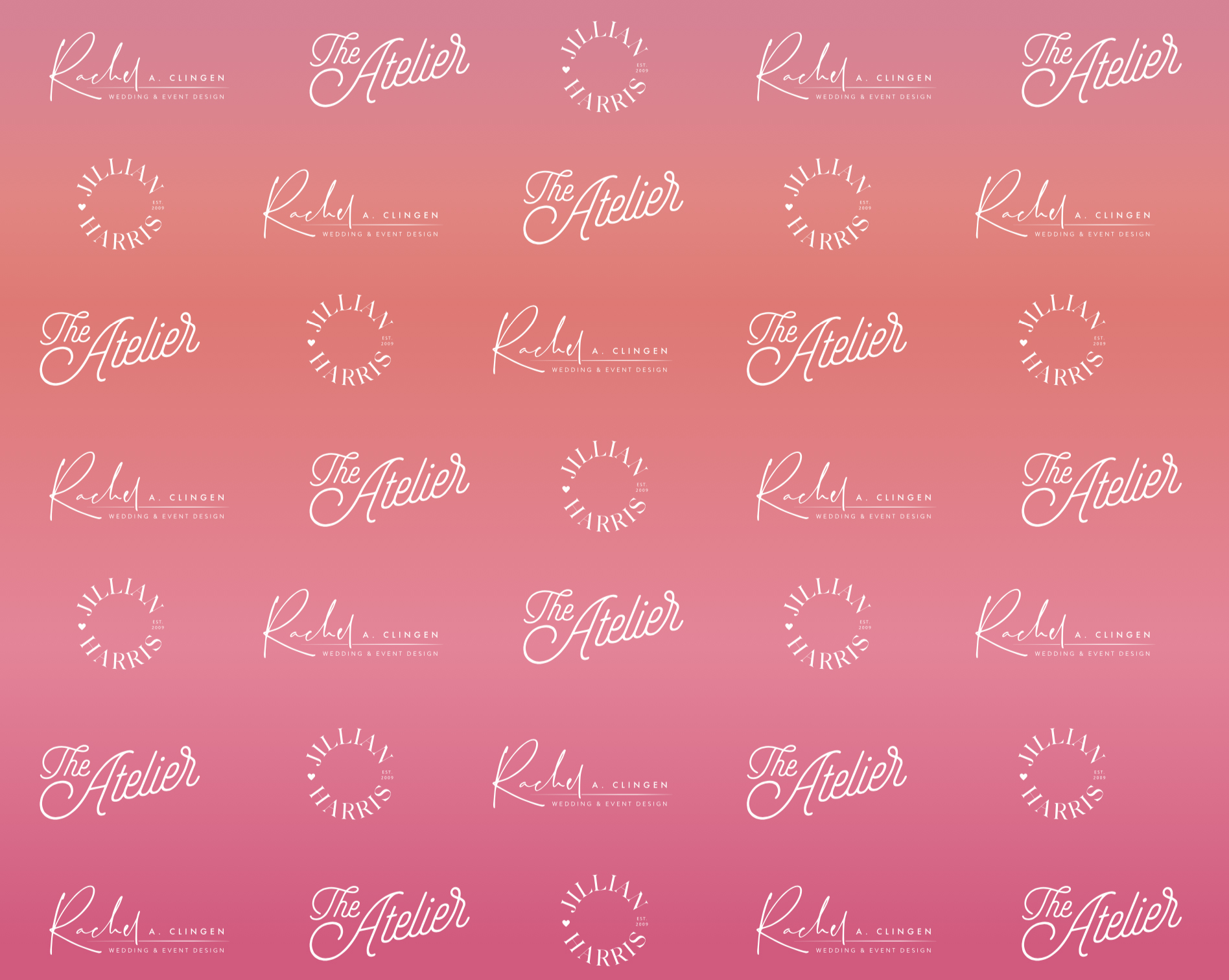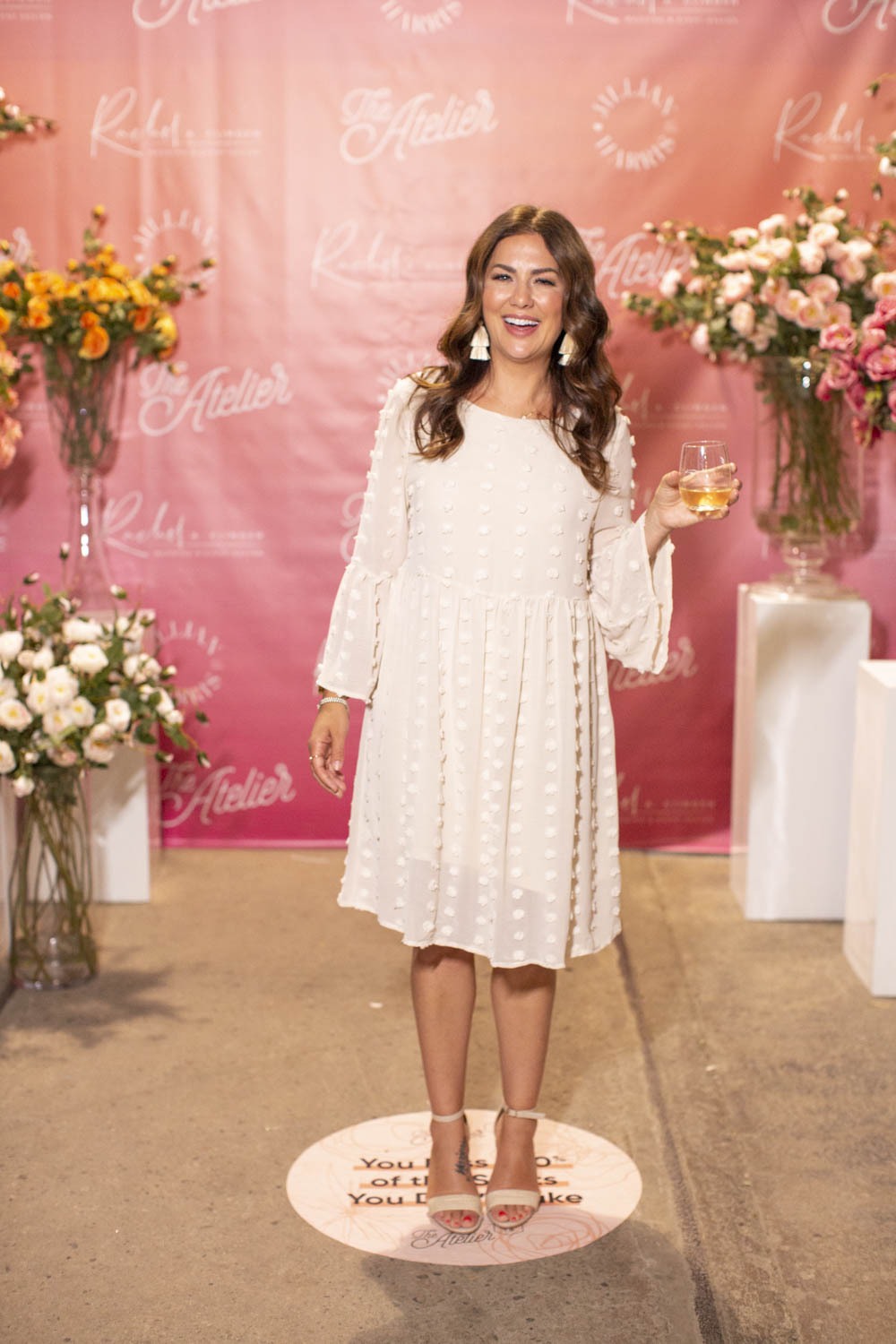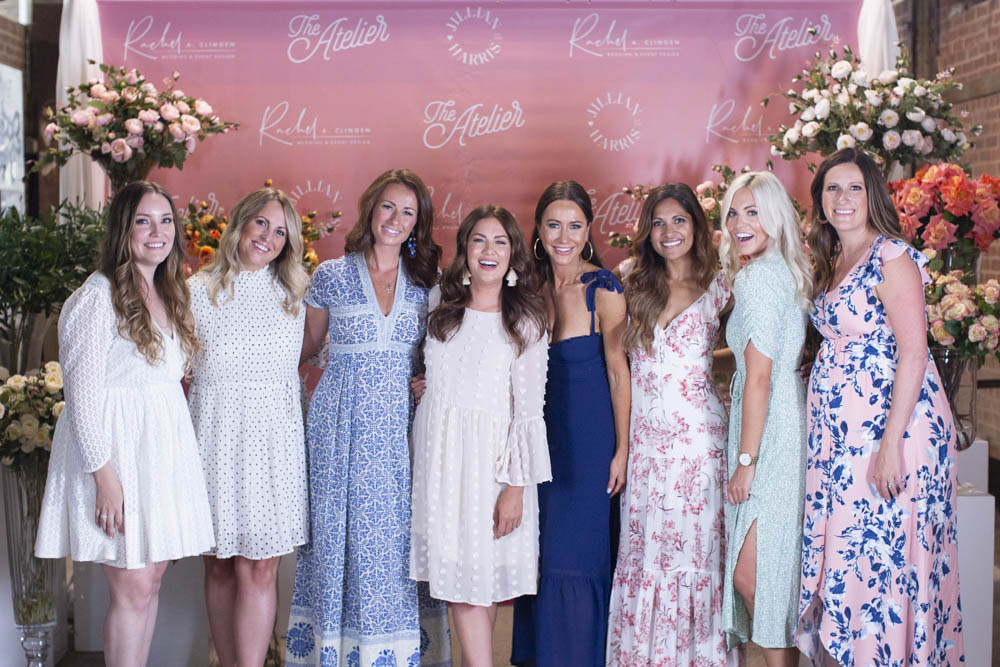 The Beauty Bar provided a wow-factor like no other—the moment you walked into the event space following check-in, guests scanned the elaborate design to see beautiful trees and drapery surrounding the hair and makeup stations. Brittany Gray and her team at Fancy Face are the best in the business and delivered hair and make-up touch-ups for our attendees, supported by our make-up partner Carter Beauty and hair partner Alterna Haircare. Rachel A. Clingen and her team designed and executed this stunning space, David Clingen and his team at Eventure installed the draping, Detailz Couture provided the furniture (long tables, high tops, bar stools and chairs) and Vintage Bash provided the absolutely stunning large-format mirrors.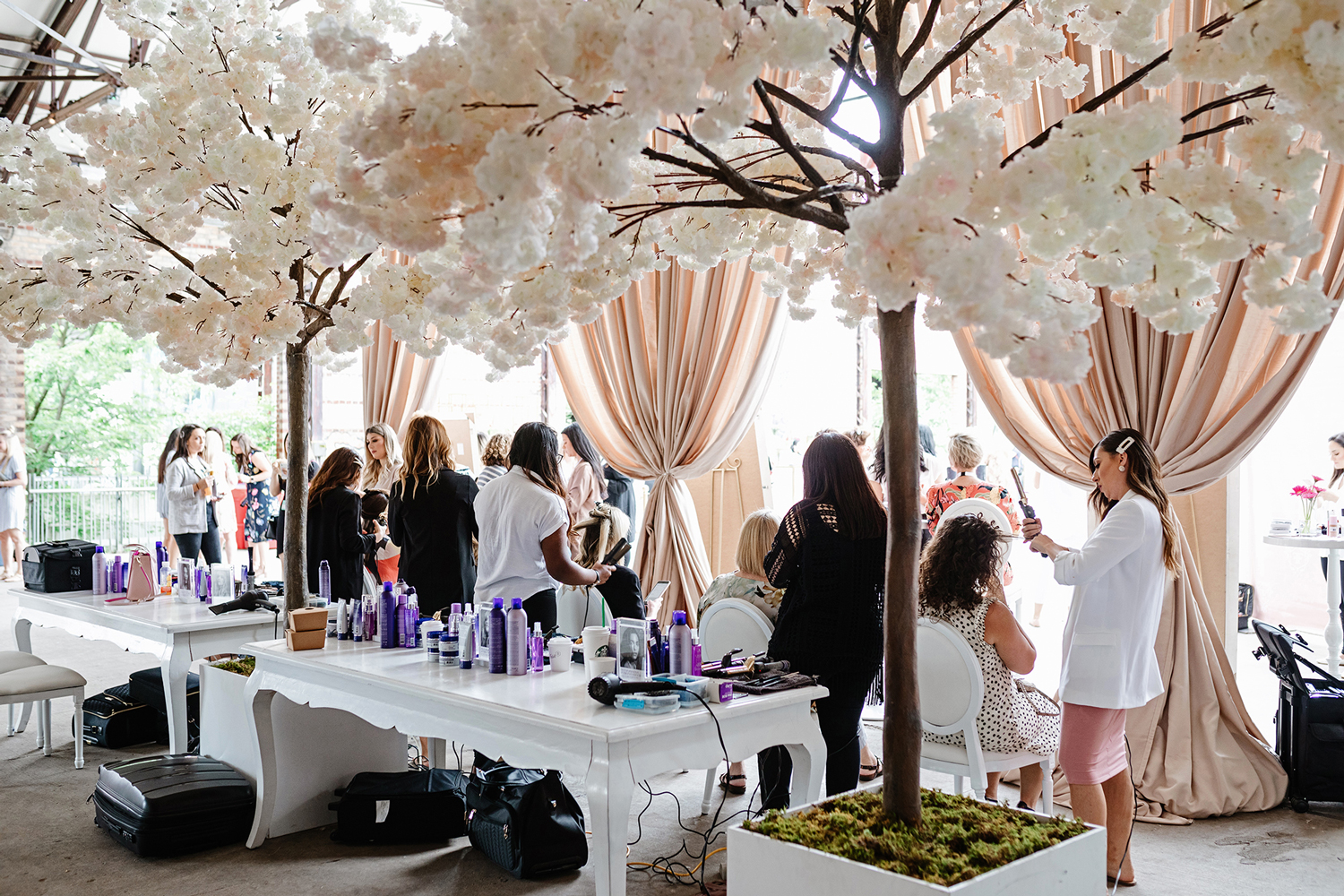 Green Room and Headshot Studio
Supporting our event for the second year in a row, our friend Jennifer from Tufts & Toile provided unique vintage décor to complement the various areas that needed that extra touch. Our Headshot Studio, led by the talented team at Philosophy Studios, needed extra space to ensure our attendees could strike a pose for their moment in lights, and Tufts & Toile was able to provide desks, tables, and mirrors for this space. We also wanted to ensure that our speakers had a comfortable space to relax and unwind before they went on stage, and Jennifer pulled out all the stops with classic vignettes with a pink palette to accommodate our inspiring ladies. Jen – thank you for once again bringing your A-game to make our guests and speakers feel so welcome!
Washrooms
There truly was no space forgotten as we had the pleasure of working with Megan from The Gut Gazette to help "jazz up" the washroom experience! From loose ruscus greens to soft pink florals to wall decals and more, Megan wanted to ensure that even the washrooms fell within the decor vision for The Atelier!
Credit Where Credit is Due
As mentioned, it truly does take a village to pull together something so elaborate. When you find people to work with that not only believe in your vision and purpose, but also jump behind that vision and purpose 100%…MAGIC happens. June 18, 2019, would not have been the day it was without the love and support from Rachel A. Clingen + her team, Emma Allen Designs, Detailz Couture, The Printing House, Night Shift Design Studio, Event Graffiti, Eventure, EPiQVision, Fancy Face, Carter Beauty, Alterna, VintageBASH, Tufts & Toile, The Gut Gazette and Betty Loo Photobooth.
When you share images from The Atelier: Toronto 2019 – please tag the incredible partners that helped bring it to life! This is their art, their work, their passion and their product. Share the love!
xo
The Atelier Collective