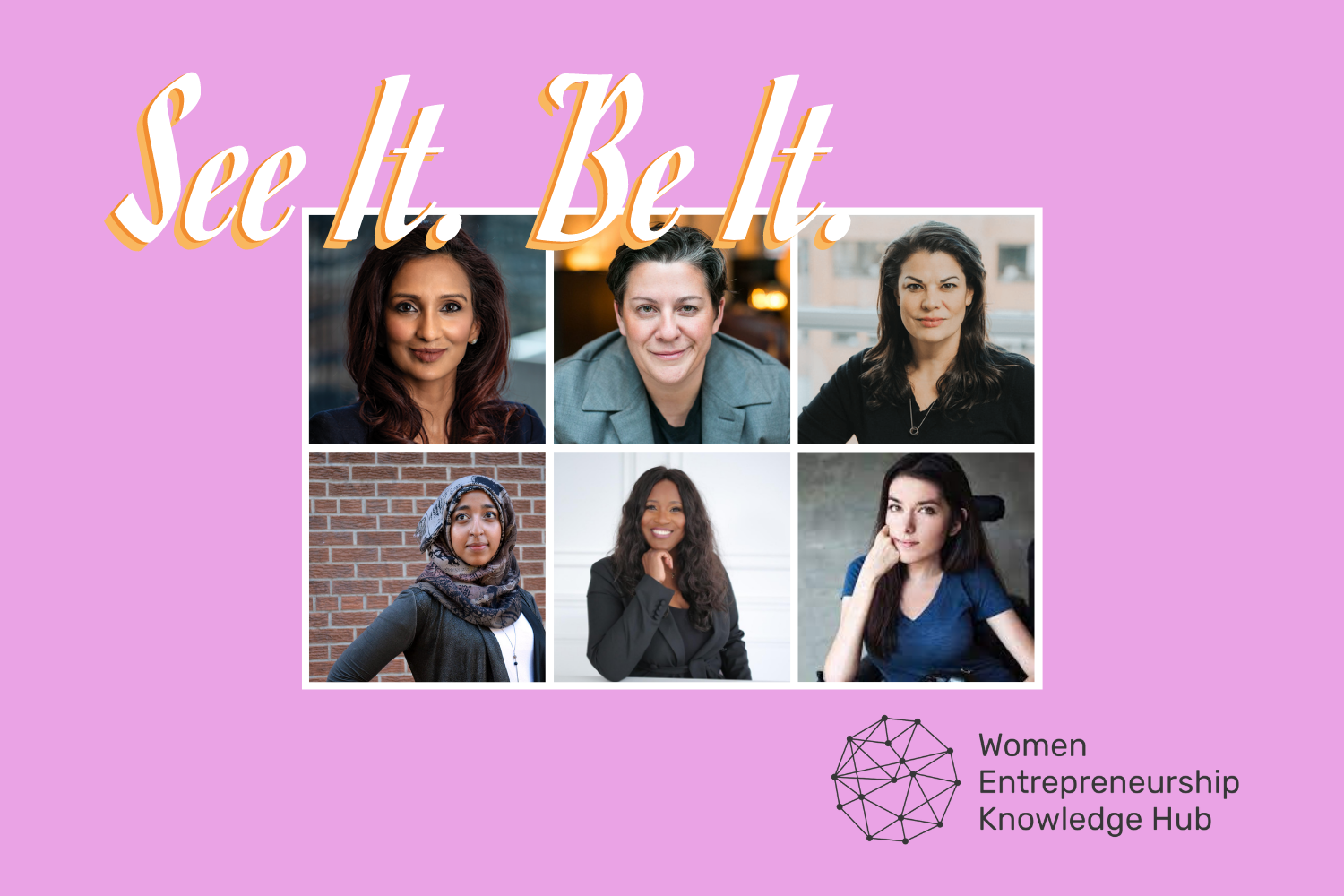 If You Can See It, You Can Be It.
When you think of an incredibly successful entrepreneur, who do you think of?
Our hope is you think of a woman, but unfortunately many Canadians are quick to think of Bill Gates or Mark Zuckerberg – aka [white] men in the tech industry.
Don't get us wrong, Gates and Zuckerberg are incredible entrepreneurs to aspire to, but unfortunately the stereotypical entrepreneur—[white] men in technology—are one of the most challenging barriers women in entrepreneurship face.
We were recently introduced to WEKH (Women Entrepreneurship Knowledge Hub) and let's just say we were completely BLOWN away with what they're doing. WEKH is on a mission to shatter stereotypes for women entrepreneurs with the aim of increasing women entrepreneurs' access to financing, talent, networks and expertise. WEKH understands how the stereotypical entrepreneur shapes the way funding programs, training and incubators are designed, and the way financing and investment decisions are made. WEKH also understands how these stereotypes shape the confidence and aspiration of women, because in their words "If you can't see it, you can't be it."
We all need people in our lives who we aspire to be. But if those people aren't the people that fit our identity (aka celebrated, inspiring women entrepreneurs), moving forward might feel daunting or challenging.
WEKH is challenging stereotypes of entrepreneurship in the media, in policies and programs throughout the innovation ecosystem. They are applying a gender and diversity lens to uncover how biases create barriers and they're celebrating successful women entrepreneurs who serve as role models and inspiration to other women. One of the many ways WEKH is doing this is through their See it. Be It. Database
Because if you can't see it, you can't be it.
Daring to leap into greatness sometimes takes the gentle nudge of learning by example—and THAT is the power behind the See It. Be It. Database. The See It. Be It. Database features over 1000+ Canadian women who are crushing entrepreneur stereotypes, including:⁠
Maayan Ziv – Founder and CEO of AccessNow, who is paving the way to a more accessible world. In 2015, she founded AccessNow, a crowdsourced platform designed to map out the most accessible spots worldwide.⁠⁠
Huda Idrees – Founder and CEO of Dot Health, a real-time personal health data platform. With a background in engineering from UofT, Huda has had a prolific career at some of Toronto's best-known startups including Wattpad, Wave and Wealthsimple. Her latest venture is transforming the way people access and control their own health information for good.⁠
⁠Nadine Spencer – CEO, BrandEQ Agency & President of the Black Business Professional Association is a top-level branding expert and communicator who helps accelerate strategic growth and brand visibility for leading global non-profit and corporate organizations.⁠⁠
Patrice Mousseau – CEO and Founder of Satya Organic Skin Care. She is a social entrepreneur impacting global change and has developed organic care products used to treat a number of varying skin conditions, including eczema.⁠
To see the full See. It. Be It. report, click here. And if you know an award-winning, successful women entrepreneur who should be included in the database – make sure to nominate them at wekh.ca/seeitbeit/.