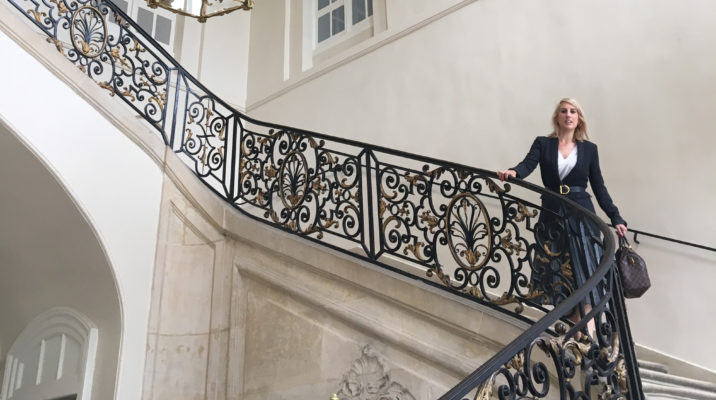 Kate Dobrucki Vice President at Isobar Canada
Meet Kate Dobrucki: Vice President at Isobar Canada—a digital innovation agency. Kate is the ultimate #bossbabe whose years of experience has shaped her into the role model she is today. Kate has never let the doubters sway her from her passions, and instead, is fuelled by the naysayers. This powerhouse believes in paying it forward, offering her expertise in mentorship programs and helping other young women on their professional journey. Kate, we salute your badass-ness and ability to never compromise your goals! Read on to learn more about this inspiring woman!
---
Can you tell us a little bit about your journey leading up to today?
I could list the clients, events and countries I've travelled to, including the countless magazine launches, annual trade shows like the Gourmet Food & Wine Expo, luxury Amex dinners in penthouses, Nike Run courses through graffiti alleys, Canada Goose parties in ice castles, NHL hockey school tours across Canada, TIFF/Stoli parties and the PanAm Games CIBC activation. But I think the largest contributor to my journey leading up to today is grounded in the intelligent, spirited and creative people I have surrounded myself with. A lot of whom have become family now. And throughout this journey, I always chose agencies that were either founded or led by women. They inspired me daily, pushed me to that next chapter of my career and became the role models I still count on and lean in to today.

What has inspired you over the years?
Instead of being told I'm bossy, I wish I was told I had fabulous leadership skills. Because what bossy really means is, I'm passionate, engaged, ambitious and don't mind taking the lead. But any time a coach, colleague, boyfriend, professor or client doubted me, that's when I worked the hardest. And still, today, what inspires me to push through to that next level of my career is what appears to be a lack of women in CEO positions. I look forward to the day when women CEOs (myself included) are the norm, not the exception. That to me will be real progress and truly inspiring.
Have you had any mentors?
I've been fortunate to have numerous mentors in my life and, I think they're really important to my personal and professional growth. Even now, as a mentor myself, I feel a real responsibility to share what I've learned, experienced, persevered through. I've even developed a list of the top 10 things I've learned, some are cheeky, but a lot are poignant life lessons – sometimes I think I should write a book 😉
What are your top 3 favourite career/business moments?

Holding my first business card. I gave them to all my friends that weekend at the bar.
Guest lecturing at Niagara College to the Event Management class. We always had the most un-inspiring speakers and I wanted the classroom to leave feeling motivated, inspired and excited for what their futures could yield.
Calling my parents at the cottage to tell them I was promoted to Vice President. I'll never forget hearing my mother yell down to my father on the dock and the two of them clamouring to congratulate me. They're my biggest fans, strongest allies and hearing how proud they were that day meant the absolute world to me.
What was the biggest challenge you've faced so far?
Stepping out of my comfort zone and into a VP role. I was terrified. I thought I was wasn't prepared, that I'd fail, that everyone would call me bossy… yet here I am two years later with a stellar team that's grown from 25 to 125 producing kick-ass work. Turns out all progress takes place outside of the comfort zone and my current position is proof of that.
Do you think personal development has played an important part in your story?
Yes! When you develop yourself to the point where you believe in yourself so strongly that you know you can accomplish anything you put your mind to, your future holds unlimited potential.
If you could pass along any words of wisdom to fellow ambitious women in business, what would they be?
Do not minimize yourself to please or impress any boy. Don't downplay your strengths, your intelligence, ambition, passion or kindness so that boys won't feel intimidated or threatened. Any boy who thinks you are too anything for him are not enough for you.
Also, life is short. Buy the shoes.
What's your next stop on your bucket list?
C-Suite.
French lessons. Because I need more Paris in my life.
A Polene Paris bag in bleu. All kickass women need stellar handbags.