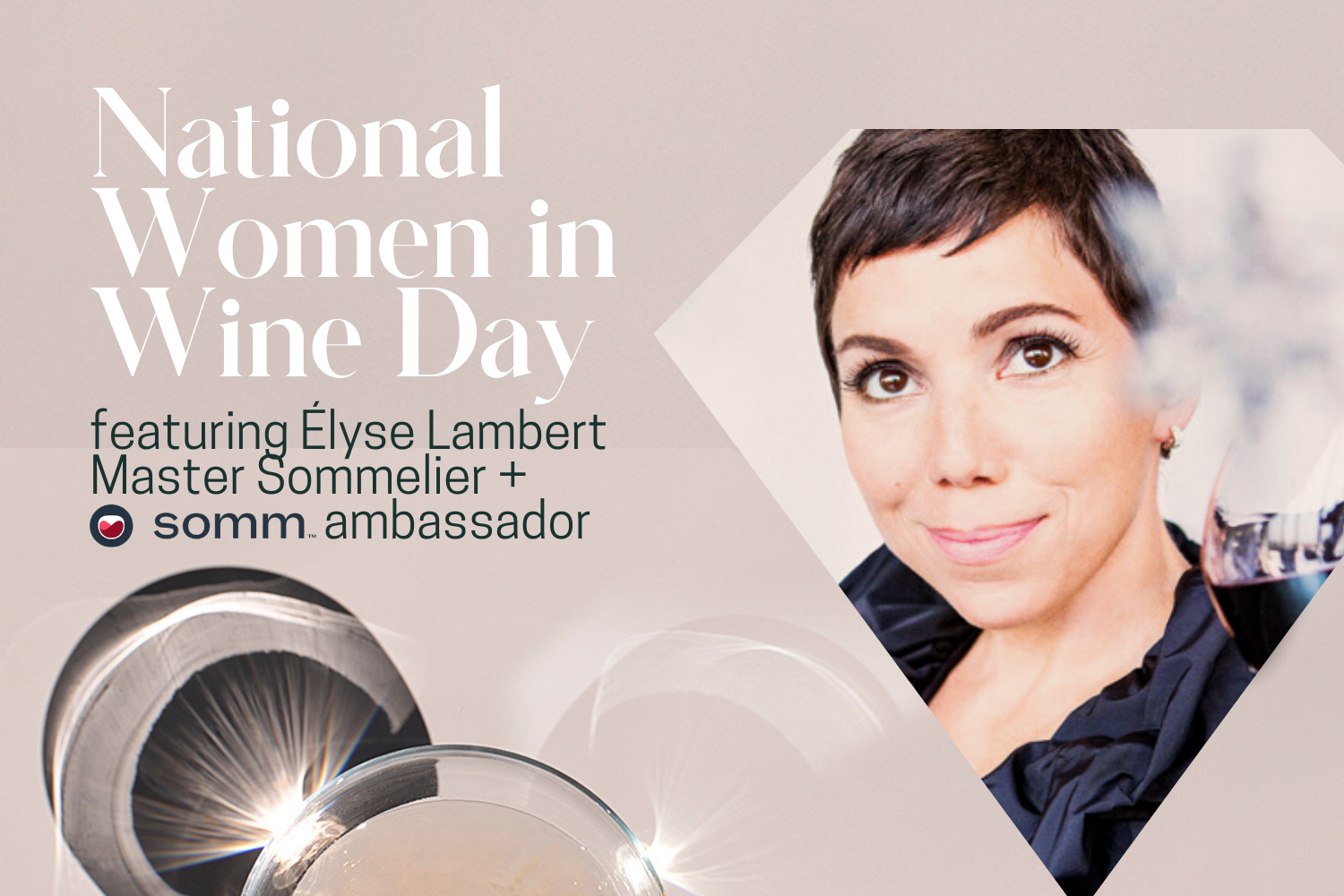 Meet Élyse Lambert: Master Sommelier
The art of gathering is one based on connection and collective moments of enjoyment. A reunion of food, drink, family and friends, coming together around a table is a tradition that echoes through cultures and time. And for Élyse Lambert, Master Sommelier, that timeless tradition is anchored through the intrinsic value that a bottle of wine brings.
"The time spent at the table was a time of communion and exchange," Élyse recounts of her upbringing in Quebec. Coming together over food and drink was an experience steeped in tradition and storytelling—a pivotal component that has spilled over into Élyse's exciting career as a Master Sommelier. As Élyse's journey evolved, so did her rich experiences exploring the wine regions of the world and learning the story from vineyard to bottle to table.
We had the absolute pleasure of sitting down with Élyse to hear about her colourful journey to becoming one of the ONLY female Master Sommeliers in Canada and ranking one of the best in the world.
There was something beautifully poetic about the way Élyse recounted her career story. "Travelling through glass and plate," Élyse describes, "Wine is a liquid that's alive—with a story, with people, and a country, behind it." Elyse enthusiastically launched into our interview, sharing with us that she has the best job in the world—a statement that we can undoubtedly agree with.
Your official career as a Sommelier began in 1999 upon your graduation from L'École Hôtelière des Laurentides —but what was it that prompted you to get into this very specific area of the hospitality industry?
Since the age of 16, I was in the restaurant industry, but when it came time to go to University, I initially wanted to become a doctor because my intention was that I wanted to make people happy. At the time, I was put on a 3-year waitlist to enter the program, and this gave me time to rethink my path forward. I ended up receiving guidance from a career counselor, who said "people don't have to be sick in order for you to make them happy." This is when I decided to shift my focus on the hospitality industry and go into hotel management in Montreal. But there was one class in particular that changed my life—the sommellerie class. I instantly fell in love during the first class. It honed in on so many things that I love and touched on those at the highest level—the travel, the history, the geology, the food pairing, working with the senses.
So from there, what did your journey to Master Sommelier look like?
It was a 10-year journey to obtaining my Master Sommelier designation, which involved 4 levels: Introductory, Certified, Advanced and finally, Master. It involved theory, which was a verbal exam, a service component, a tasting portion of 6 wines.
How did you continue to hone in on your skills?
I began participating in competitions because it was so important to me to continually get better at my craft and learn more—because I found that the more you know about it, the more you realize there's so much you don't know. So competitions were a way to challenge myself. A pivotal moment came for me in 2004, when I won the title of Best Sommelier in Quebec—the first woman to earn this, which was a stepping stone and opened doors for more women to follow. Then, in 2009 representing Canada, I won the Best Sommelier of the Americas in Buenos Aires, becoming the first woman to earn such a prestigious international title.
For those who aren't familiar with what a Sommelier does, can you share a bit about your role?
I have the absolute best job in the world because there is so much variety and excitement with what I do. I get to teach, write, speak on the radio, be a part of industry-leading wine experiences, such as working with the Somm™ team. And then there's the part that you don't see—managing inventory, purchasing wine, writing wine lists, teaching staff, leading tastings.
But I will also say that while this is a job of passion, it is also a job that has a very demanding schedule, working on holidays, weekends etc, But to me, it is more than just a job.
And through your role, you have the unique opportunity to travel and visit the wine regions of the world. We're sure there are colourful stories to go alongside this!
I could go on and on about the incredible experiences I've had throughout my career! I've enjoyed the classic wine regions of France with vineyards that are hundreds of years old, to the organic vineyards of Chile where they are implementing practices to be kinder to the environment, to quite literally running with the kangaroos in Australia.
What is a piece of advice you can offer someone who wants to learn more about wine? How can they be empowered in their own learning journey?
I'd encourage them to keep curious and open. A great starting point would be to ask for something similar to your favourite varietal. If you haven't tried out the Somm™ app, it's a great way to help guide you through your wine exploration journey and can bring you to varietals of wine that you may not have normally tried out.
How did you and SommTM begin working together?
I was actually introduced to the founder of Somm™, Jennifer Tremblay, by a mutual friend, and there was an immediate connection. We began talking about the opportunity and discussing the possibilities of working together; I loved that Somm™ is a lifestyle app that is broader than wine – it offers recommendations and guidance on how to find the perfect wine, but it also unlocks signature experiences from the best of hospitality! It didn't take long for me to agree to become an ambassador, and now I get to work hand in hand with the team to create some of the wine selections on the app, attend events as a speaker, lead tastings and assist with opening doors to key hospitality players to participate in Somm™'s lifestyle loyalty program: Somm Cru and Grand Cru.
The past two years have been immensely challenging for the hospitality industry. How has the wine industry changed due to Covid?
When the pandemic first hit, we started having virtual tastings, so we still had that opportunity to come together—even though it was virtually. It was an opportunity to take a break from what was happening in the world and just explore the love of wine.
But now, it's like starting all over. We couldn't take care of people for two years and Covid changed the way of exchanging with people.
We want the inside scoop from a Master Sommelier! Do you have a favourite wine and food pairing?
There is the saying, what grows together goes together and I believe this to be true. Truffle and barolo or Sancerre and goat cheese, for example. I tend to go with the classics, oyster and chablis is always a beautiful pairing.
How do you see the future of wine?
There is definitely a natural wine movement happening right now, working with mother nature, and shifting way of thinking. Thinking about the future of the terroir, you have to reframe your thinking: You are borrowing from your child, not taking from your parent.
---
It's widely known that wine is best when shared, and if there is ever someone we want to share a bottle of wine with, it's Élyse! To tap into Élyse's expertise and gain access to her wine recommendations, we invite you to check out the Somm™ app and Somm™'s Instagram page! To stay connected with Élyse, we encourage you to follow her on Instagram or visit her on her website!