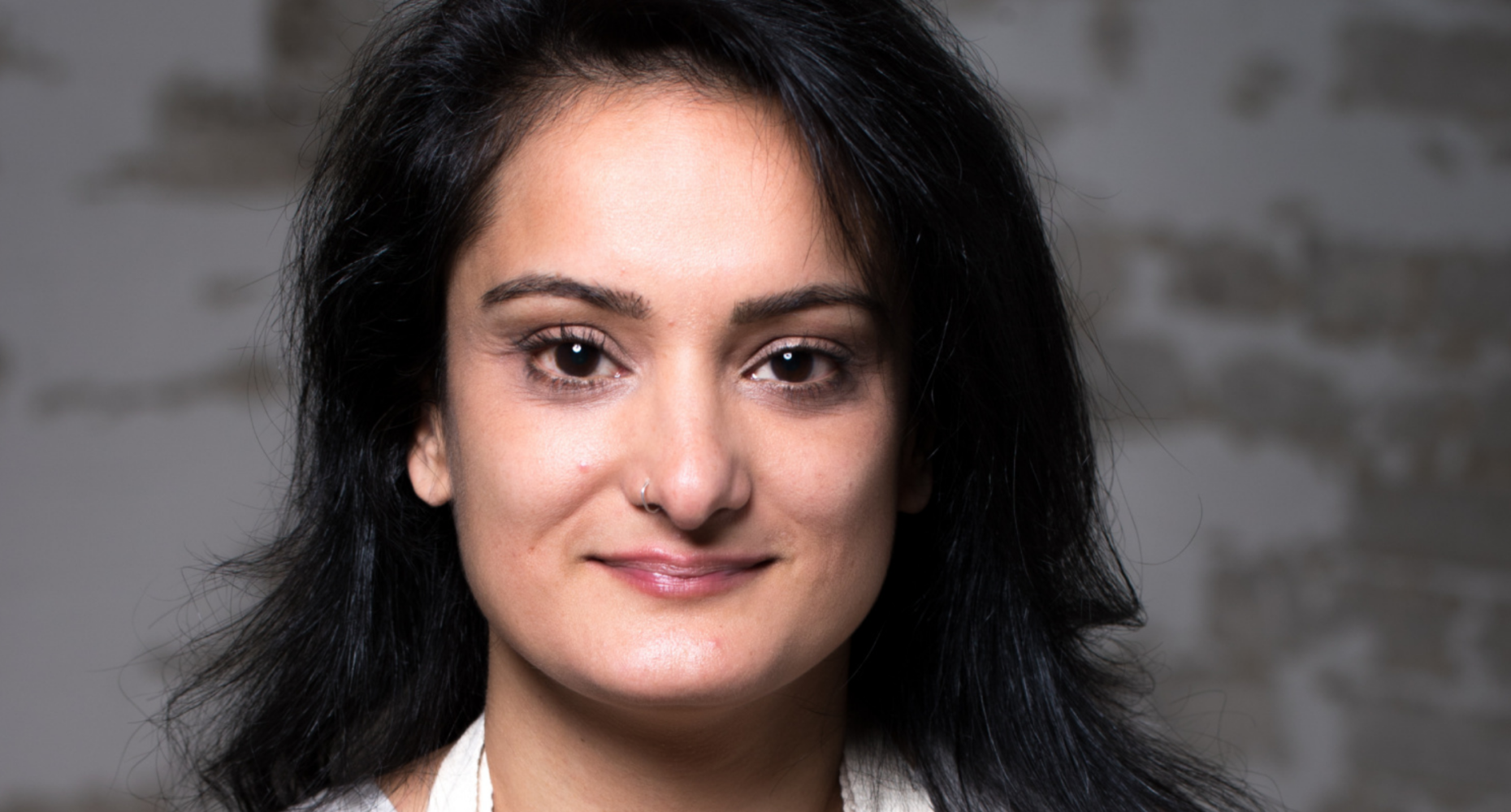 How I Got Here: Seema Sanghavi
We're so excited to feature one of The Atelier 25's Changemakers of the Year, Seema Sanghavi of CooksWhoFeed.com, a social enterprise that aims to unite food lovers to end world hunger. Cooks Who Feed ethically produces handcrafted kitchen textiles that have a giveback model, providing meals for every purchase (for every apron sold, 100 meals are provided to the hungry—to date they've provided around 300,000 meals!). They do this by sharing their profits with charity partners that recover surplus food to reduce food waste and provide hunger relief—and all of their textiles are handmade in India where they provide safe, fair trade work to marginalized women.
Follow @cookswhofeed on Instagram and get ready to feel inspired! And read below to learn, in Seema's words, more about the inspiring journey of how Cooks Who Feed have grown to impact so many people around the world!
Can you tell us a little bit about your journey in getting to where you are now?
I love to cook. In fact, many of my fondest memories revolve around sharing a good meal. But as much as food gives me joy, I've always been bothered by the number of people who go hungry and do not get to experience food the way that I do.
In 2016, I visited an NGO in India that provided fair, safe work to marginalized women. After meeting them and seeing them work so hard, I felt compelled to help in some way so that more women could have the same opportunity. ​At that point in time, I was not sure how I could be of service but I knew I could not go back to Canada and forget what I had seen.
Later, in 2018, I came across an article about food waste. I learned that over 1/3 of the food produced gets thrown out. This fact struck a chord with me so I started doing a bit of research. One headline that I came across stood out amongst the rest. It stated that the amount of food we waste could feed the entire world's hungry four times over. How could so many go hungry when so much food is just being thrown out?
This was when I started connecting the dots and the idea for Cooks Who Feed was born. What better way to fight hunger than with an apron; the uniform of a cook. And now, I work directly with that NGO I visited to produce our aprons.
I never set out to create a company. I set out to create a movement that would empower foodies everywhere to fight hunger in the most socially responsible way possible.
What has inspired you over the years?
Gosh, so many things and people have inspired me. The first that comes to mind are the emails and messages we get from our customers. When someone writes to you saying they love the work you are doing and when we see posts of people showing off their purchase, it's the best feeling ever. It also gives you confirmation that you are on the right track.
I'm also inspired by seeing others do good. There are so many entrepreneurs now who have started companies that focus on people over profit. If we want a better future, we need more companies operating this way.
Lastly, I'm extremely grateful and inspired by the women who make our products. All of these ladies are considered marginalized and have faced challenges that most of us couldn't even imagine. Yet, they are resilient, optimistic, and eager to work hard and gain independence. It's really incredible to see.
Do you have any mentors?
Yes, I've had a few mentors along my journey and each is better than the last. I think the reason for this is because I'm getting better at understanding what I need in a mentor. My current mentor, Bobbie Racette, is the founder and CEO at The Virtual Gurus and askBetty. Bobbie is a force! She's been named Entrepreneur of the Year and The Virtual Gurus was stated by Forbes as being ​​one of the top 19 Innovative Tech Startups to watch.
Which businessperson do you most admire?
There are two business people that I really admire, Sara Blakely and Blake Mycoskie. Sara Blakely, founder of Spanx, is a great example of what can happen when someone has a great idea and grit. Her focus on women empowerment is also inspiring. Blake Mycoskie, brought the giveback model to life. As the founder of TOMS Shoes, he was really the first to introduce the buy one give one model and proved that companies can make profits while making a difference.
What are your favourite career / business moments?
There's two that really stick out. The first moment was when I realized we would meet our Kickstarter goal. When we first started, we launched a Kickstarter crowdfunding campaign to validate that people would indeed buy our products. Our goal was to raise $13,000 as this would allow us to fund our first little production run. It was a 30 day campaign and on day 28 we hit our goal. Reaching this milestone really made me feel like we had something.
The second moment that will always stand out to me was when an interview we did with CTV news aired in November of last year. It's crazy to see yourself on the news, talking about your work and what you hope to accomplish. We had sales leading up to the interview but our growth was slow. The minute that interview aired, sales started coming in and my phone was going off because I would get an email for every order. At this point it was just myself shipping out the orders and I spent the next 5 day sitting on the floor putting aprons in boxes, only getting a couple hours of sleep each night. It was quite the thrill. But the thing that made it even more special for me was that my screensaver on my computer at the time was an image that Sara Blakely shared when she was just starting Spanx and started to get orders. The picture is of her surrounded by orders she'd packaged that were ready to be shipped. After 5 days of packing orders, I took a picture of myself surrounded by the last batch that was ready to be shipped. I know….I'm such a nerd! I had never felt so exhausted and proud.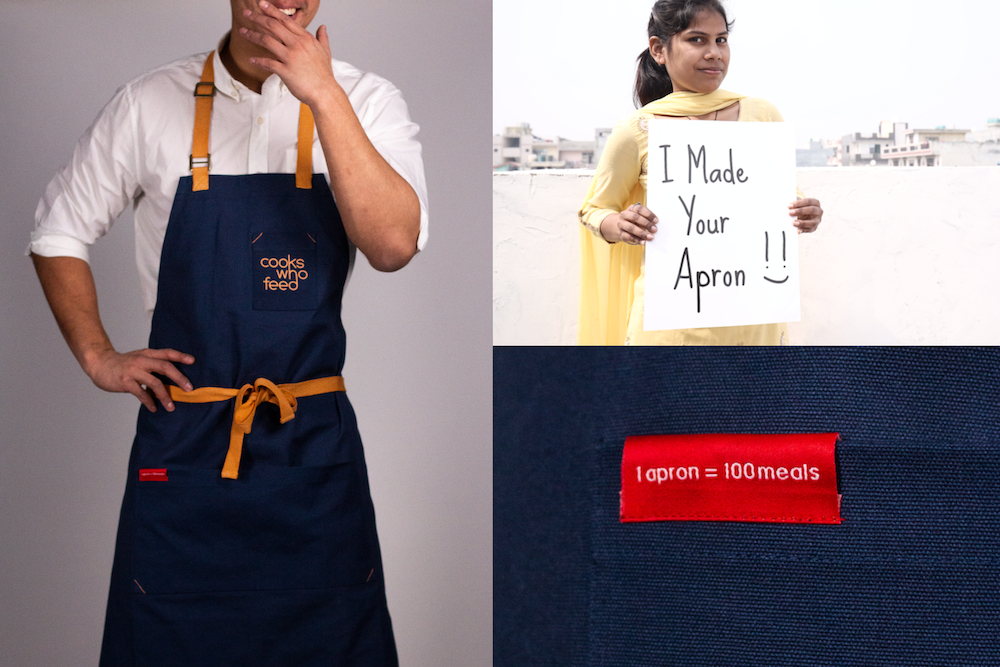 What has been the biggest challenge you've faced so far?
By far Covid has been our biggest challenge. It's affected our sales efforts, as well as our production.
From a sales perspective, we haven't been able to sell to businesses in hospitality that require aprons. Prior to Covid, we were selling customized aprons to culinary schools, restaurants, and caterers. With most of these businesses affected by Covid restrictions, it really forced us to look at other industries to sell to and to focus on selling to end customers. We also don't have the opportunity to showcase our products at consumer shows.
From a production standpoint, having all our products made in India has presented us with a lot of challenges. As a country, India has really struggled with Covid. There's been two nationwide lockdowns to date, each being for at least 6 weeks. Each time, we needed to stop production. These lockdowns have also caused delays from our vendors and it's increased the time needed to ship inventory.
What do you do when you're stuck creatively or need a break?
I workout. I find that getting my heart rate up helps me destress and I always get the best ideas when I'm out for a run. Did I mention that I got the idea for Cooks Who Feed while I was running? Besides running, I also like HIIT workouts. Anything that burns energy fast seems to do the trick.
What type of self-care do you prioritize in the midst of a busy workday, especially in the midst of the pandemic?
I think I'm definitely lacking in the self-care department. Along with work, I also have 3 little ones who keep me on my toes. I try to get enough sleep and workout at least 5 days a week. I need the energy. Anything else, massages, mani and pedis, don't really happen…one day 🙂
What has the pandemic taught you?
There are many things out of your control. Don't stress over them. Focus on things you can control. You also need to be open-minded and flexible, don't just stick to the plans laid.
How have you had to pivot in business over the past year and a half?
Covid has really hurt the hospitality industry and this affected our sales. To try to make up lost revenues, we decided to reach out to real estate brokerages, home builders, mortgage specialists, anyone who gave housewarming gifts to their clients. The feedback from doing this has been amazing. We've had real estate agents tell us that our aprons make a great gift for the homeowner who has everything. We customize for these businesses and giving a gift that is unique and gives back has proven to be a wonderful housewarming gift.
What are some words of wisdom for fellow ambitious women in business?
Just please go for it. If you have an idea, find the cheapest way to validate there's a market for it and then do it. If you keep taking one small step at a time, you're always moving forward.
What's your next big professional goal?
We're working on building a brand. We want to be the kitchen textile brand for the conscious foodie. We started with adult aprons, and we're now getting ready to introduce new products like our kid's line and tea towels. Our goal is to provide at least 1 million meals per year. To do this, we need to give our customers a reason to keep coming back to us.