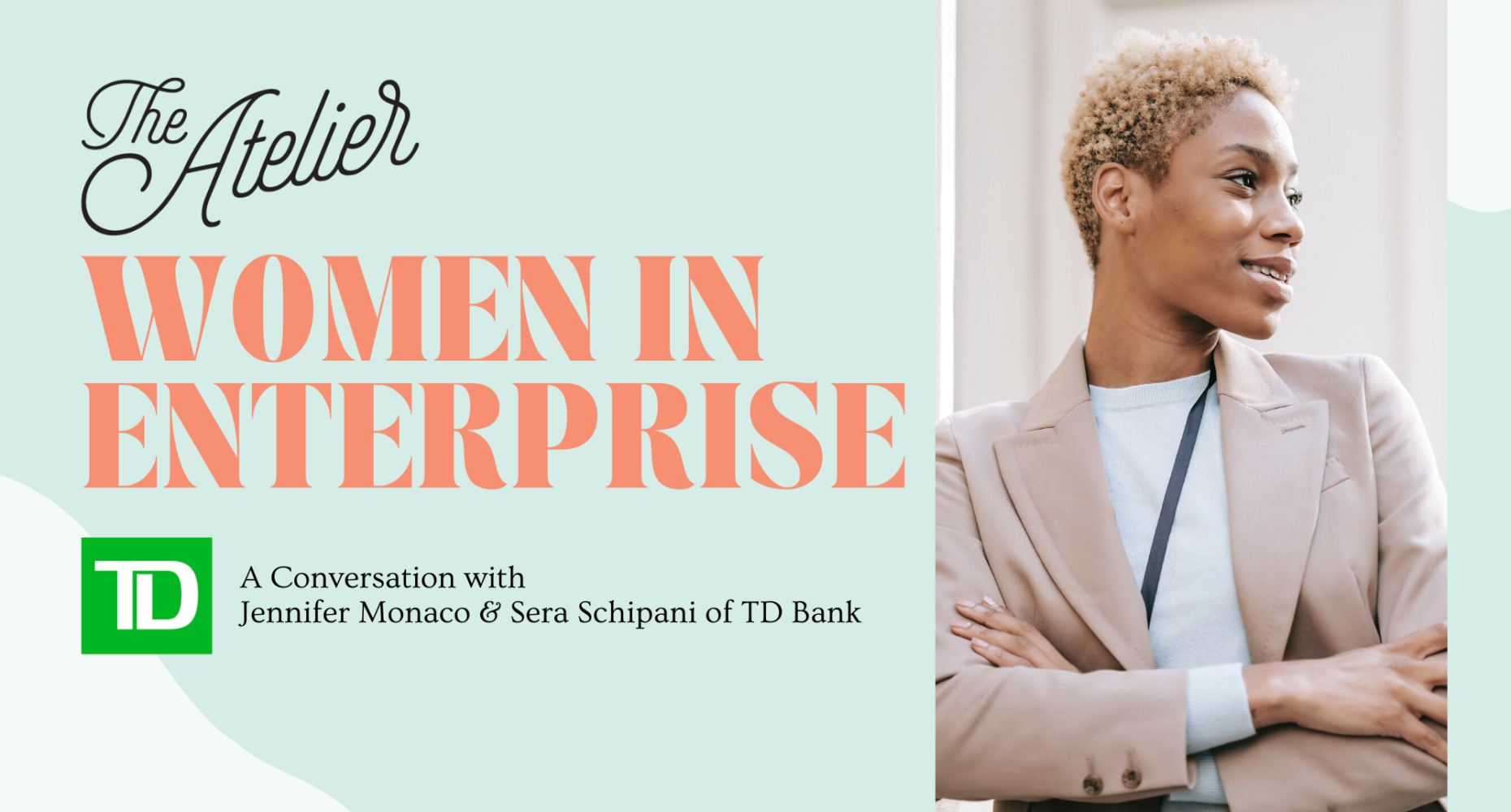 Women in Enterprise with TD Bank
The Atelier Collective had an opportunity to sit down with Jennifer Monaco, Regional Manager – Women in Enterprise, Central Canada and Sera Schipani, Area Manager, from TD to discuss how TD is helping promote women's economic empowerment, while facilitating the success and growth of women entrepreneurs and women-led businesses at TD.
Tell us about yourself. How has your career led you to Women in Enterprise at TD?
Jennifer: I started at TD right out of university as a teller and worked my way through different roles in branches. I spent almost 5 years as a Small Business Advisor, where I loved working with entrepreneurs and seeing dreams come true as their businesses grew. It was then when I really realized how we have the opportunity to affect lives with the advice that we give. I then spent 8 years in commercial banking – first as an Account Manager and most recently as a Relationship Manager working with mid-sized companies and structuring credit.
Sera: Similar to Jennifer, my entire career has been with TD straight out of university. I joined the Business Bank within 5 years of joining TD as a Small Business Advisor and never left. As a Business Banker I developed a passion for watching a business grow and prosper from inception. From there, my experience and knowledge allowed me to recognize the disparity within business owners from a gender perspective. This fueled by desire to become an advocate and a means for women to succeed in business.
What does Women in Enterprise mean to you?
Women in Enterprise means opportunity and possibility through a different approach to business. For many people, apart from attaining wealth, starting a business is often a way to realize one's self, develop their full potential and make their personal contribution to the world. This is true for any gender. Where this experience has been uniquely specific to women entrepreneurs is in how cultural biases have dissuaded potential entrepreneurs from entering into a new venture or hindered the potential success of those brave enough to attempt it.
What is the strategy for helping Women in Enterprise?
Our mission is simple: facilitate the success and growth of women entrepreneurs and women-led businesses. This is done through collaboration, education and facilitation. We will collaborate with internal and external partners that can provide education, financing, mentoring and community support to women entrepreneurs. We will educate our bankers on the market opportunity and the resources that our partnerships provide us, so that we can be more proactive in the advice and guidance we give to our customers. We realize that women may have different attitudes towards money and different risk tolerances than their male counterparts, and we will tailor our advice so that women have the opportunity to meet their full potential. We will facilitate and connect women entrepreneurs to educational workshops, financing, mentorship opportunities and engage likeminded entrepreneurs in an authentic way so that they can share experiences and learn from each other. We also have a group of champions in market (fondly referred to as "WE" Bankers) to deliver the tools and resources needed to engage with female business owners.
Why do you think it's important for TD to be Women in Enterprise leaders?
Diversity and inclusion have always been a priority at TD. It is our responsibility to contribute to gender equality in business, both within our walls and in our sales and service practices. It is important for us to ensure that all of our customers feel comfortable, confident and empowered to approach us for resources, advice and financial support.
Can you provide an example of a business you've seen go through WE?
TD continues to assist countless women entrepreneurs given our focus on Women in Enterprise, particularly through our Small Business Banking channel. Throughout the past year, one particular women-owned business comes to mind. Two young women entrepreneurs who run a children's physiotherapy business were looking to expand and open their second location. Their passion and focus is providing the highest quality physiotherapy care for babies, kids and teens. TD was able to assist them using the Government of Canada Small Business Financing Loan program. Their dedicated Account Manager Small Business is an accredited "WE" banker who understands the unique needs of women in business and is dedicated to facilitating the success and growth of women entrepreneurs. We were proud and excited to help these women entrepreneurs continue to grow and prosper in their business.
If someone is interested in taking their business to the next level, how can they contact you?
We would love to hear from them and learn more about their business! We can be reached at Jennifer.monaco@td.com or sera.schipani@td.com.