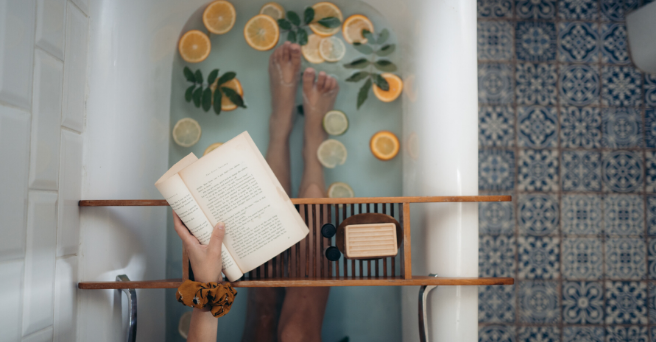 Self-Care and the Second Half of 2020
We've officially stepped into the second half of 2020—a year none of us could've predicted. If you would've told us back in January that this is what the state of the world would be in the coming months, it would've sounded more like an elaborate movie plot rather than real life.
But here we are.
To put it plainly, these past few months have been some of the most challenging people have seen in their lifetime. Being on lockdown, not being able to see loved ones, businesses suffering, and the list goes on…people have been overcome with feelings of overwhelm and helplessness. And in this time when stress has been at an all time high, self-care has been next to non-existent.
But as we've launched into summer, there's been a palpable shift in the air and it truly feels as though brighter days are ahead. And with that, it's time to once again draw attention to how we take care of ourselves.
At the Atelier, we've always supported the notion that in order to be successful in business, you must also take care of your health and wellness—both physically and mentally. To thrive, you have to be gentle and kind to yourself.
During Digital 2020—in the midst of the COVID pandemic—we had the opportunity to talk with Angela Ysseldyk, National Educator for Jamieson Wellness and representative for Smart Solutions, about the importance of self-care. Angela spoke about the element of self-awareness and reflection as a tool to identify what our body and mind craves to shift to a higher state of performance. By turning our attention inward and becoming aware of what's occurring inside our bodies, we are armed with information to make simple lifestyle tweaks that can help better manage anxiety and balance hormonal health.
Angela provided three steps you can implement now to learn more about yourself and take action from there.
1. Self-Awareness
Centering yourself and tapping into your sense of personal awareness of how you are energetically feeling is an important initial step. Similar to how you take the first few moments of yoga class to scan your body and check in with yourself, listening to your inner cues will help guide you in how you may approach the day ahead.
Action item 1: Upon waking, reflect on your home base state.
Ask yourself the following questions: How do you feel? What are your first thoughts? What are your top coping mechanisms? How are you distracting yourself? Can you create some space to launch your day from a new place?
2. Hormone Awareness
Hormones play an important role in how you show up. Sometimes we don't consider this part of our health, and sometimes how you feel reflects where you are at with your cycle and hormone levels. Hormones (and their imbalance) play a role in your emotions and energy levels.
Action item 2: Track patterns with your phase.
Your cycle is an average of 28 days (give or take 4 days) and should be effortless. Day one is the first day of bleeding. Extreme symptoms can be relieved with some subtle shifts in your choices.
Practice self-care during PMS: go to bed early, exercise less intensely, meditate, avoid people who bring stress, drink extra water, get enough magnesium, cut out alcohol.
Are you experiencing PMS? Click here for some hormone balancing tips that can help.
Action item 3: Read our evidence-based blog about ''how your hormones affect you daily'' (four-minute read). See what inspires you and go from there!
Action item 4: Check your magnesium levels.
Many women are deficient in magnesium, which can lead to PMS among a host of other health concerns. Are you one of them?https://www.smartsolutions.com/blogs/womans-word/are-you-deficient-in-magnesium
3. Self-care Awareness
Self-care and wellness fall under three main categories: physical, mental and social. Women usually fall short in one or more categories.
Action Item 5: Thought starters—ask yourself:
What are the ways I believe I need to be superwoman?
Are the beliefs I have about being a 'superwoman' true?
What are the things I can say no to, so that I can say yes to myself?
What are the ways I am carving out time for myself?
How am I looking after my adrenal glands (stress), gut (digestion) and liver health (clean eating)?
How am I surrounding myself with supportive friends and women, family and people who lift me up?
Write down 10 things that give you joy. Commit to doing at least one of these daily.