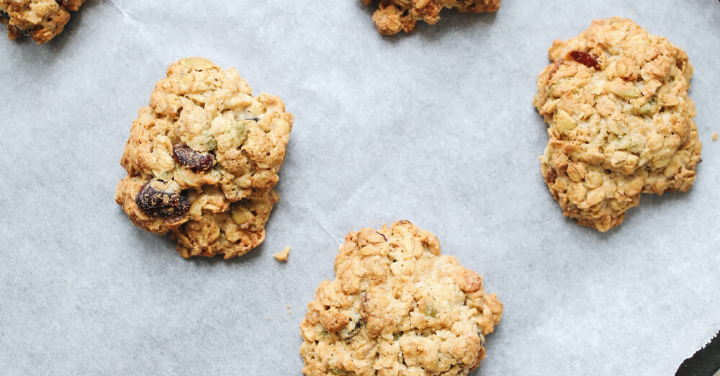 Snack Smart: Power Cookies
We are so excited to have teamed up with Smart Solutions on this delicious protein-packed power cookie to fuel us through our morning break during the Atelier: Digital 2020. If you received an Experience Box, you'll have a prepared cookie ready to enjoy to fuel you through a morning full of inspiration. Didn't snag a box? Not to worry! We've got you covered with an easy-to-whip-up recipe. 
During The Atelier: Digital 2020, we will be sitting down with Angela Ysseldyk, National Director of Education and Training at Jamieson Wellness, for an informative conversation to learn all about how a strong health foundation can help fuel your resilience! 
Snack Smart: Power Cookies!
INGREDIENTS
2 cups oats 
1/2 cup PROTEINsmart vanilla whey powder 
1/4 cup whole wheat flour 
1 teaspoon baking soda
1 teaspoon salt
1 teaspoon cinnamon
1 large egg
1/2 cup peanut butter 
1/4 cup raw honey
1 teaspoon vanilla
1/4 cup dried cranberries 
1/4 cup chocolate chips
DIRECTIONS
Preheat oven to 350 degrees. 
Mix together the dry ingredients in a large bowl. Mix together the wet ingredients in a separate bowl then add to the dry and mix thoroughly. Stir in the dried cranberries and chocolate chips.
Scoop out desired cookie size onto a parchment paper lined sheet pan evenly spaced apart. Flatten them a little bit with the back of a spoon or your hand. 
Bake for 8 -10 mins or until the cookie edges are golden. 
Let cool and enjoy! 
DID YOU KNOW?
Protein revs up your metabolism and kickstarts your organ systems while also feeding your thyroid. One way to incorporate more protein into your day is with with PROTEINsmart Whey Powder.
Whey protein is highly bioavailable, concentrated, convenient and delicious.
PROTEINsmart contains whey protein along with an anti-aging fat called CLA. CLA supports fat loss and lean muscle growth.
PROTEINsmart is a great source of all essential amino acids.