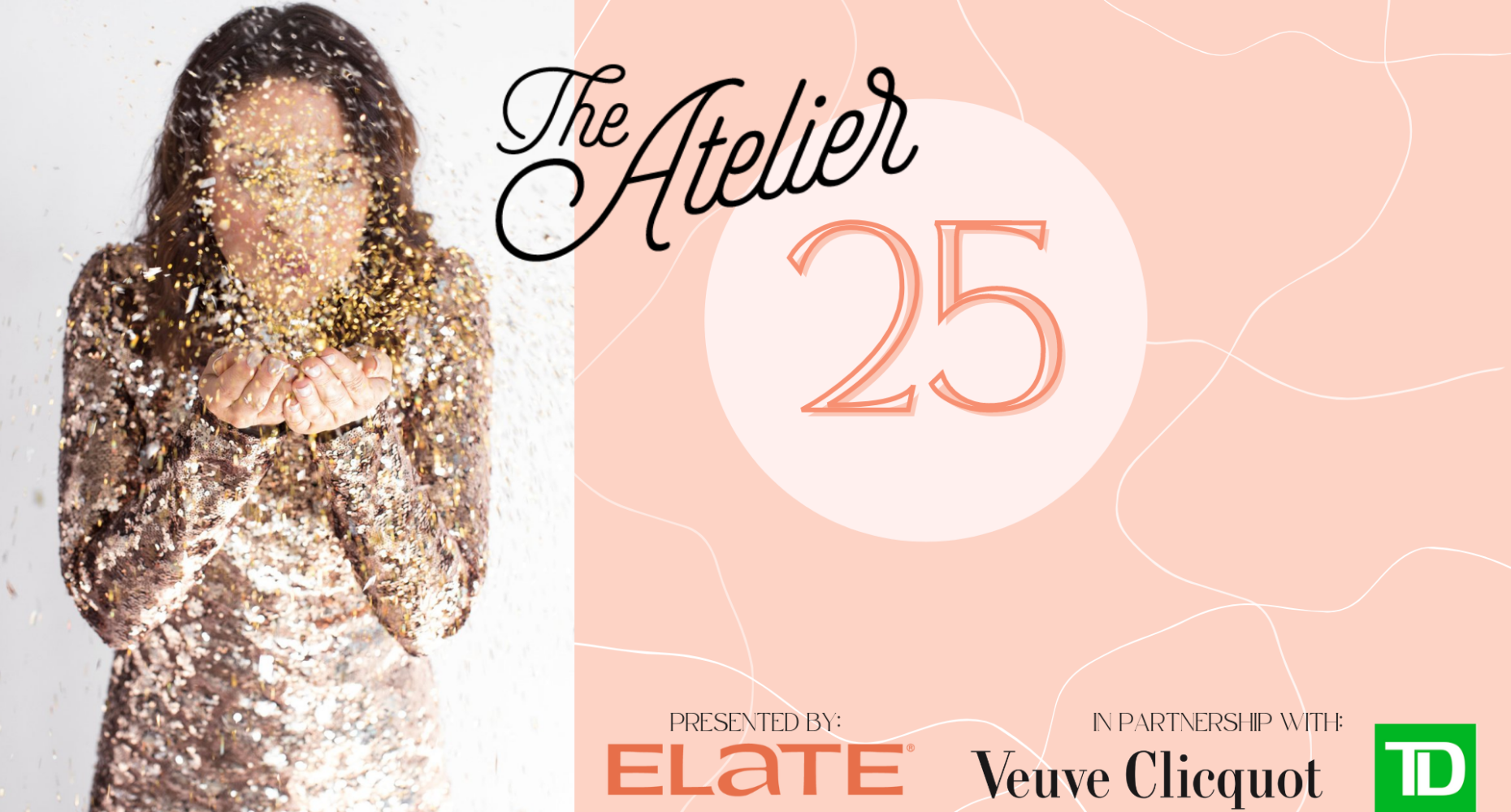 The 2021 Winners of The Atelier 25 Awards!
On November 18th, this incredible community came together to recognize and celebrate not just 25, but 26 (!) inspirational game-changers, go-getters, innovators, advocators and creators as part of the very first Atelier 25 Awards! And today, we are highlighting all of the winners who are continually pushing the envelope, making a difference, leaning into their growth mindset and making waves!
CONGRATULATIONS to every single nominee and winner of these exciting awards – you are inspiring so many and we cannot wait to see what you all do in 2022!
ROOKIES OF THE YEAR
The criteria for this category is that you've launched your business in the past 24 months and have already made an impression in your industry and community. Since launching your business, you've grown your revenue, community, staff or offerings. Your future facing trajectory is bright, your projections show compounding growth and you are one to watch!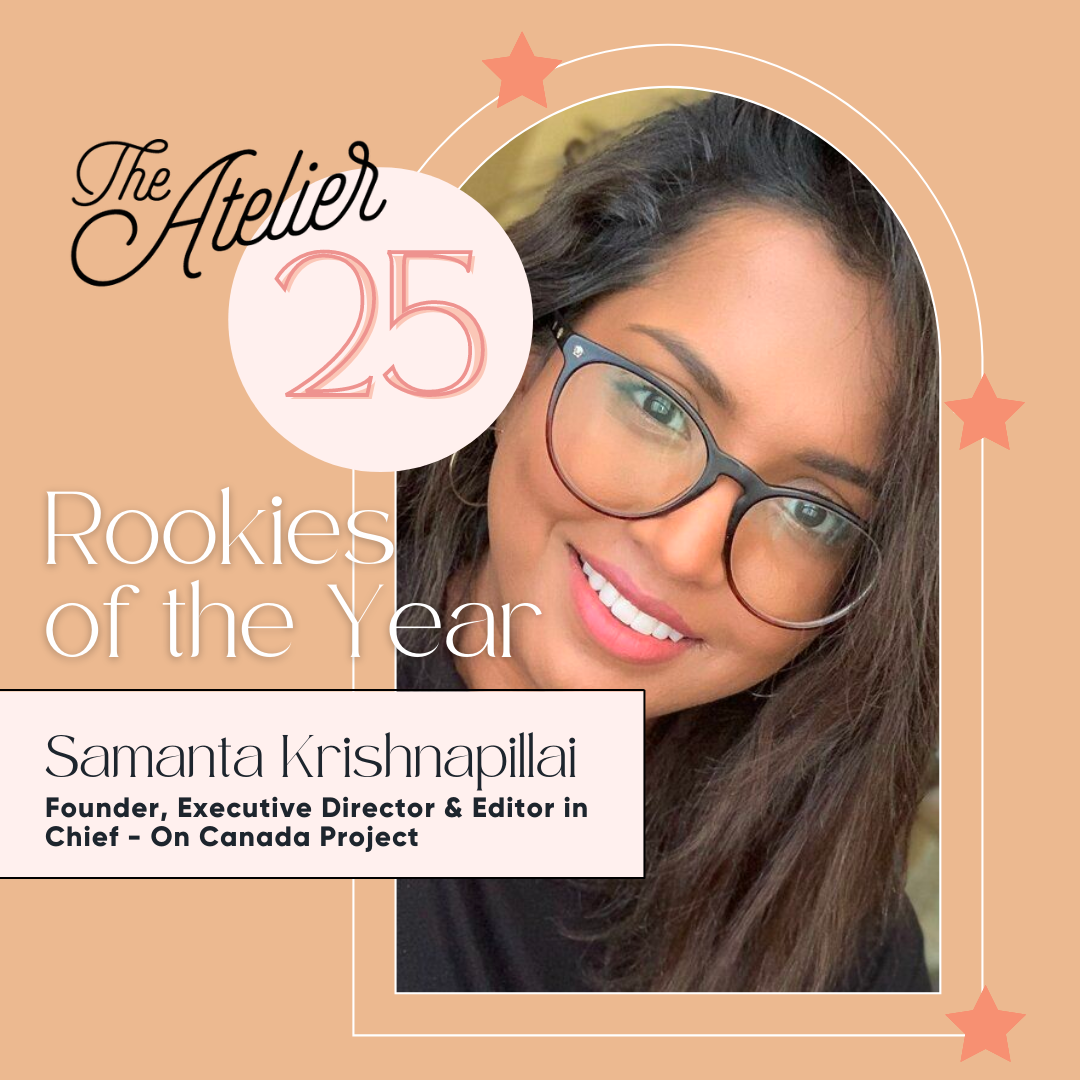 Samanta is the Founder, Executive Director + Editor in Chief of the On Canada Project, which was founded in response to the lack of accessible, shareable and equity-oriented information about COVID on Instagram for Millennials and GenZ. On Canada Project disrupts social conversations by ensuring we're fully informed with credible facts to engage in debate, discussion and activism. Today, On Canada Project has grown to 128K followers, 1.4M unique visitors a month with an engagement rate of 8.8%. Samanta has mobilized thousands of people on Instagram to be active citizens in their communities, learn about perspectives different than their own, and converse and lead with a trauma-informed & equity-first lens.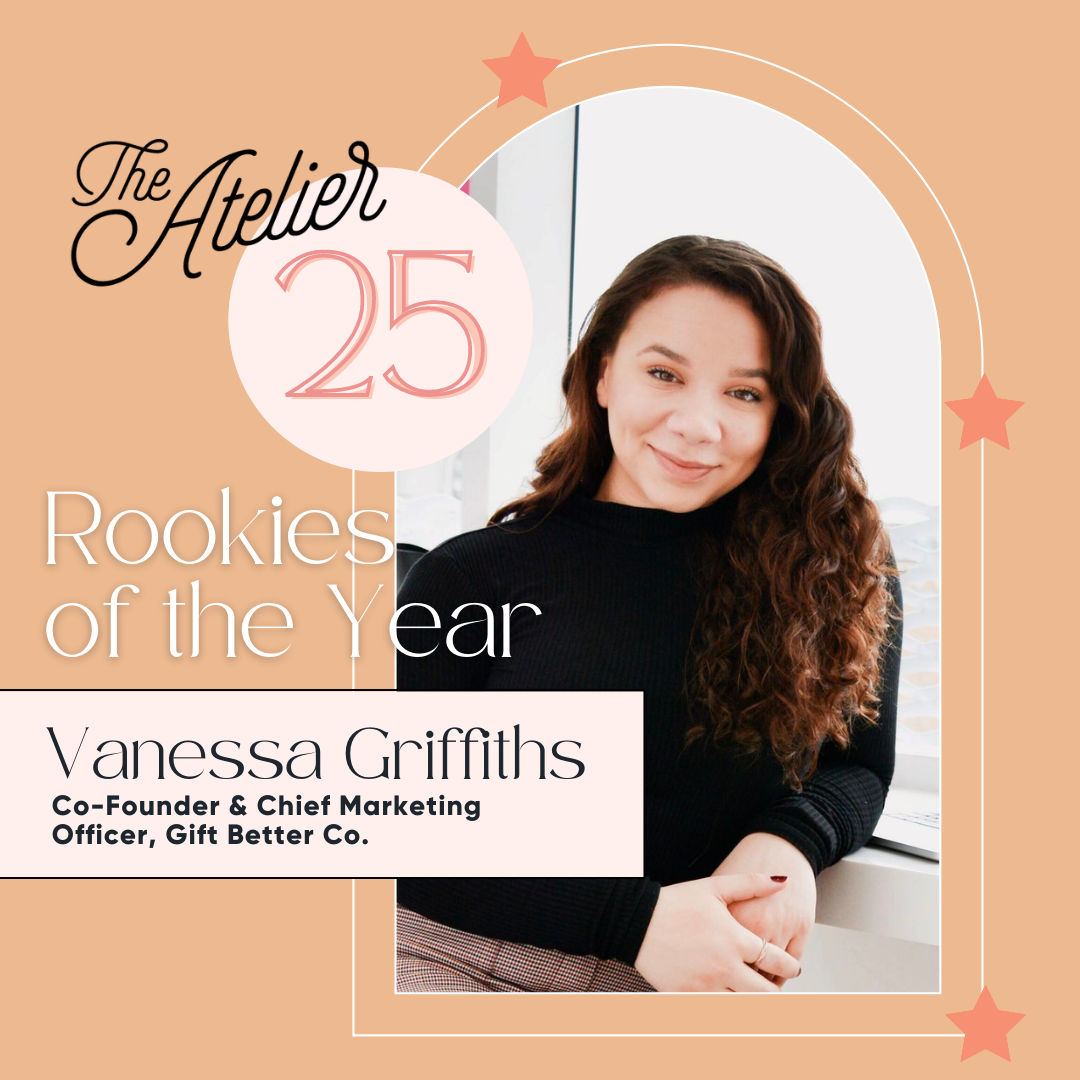 Vanessa Griffiths is the Co-Founder and Chief Marketing Officer at Gift Better Co., the go-to gifting platform for teams looking to scale and simplify their corporate gifting efforts. Since launching in December 2019, this start-up has grown from a team of two to five, with their biggest win of 2021, submitting and winning an RFP for uOttawa's 10,000 convocation gift project—allowing their business to grow exponentially. Vanessa and her partner, Olivia, continually set bold goals and share a commitment to making a positive impact through the give-back model of their business.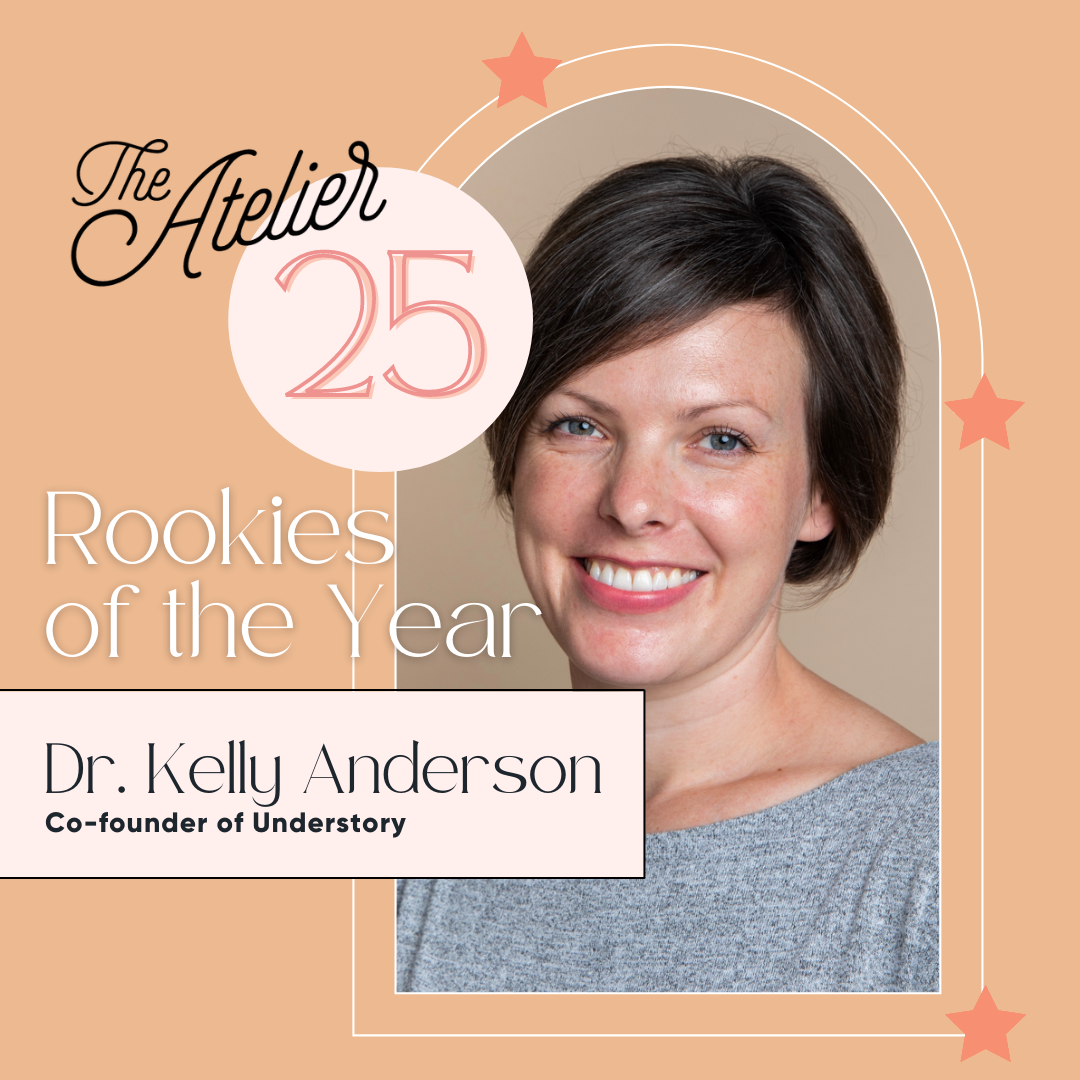 Dr. Kelly Anderson is one of the co-Founders of Understory, which offers expert-designed, CME-accredited programming designed specifically for busy women physicians. Understory has grossed over a quarter million dollars since launch, enrolling over 1300 women physicians in programs to help them address burnout during the pandemic—something so crucial right now. They have also donated our proceeds to Indigenous first nations carbon offsets in the Great Bear Rainforest.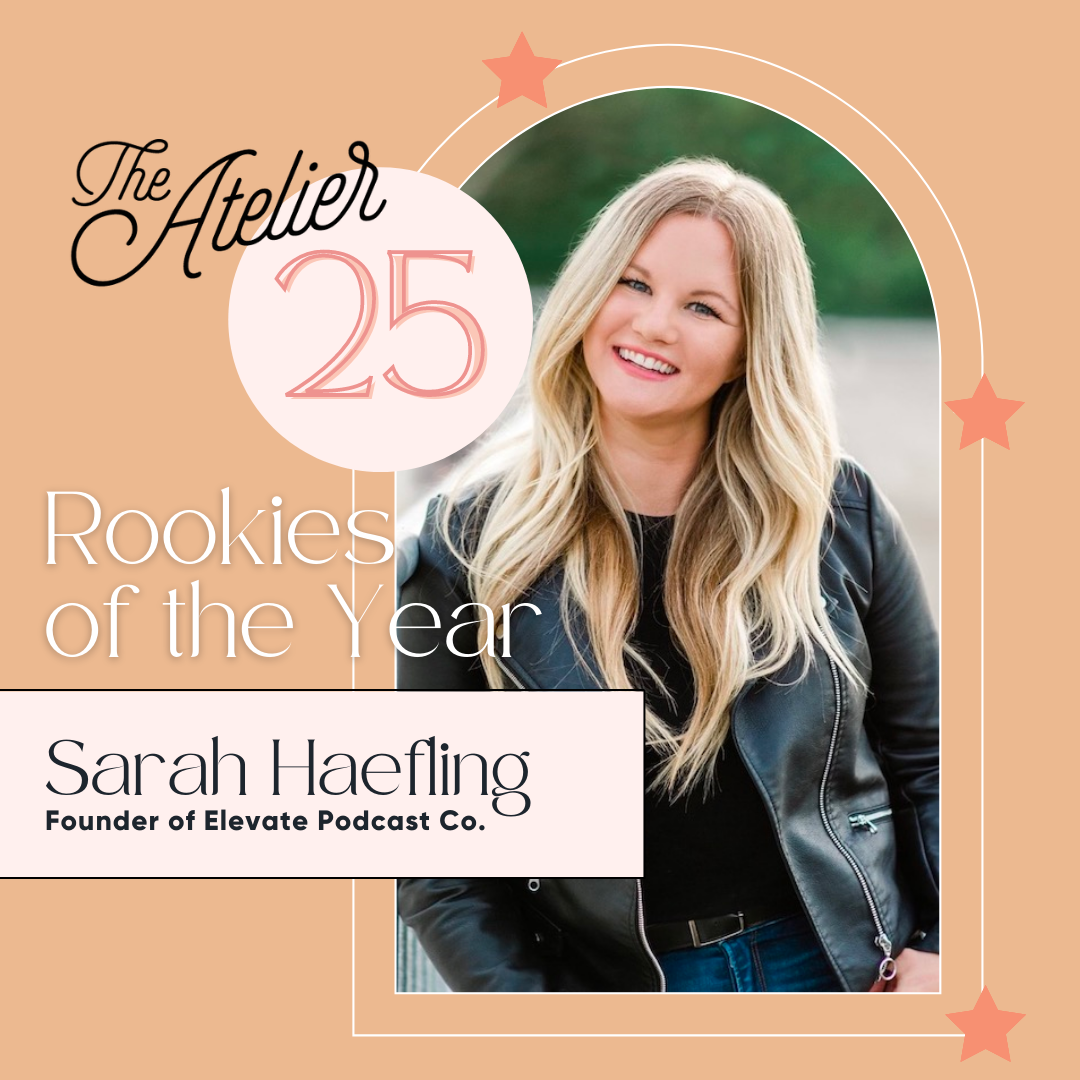 Sarah Haefling is the founder of Elevate Podcast Co., which Sarah launched in January 2021 at the age of 24. The company has already gained valuable media attention and participated in the 'take your shot' pitch competition for young entrepreneurs and won 1st place with a $20,000 prize. These funds are allowing the business to already expand its services with a portable studio. Sarah has grown her podcast, reaching milestones as #6 on Apple Podcast's Top Entrepreneurship Podcast Charts, #36 in Canada, Top 40 in Greece, and Top 50 in Mexico!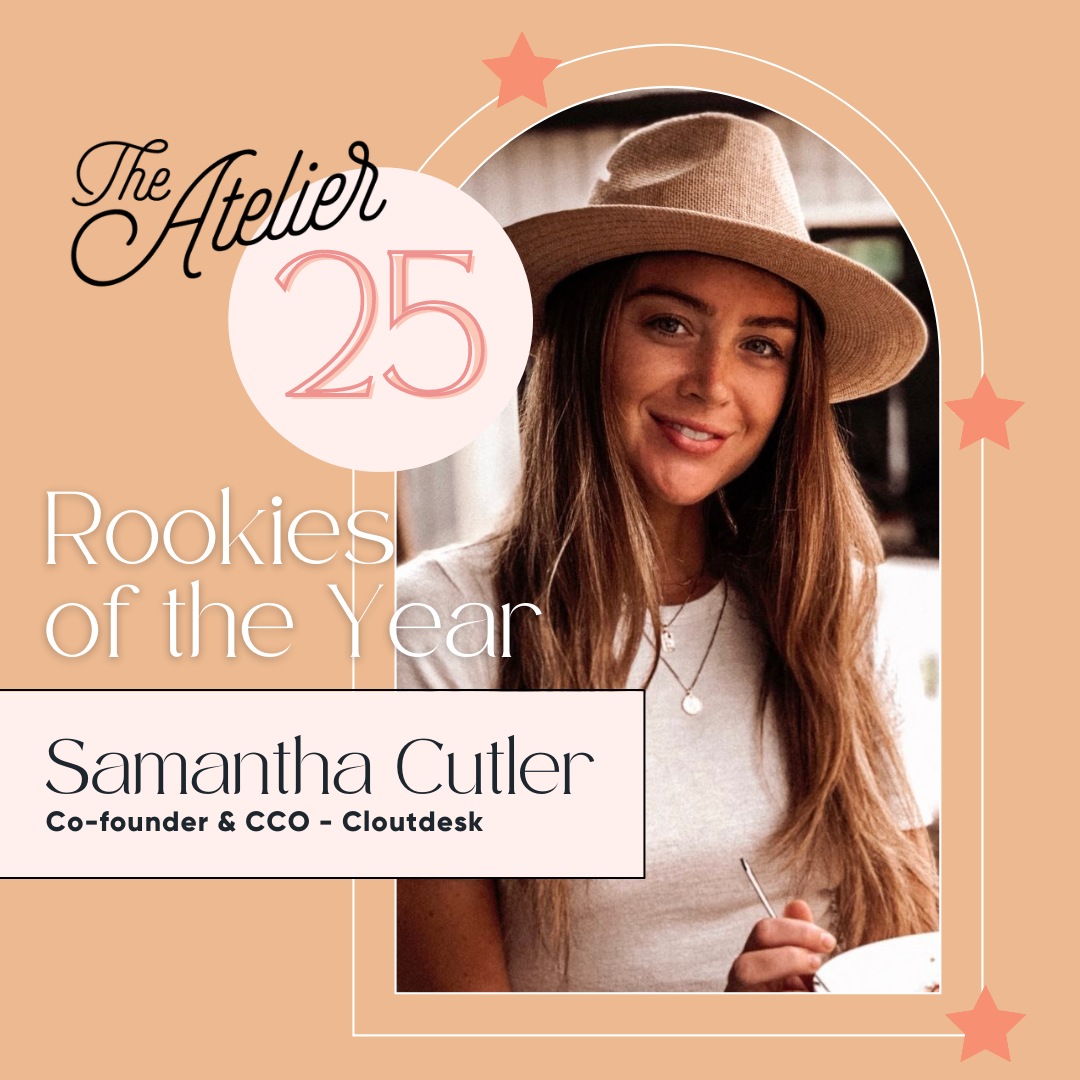 Samantha Cutler is the Co-Founder and COO of Cloutdesk, which is tech infrastructure for Creator businesses. Since launching, Cloutdesk has grown from 0 to 2000 users and collectively creators on Cloutdesk have managed over 1M in creator revenue. Samantha balances two roles as a creator and a full time tech founder focused on helping other women and creators achieve success online.
CREATORS OF THE YEAR
Your career is focused on creating original, impactful content—whether you are an artist, musician, marketing wizard, writer, photographer, videographer, producer, content creator or someone in a creative industry. You've been able to move people by the work you are putting out into the world and service to entertain, educate or enlighten. Your work is awe-inspiring, innovative and has made waves!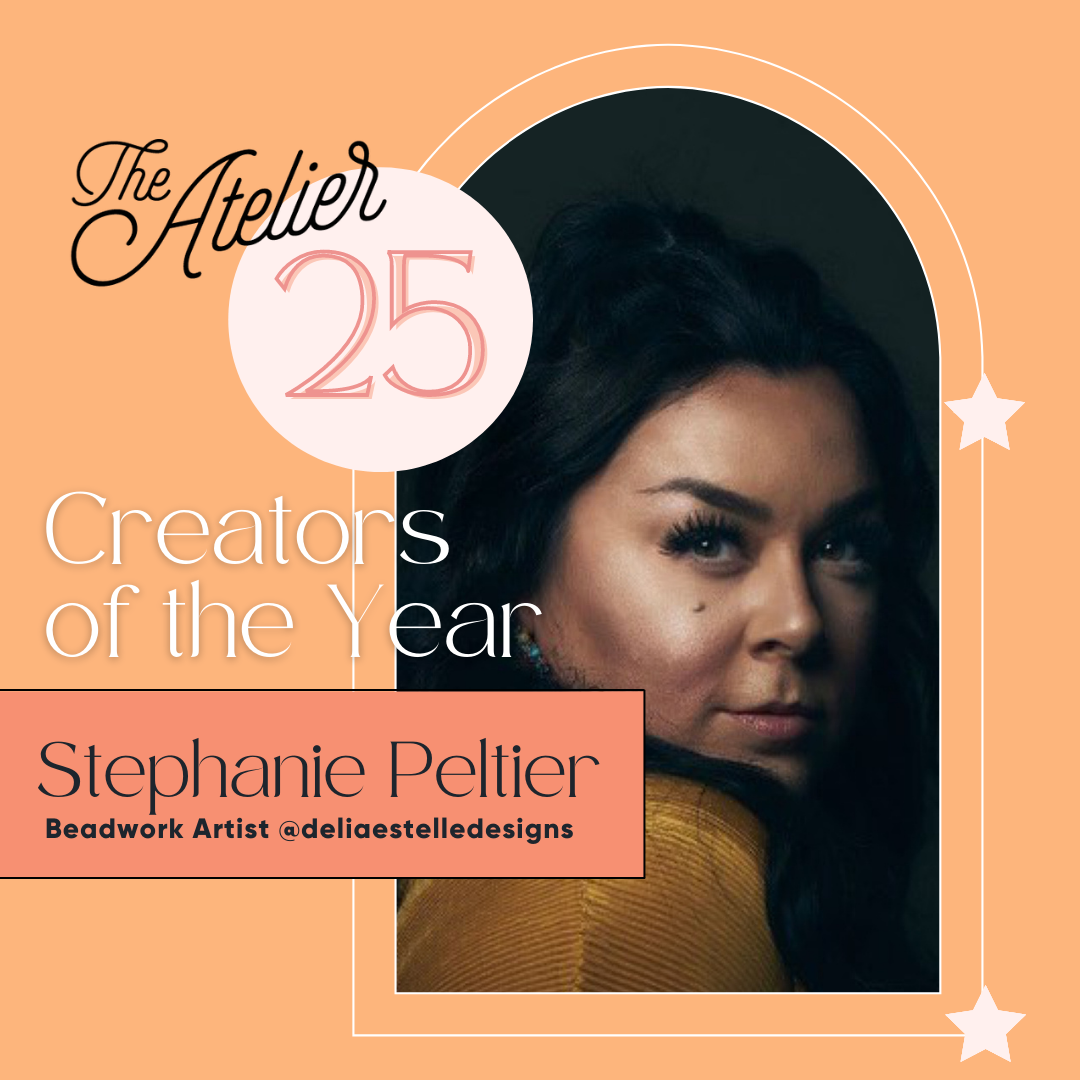 Stephanie Peltier named her business, DeliaEstelle Designs, after both her grandmothers, Delia and Estelle. It was after Delia's passing that Stephanie decided to continue her legacy by immersing herself into beadwork and sewing to reconnect with her indigenous culture. Today, DeliaEstelle Designs has grown exponentially across the Ottawa region and beyond—with a focus on youth workshops and schools. Her biggest win of the year was being selected for a feature on CBC!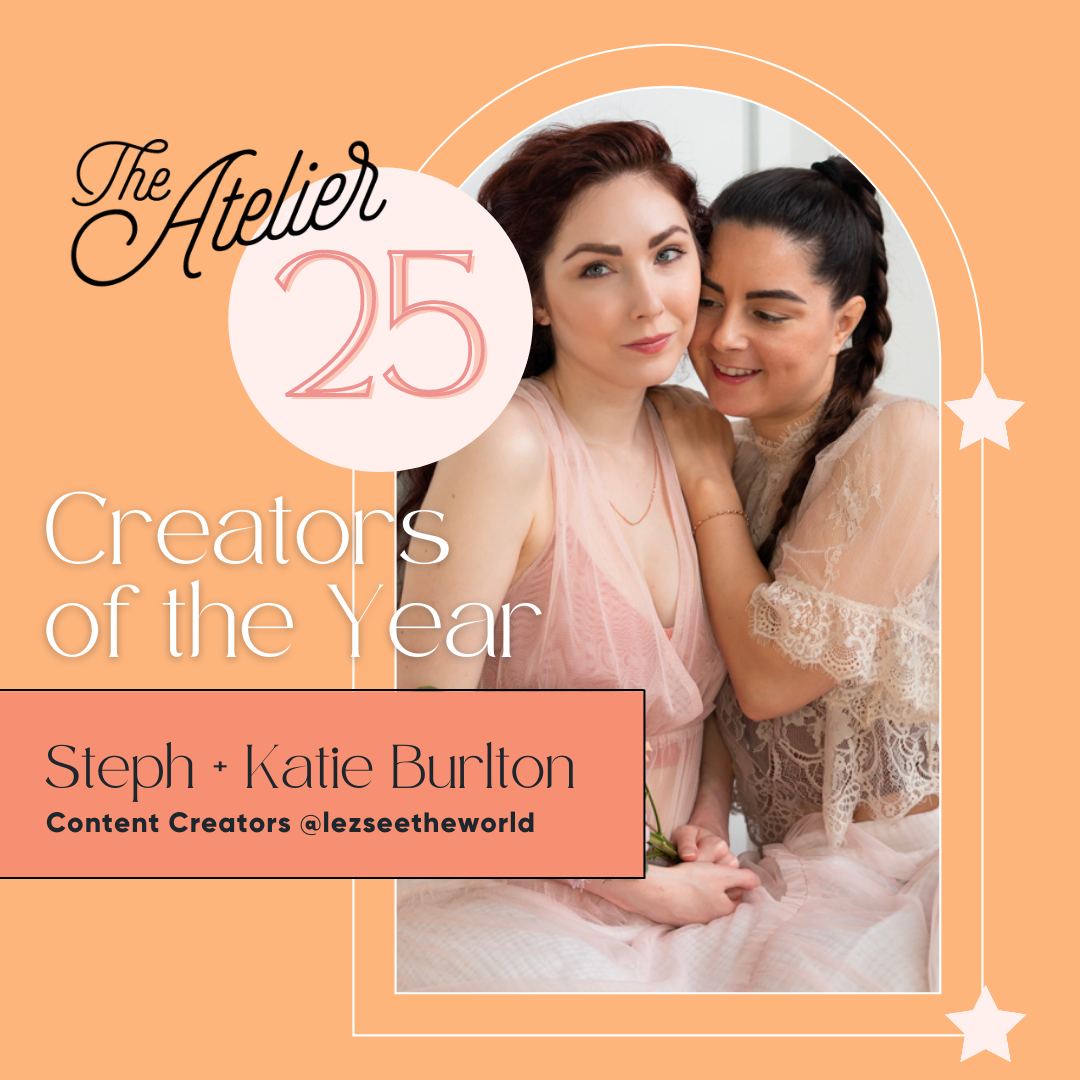 Steph + Katie Burlton create lesbian travel & lifestyle content for an audience of queer women and allies. They've built a dedicated following and strong community online through advocating for lesbian visibility, and positive queer representation on social media. Their biggest moment of the year was working with the vancouver pride society on their 2021 pride campaign, being featured on a billboard at the corner of robson and granville through pride season!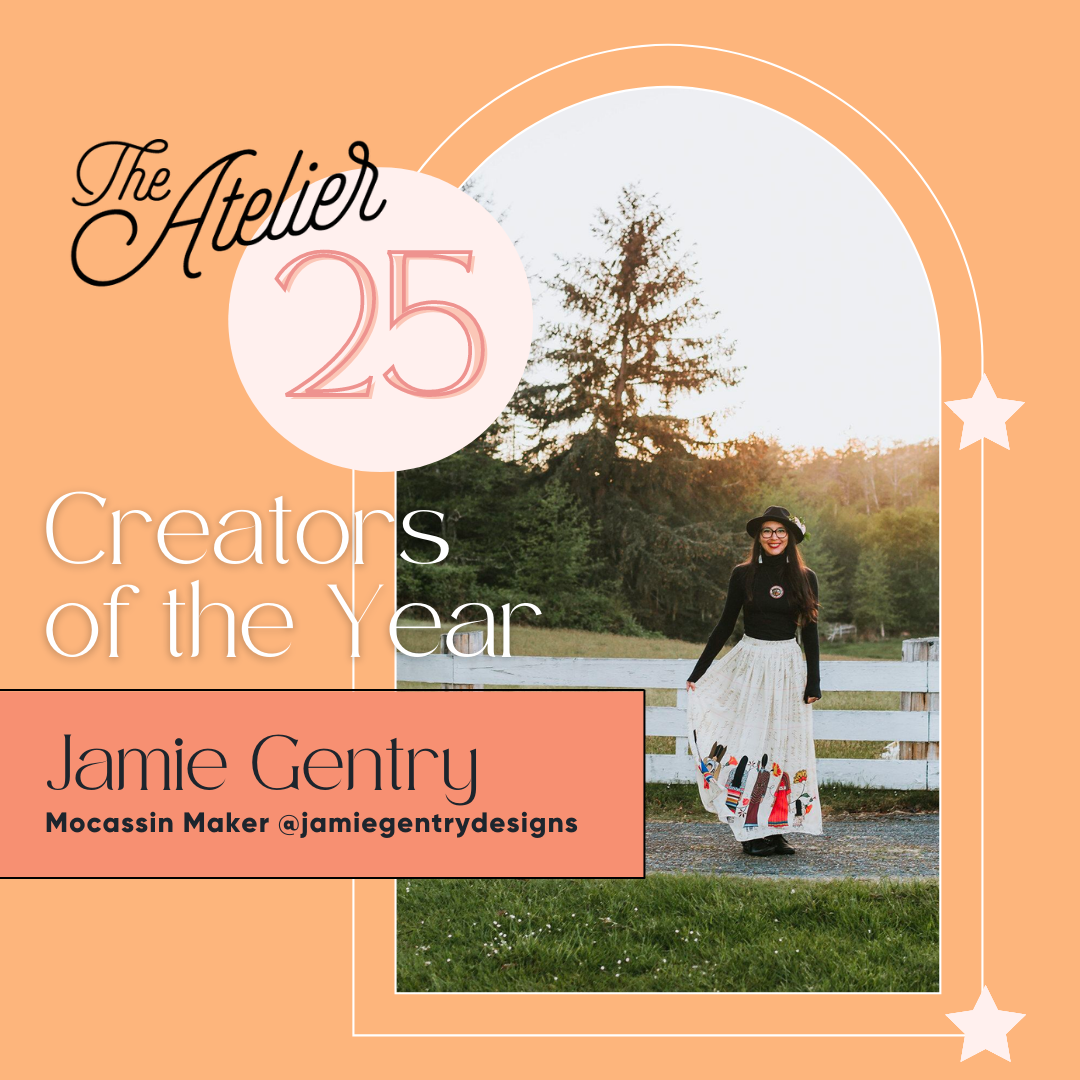 Jamie Gentry is a moccasin maker who is creating connection and understanding through her culture and work. Each pair is custom made, which also invites individuals to slow down. To take a closer look at what they are purchasing and from who and what kind of impact their purchase is making. Jamie's biggest win was making a large batch of moccasins for a movie that will be released next year.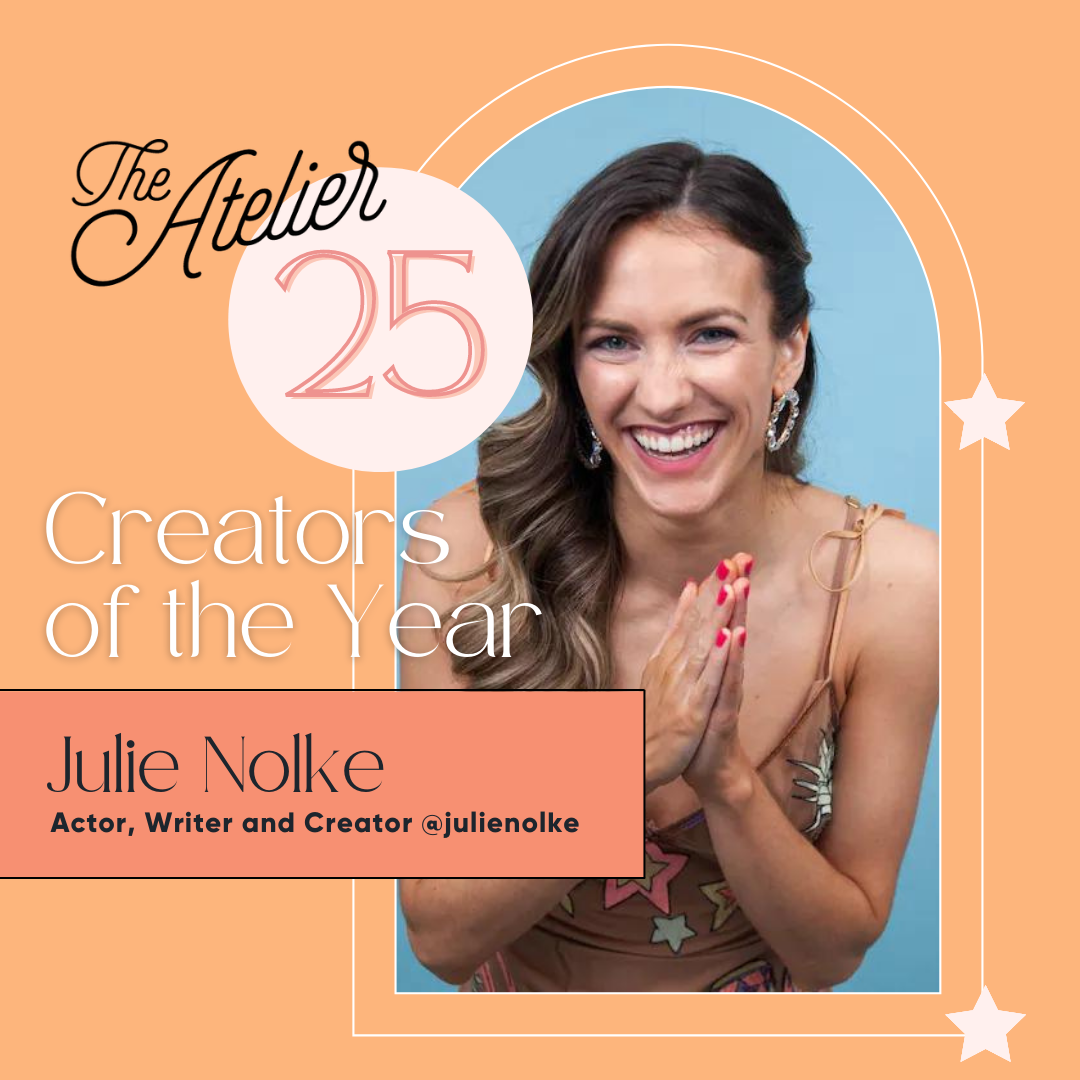 Julie Nolke is an actor, writer and creator. Her youtube series "Explaining the Pandemic to my Past Self" went viral and amassed over 50 million views. Julie creates original content and has kept people laughing during the lockdown period, impacting many in Canada and around the world. Julie has won 3 Webby Awards: for Best Individual Performance, Best Viral Video and Best Writing and was named one of 2020's Top Canadian Breakout Creators by YouTube.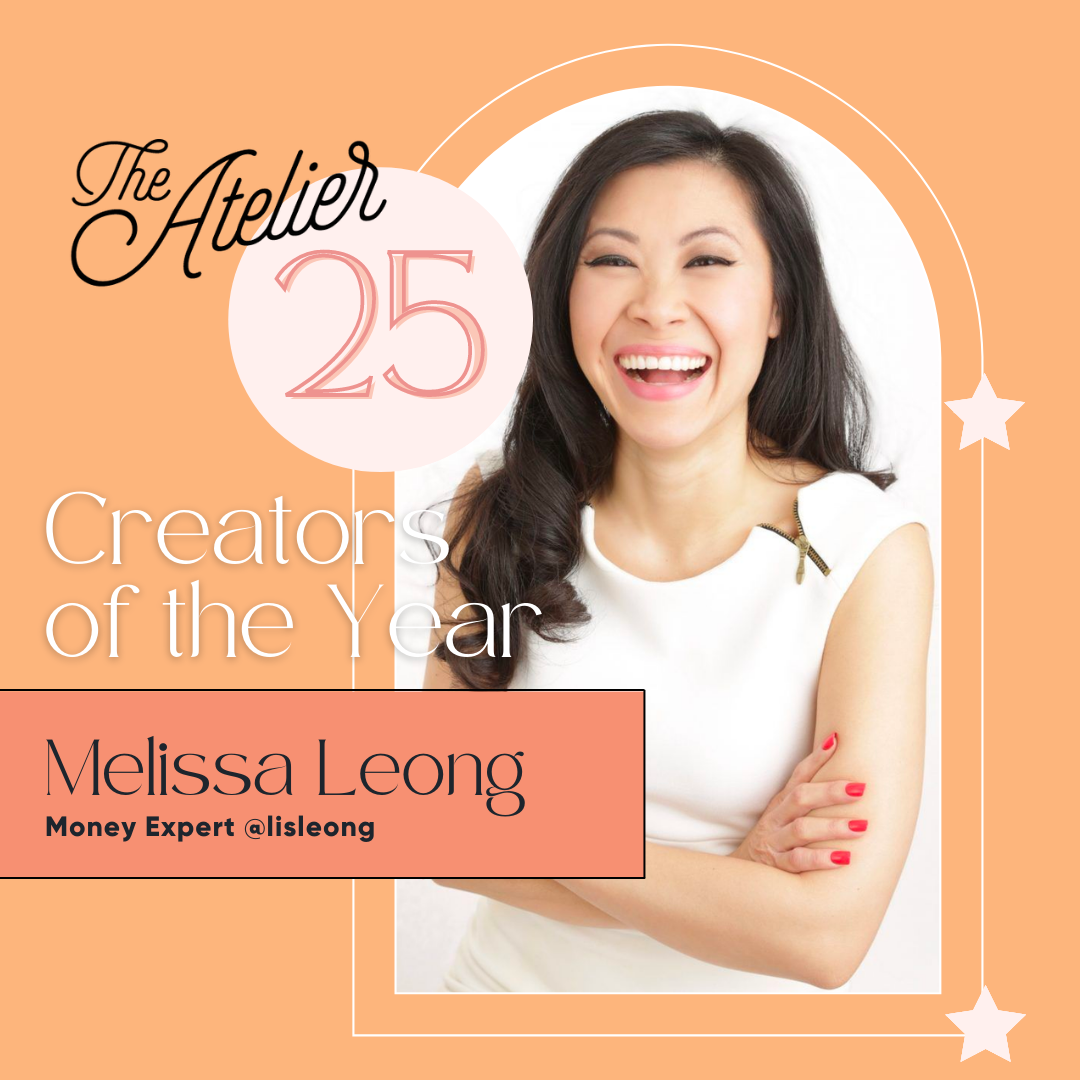 Melissa Leong is a money expert who has dedicated two decades to informing, enlightening and inspiring people, focused on empowering women to become more powerful, successful and confident through building wealth. Her passion and ability to connect with people while tackling a topic like money was recognized by The Drew Barrymore Show. After having Melissa on the show virtually, they were so impressed with the impact she made, they extended an invitation to appear live in the studio with Drew just a few weeks ago (November 2021)!
CHANGEMAKERS OF THE YEAR
You are advocating for change, creating impact and making this world a better place. You've either leaned into environmental causes, diversity and equality, policy changes, charitable work, social enterprise, or have made a consistent effort to support other ambitious women in business. You move the needle by helping others rise to the occasion and are an example of leadership and inspiration—and through that, you create a positive ripple effect in your community and beyond!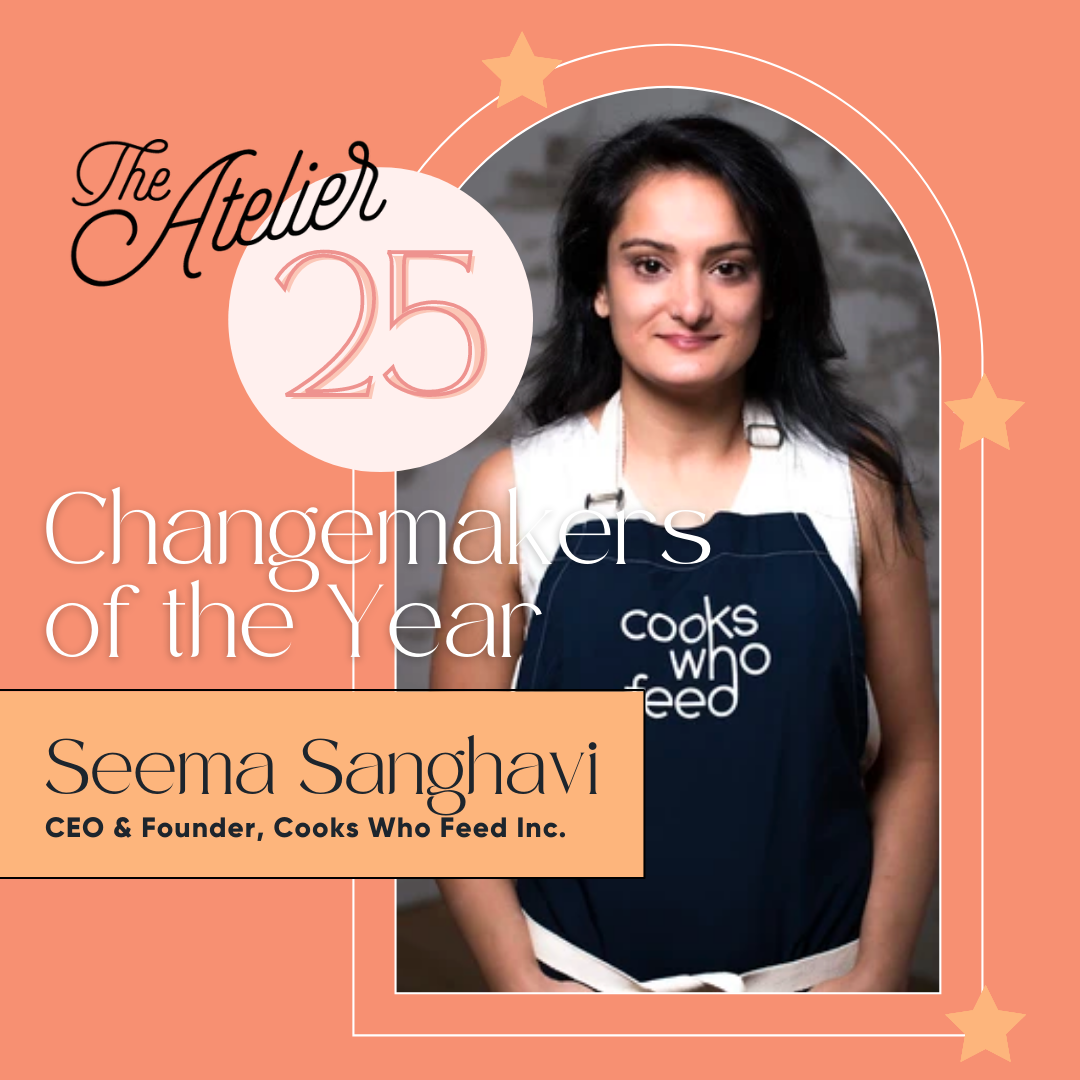 Seema Sanghavi is the CEO and Founder of Cooks Who Feed Inc., a social enterprise that produces kitchen textiles with a give-back model, providing meals to alleviate hunger and sharing the profits with charity partners around the globe that recover surplus food to reduce food waste and provide hunger relief. To date, they have provided over 300,000 meals and on track to provide half a million meals by the end of 2021. All the textiles are handmade in India where they provide safe and fair trade work to marginalized women.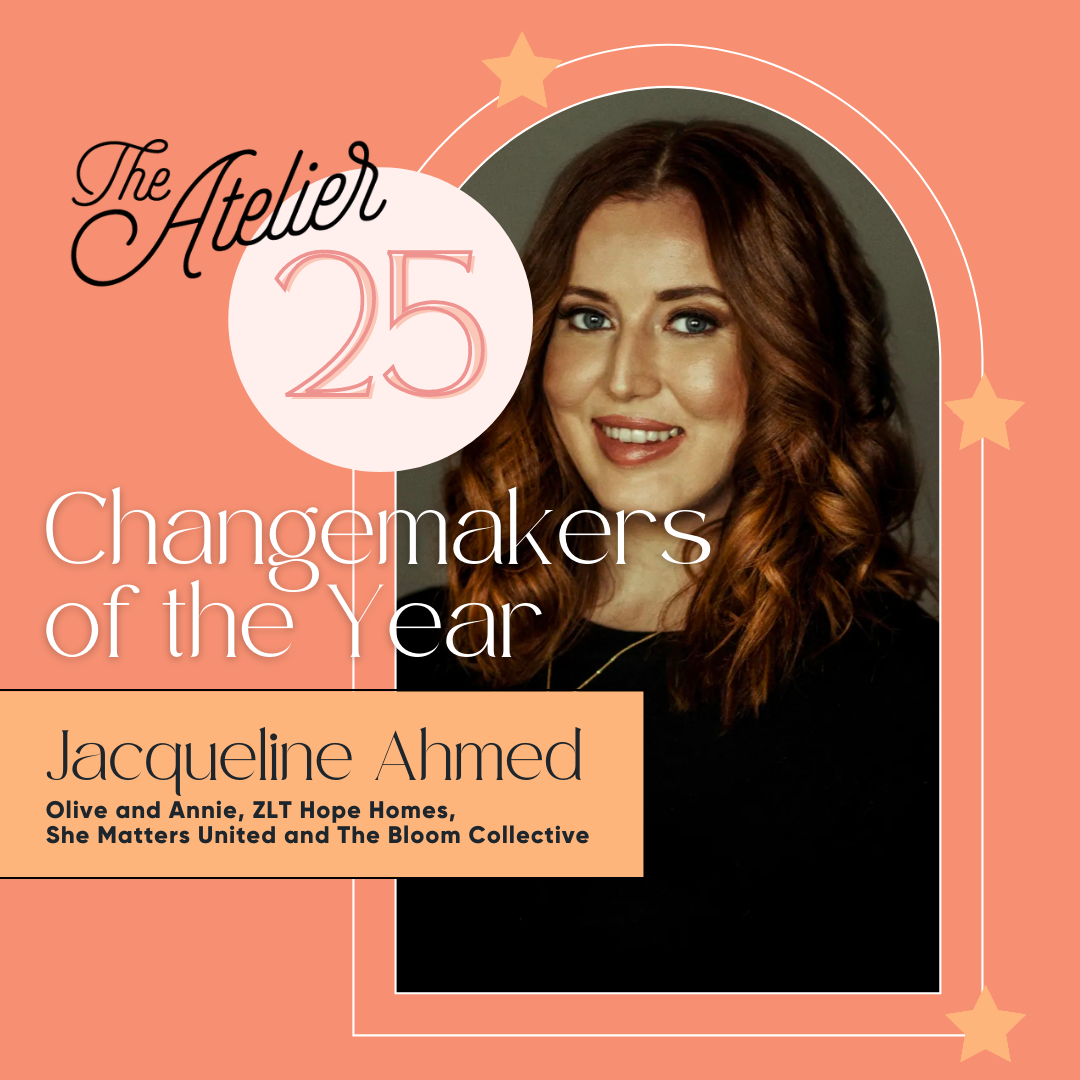 Jacqueline is the Founder of Olive + Annie, ZLT Hope Homes, The Bloom Collective and She Matters United—a community of women-identifying survivors and allies, standing united in healing, support and education, advocating for governments to mandate sexual assault evidence kits are available and accessible to all Canadians. ZLT Hope Homes supports abused and abandoned children of all backgrounds in Nairobi, Kenya. They also support mothers and children affected by sexual violence or physical assault. With the help of proceeds from Olive + Annie, they provide education, rescue and safe shelter by those affected. Jacqueline has created a safe place for victims and is making huge changes in federal and provincial governments to help bring justice to these survivors.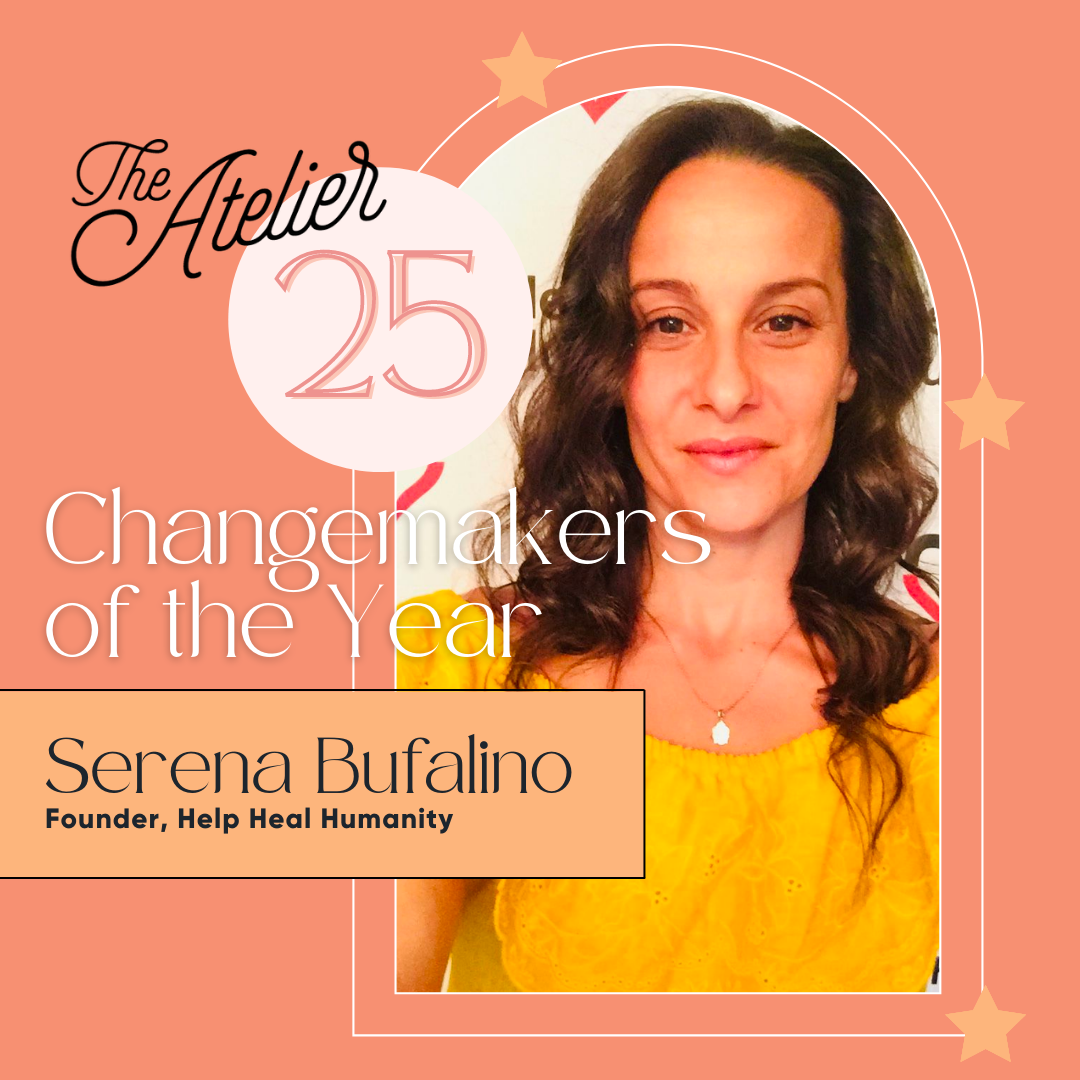 Serena is the Founder of Help Heal Humanity, an international charity which helps provide the world's most vulnerable with access to education, food, community and love. Serena travelled to Haiti mid-pandemic after the 2021 earthquake to distribute goods to the local communities and children. Serena also delivered meals across the GTA to encampments all pandemic long, supported the YWCA, collected donations for Haiti when the world shut down. Serena is a harbinger of hope in this world and Thousands of homeless people from Toronto to Hamilton to Haiti to Spain and now Nicaragua are fed and loved thanks to the spirit and perseverance and passion of Serena.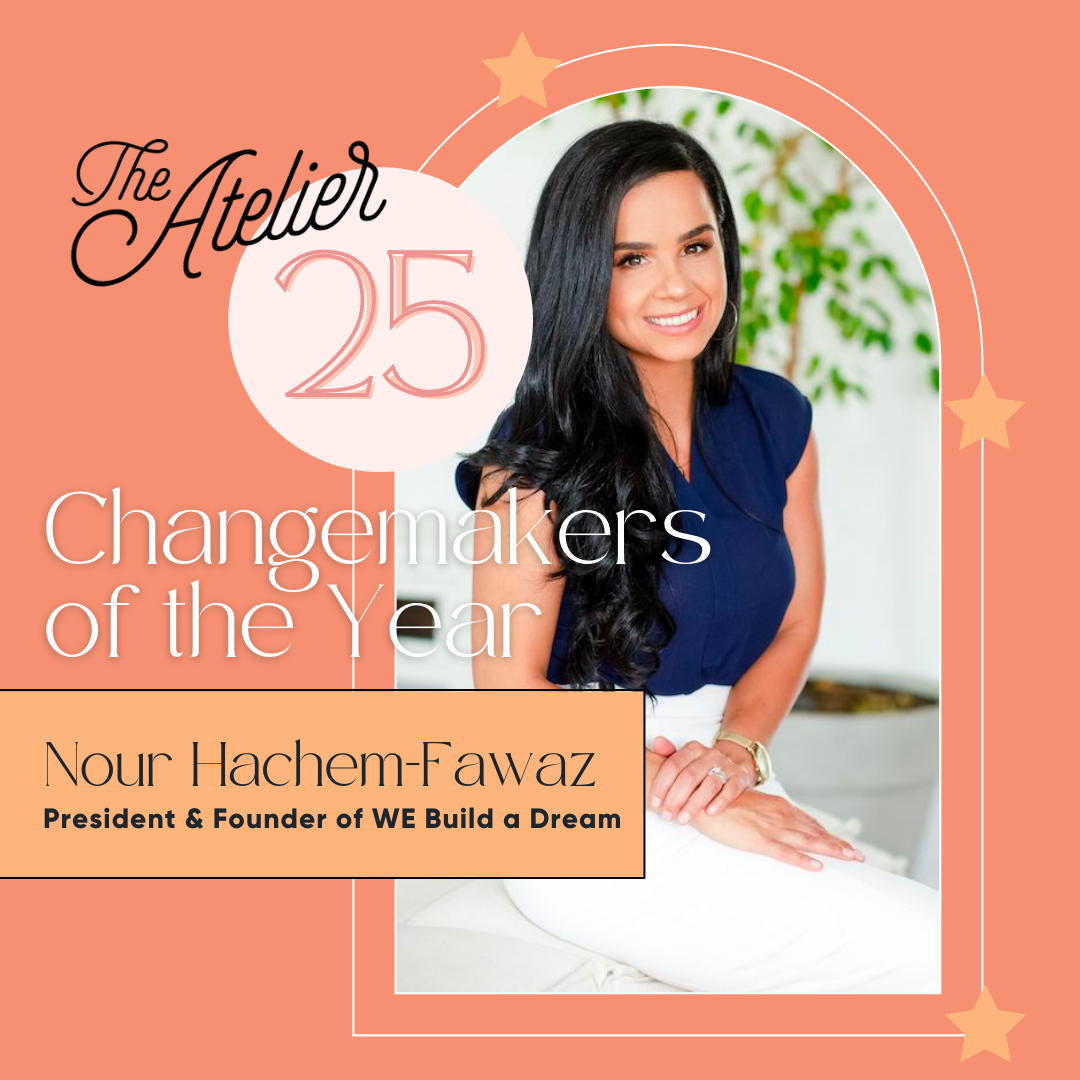 Nour Hachem-Fawaz is the President and Founder of WE Build A Dream, a national non-profit organization dedicated to advancing diversity and inclusion initiatives to ensure equitable opportunities for EVERYONE to succeed. They recently held an event called Dreamer Day in honour of International Day of the Girl and had their Dreamer Day flags raised across Canada. On top of that, the mayor of Toronto presented them with a proclamation that October 11th is now recognized as International Day of the Girl. Nour's work is already making changes in the industry and over the past 7 years has created so many partnerships with industry and government, as well as education institutes to make changes in the workforce.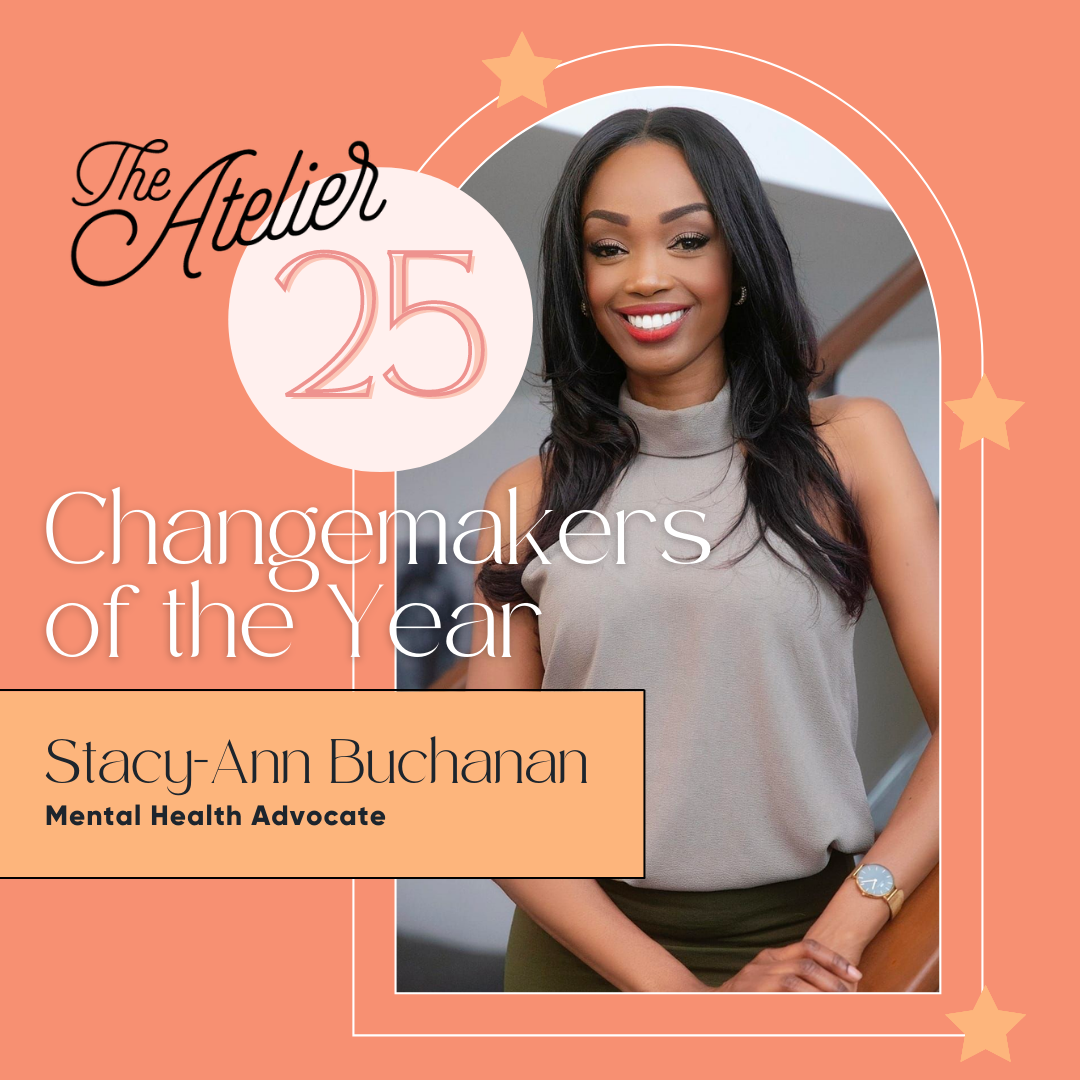 Stacy-Ann Buchanan is a Mental Health Advocate with a focus on the black community and those often left out of policy and healthcare decisions as it relates to mental health. This year Stacy-Ann Buchanan shared the stage (virtually) with Sophie Trudeau and Asante Haughton to talk about journeys to healing for a CAMH (Centre for Addiction and Mental Health) event. Stacy-Ann is working towards a future where the narrative around the strong Black woman is dismantled and Black women and people can take back their narratives and live their lives in safety and joy without the continued need to be resilient.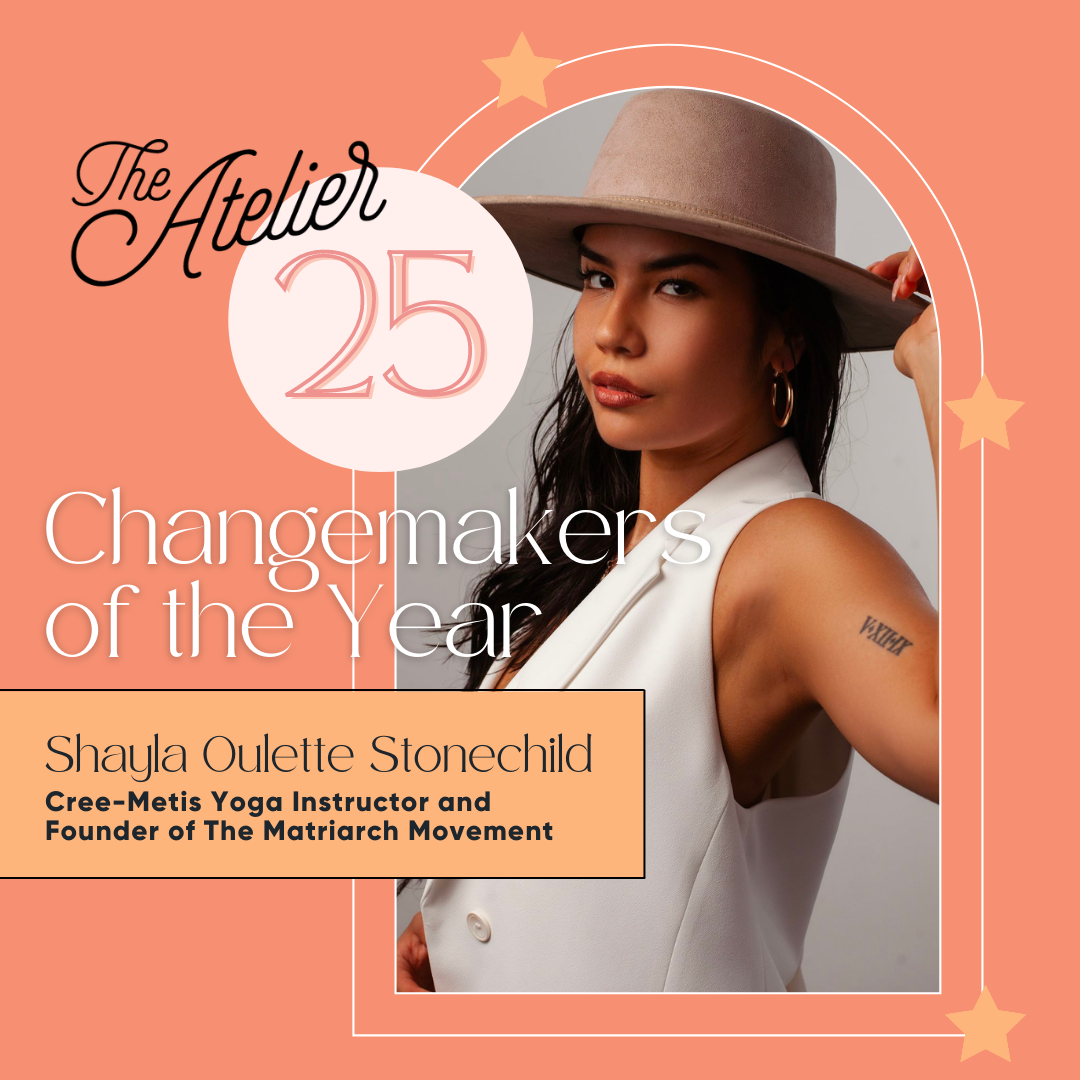 Shayla Oulette Stonechild is a Cree-Metis Yoga Instructor and Founder of The Matriarch Movement. This year, Shayla became the first Indigenous woman to grace the cover of Yoga Journal magazine. Shayla is aiming to increase representation in the health and wellness industry, and shift the narrative about Indigenous women. She recently joined Lululemon's diversity and inclusion committee in hopes to lead to other opportunities for Indigenous women. Shayla is the epitome of someone pushing forward for positive change. Through her non-profit work through the Matriarch Movement, meant to amplify the voices of Indigenous women, and her podcast of the same name, Shayla is blazing new, necessary trails in our country.
LEADERS OF THE YEAR
Christine Sinclair is an Olympic gold medalist, two-time Olympic bronze medalist and 14-time winner of the Canada Soccer Player of the Year award. Christine is the world's all-time leader for int'l goals scored for men or women with 188 goals, and is one of the most-capped active international footballers with more than 300 caps. As captain of the Canadian women's soccer team, Christine has led her team to medals in three consecutive olympics—consistently demonstrating a relentless work ethic, grit and perseverance when faced with adversity and continuing to have a long lens on what success looks like! Christine's passion, strength of leadership and vision led the Canadian women's soccer team into history, winning their first-ever olympic gold medal this past summer!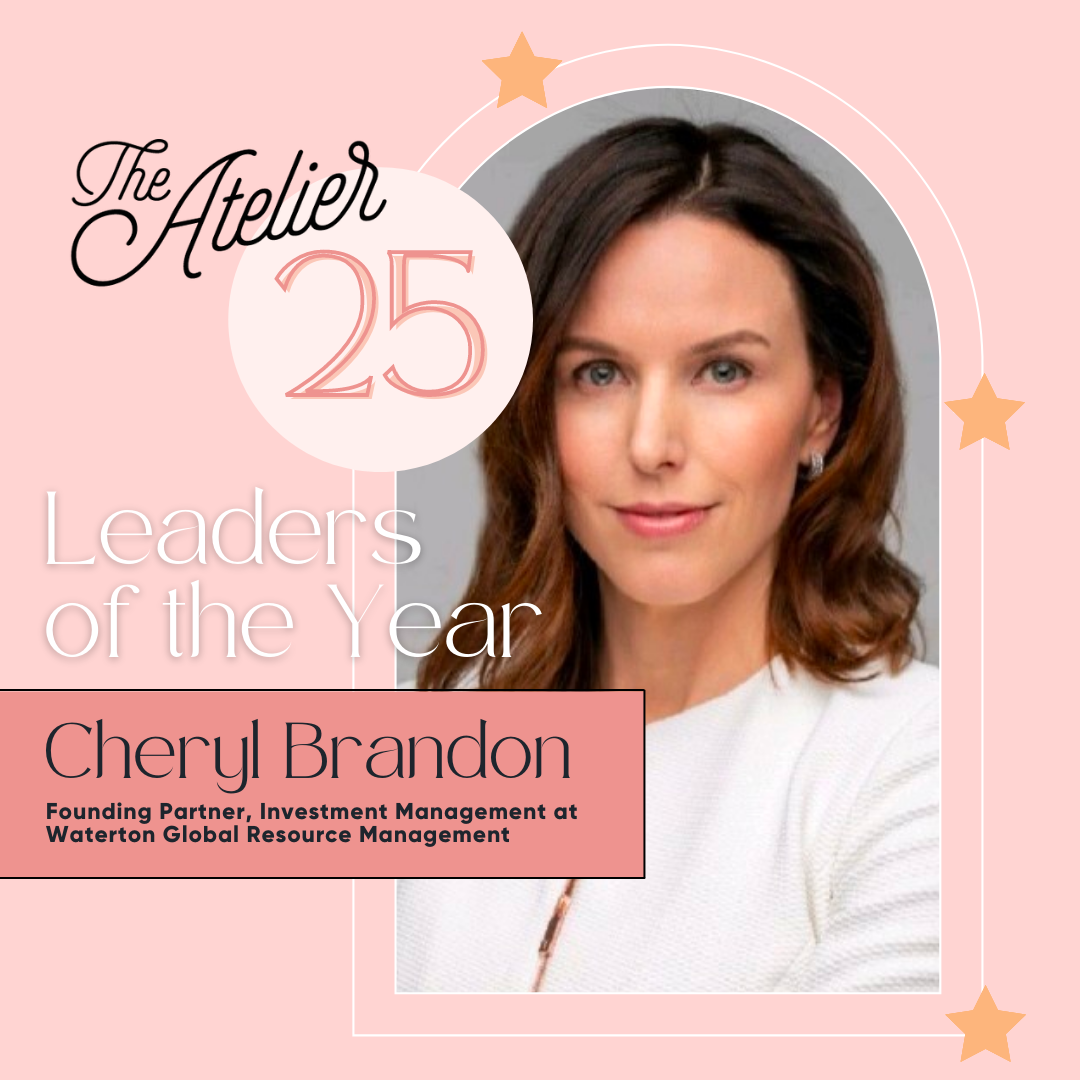 Cheryl Brandon is the Founding Partner, Investment Management at Waterton Global Resource Management. She's been recognized for her leadership skills as one of Canada's Top 40 under 40 and "Canada's Shining Light of Leadership" by the Financial Post. Cheryl is also the founder and director of two charities, "The Giving 2 Girls Initiative", which provides funding to support girls in developing countries, and the "Ashley's Angel's Fund", which works with SickKids hospital to provide funding for organ and tissue donation. In 2009, Cheryl heroically donated a portion of her liver to her 2-year-old niece, Ashley, who was diagnosed with liver failure. In 2021, Cheryl was awarded the Distinguished Graduate for the Goodman School of Business at Brock University.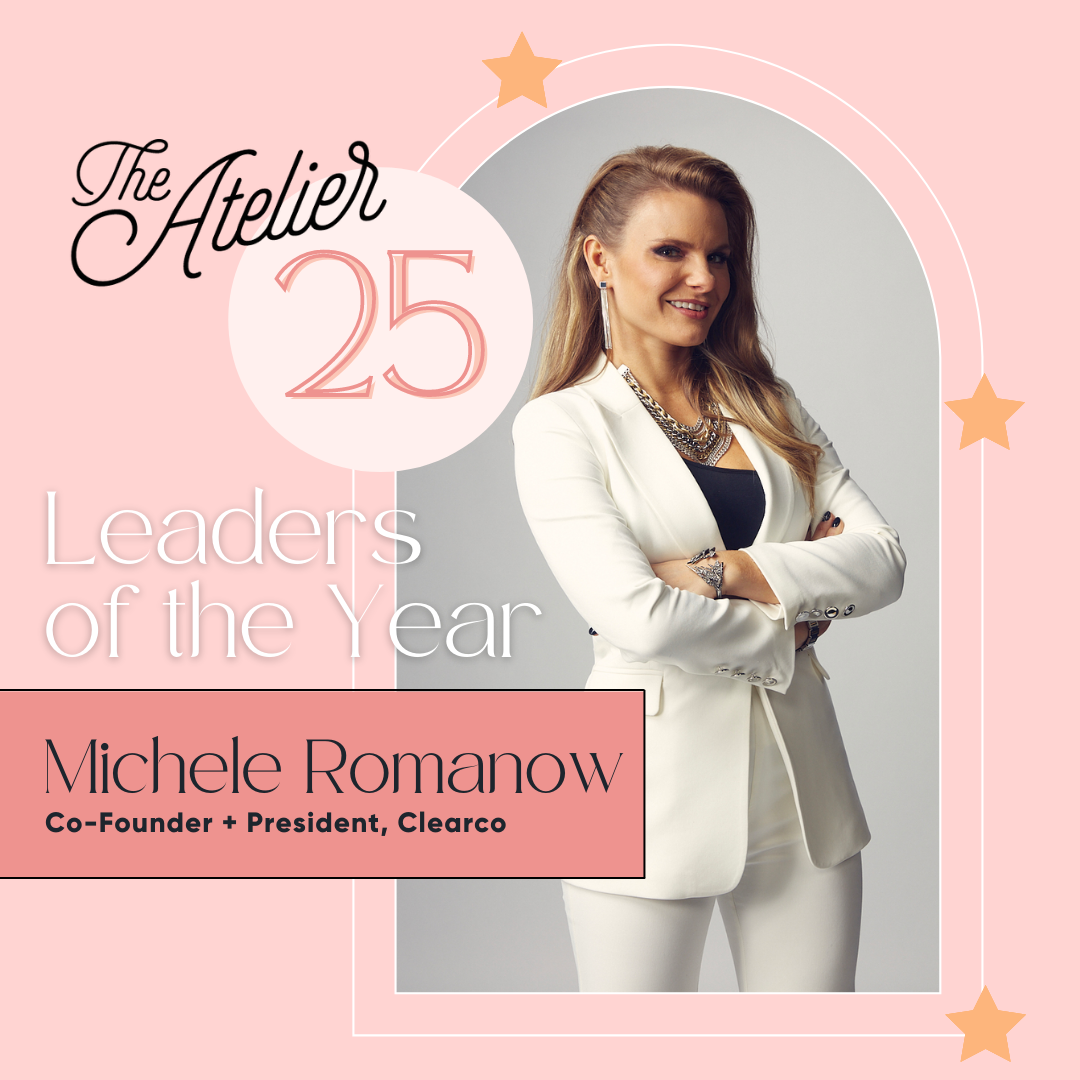 Michele Romanow is the Co-Founder + President of Clearco, where her mission lies in empowering female entrepreneurs, backing 8x more women than the VC industry average. She exemplifies strength and leadership in the entrepreneurial world and provides tools to other entrepreneurs to thrive. In a time when there is so much uncertainty in the world, Clearco reached "unicorn status" this year, raising US$100-million at nearly US$2-billion valuation. For nearly a decade, Michele has been in the spotlight and has exemplified the limitless potential of women. Providing mentorship as well as financial backing, Michele is empowering the next generation of leaders. As a woman in tech, she fearlessly keeps pushing forward and paving new roads for small businesses.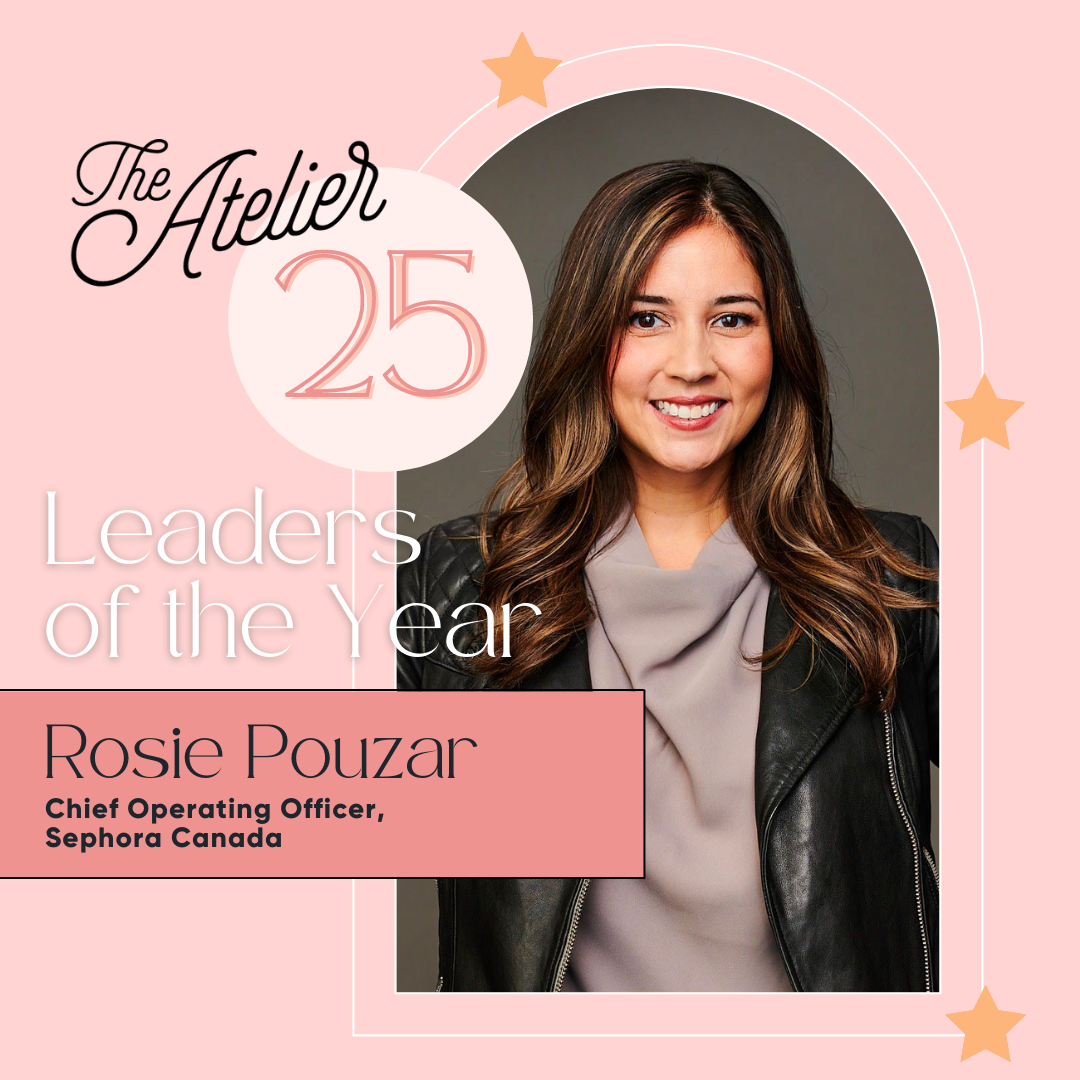 Rosie Pouzar is the Chief Operating Officer at Sephora Canada, and has developed an ecosystem of diverse talent within the Sephora organization. Throughout the course of the pandemic, Rosie's ability to be agile, think outside the box and challenge existing ways of working helped strengthen her team, the business & culture at Sephora. Rosie continues to influence the Diversity and Inclusion journey as a member of the BIPOC community at Sephora, and as an advocate for change in the social inclusion space. Seeing all of Rosie's hard work be recognized with her promotion to COO has been a really big moment this year. She manages to challenge the stereotypes of what it is like working in Finance by creating an environment of innovation & fun.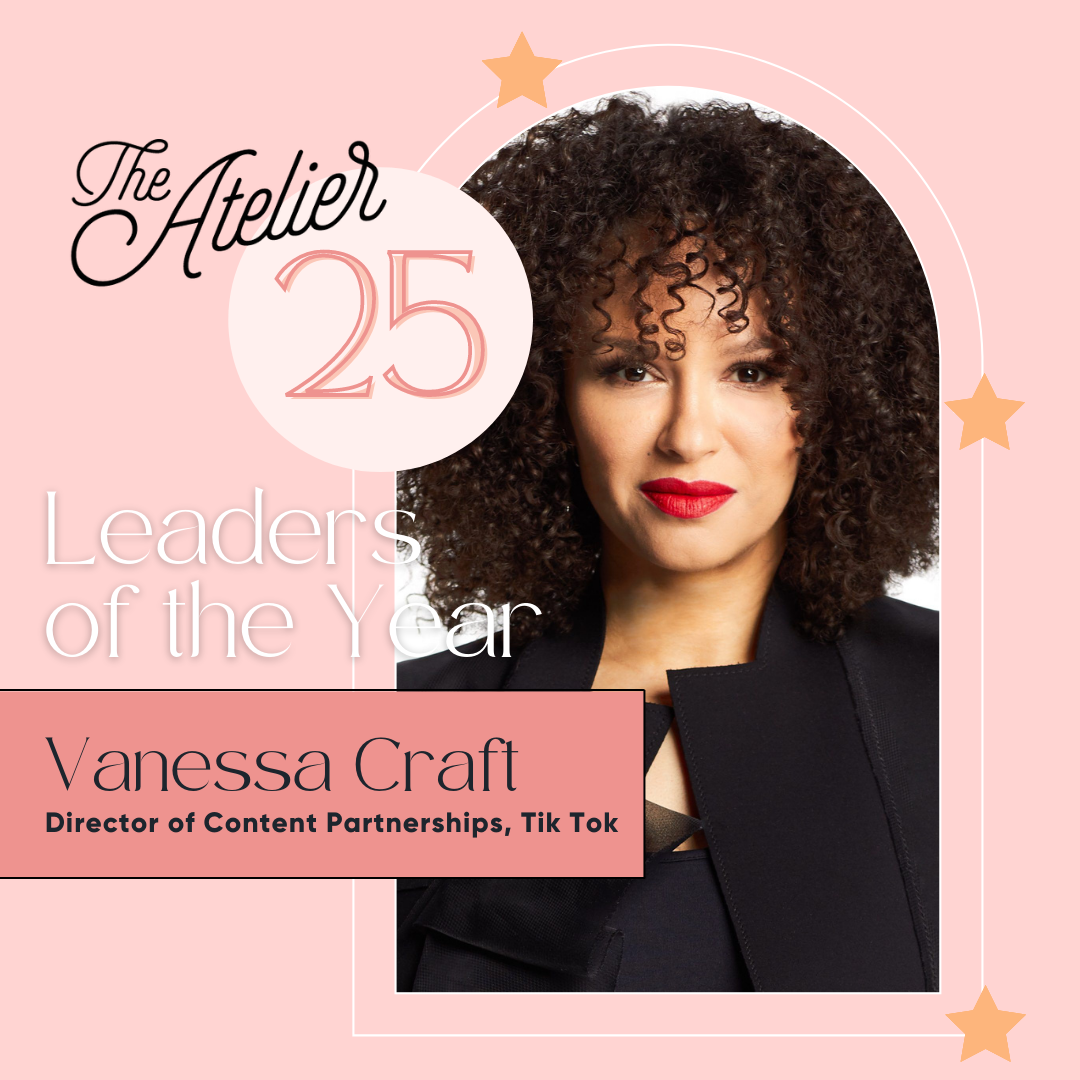 Vanessa Craft is the Director of Content Partnerships at TikTok, overseeing content strategy, acquisition, growth and management of Tiktok's community of Creators, Media Publishers, and Public Figures in Canada. After holding the top job of Editor-in-Chief at Elle Canada, Canada's most respected fashion magazine, Vanessa took on this new leadership position at TikTok in order to help content creators rise into their potential in a rapidly growing media space. She is a champion of women in business and provides mentorship to those 'up-and-comers' learning to navigate their careers in the ever-changing social space. She is a champion for diversity and inclusion and ensuring these creators find their space of belonging on TikTok and beyond.
ENTREPRENEURS OF THE YEAR
You own at least 50% of your business or lead the company as either the CEO, Founder, President or similar leadership role. Year after year, you've seen consistent growth—both financially and through impact you create. You've experienced big wins that have made members of your community stop, look and listen, and you are inspiring those around you by the waves you are making. You are constantly innovating, adapting to the times and creating new, creative and exciting products or services that have made their mark in your respective industry!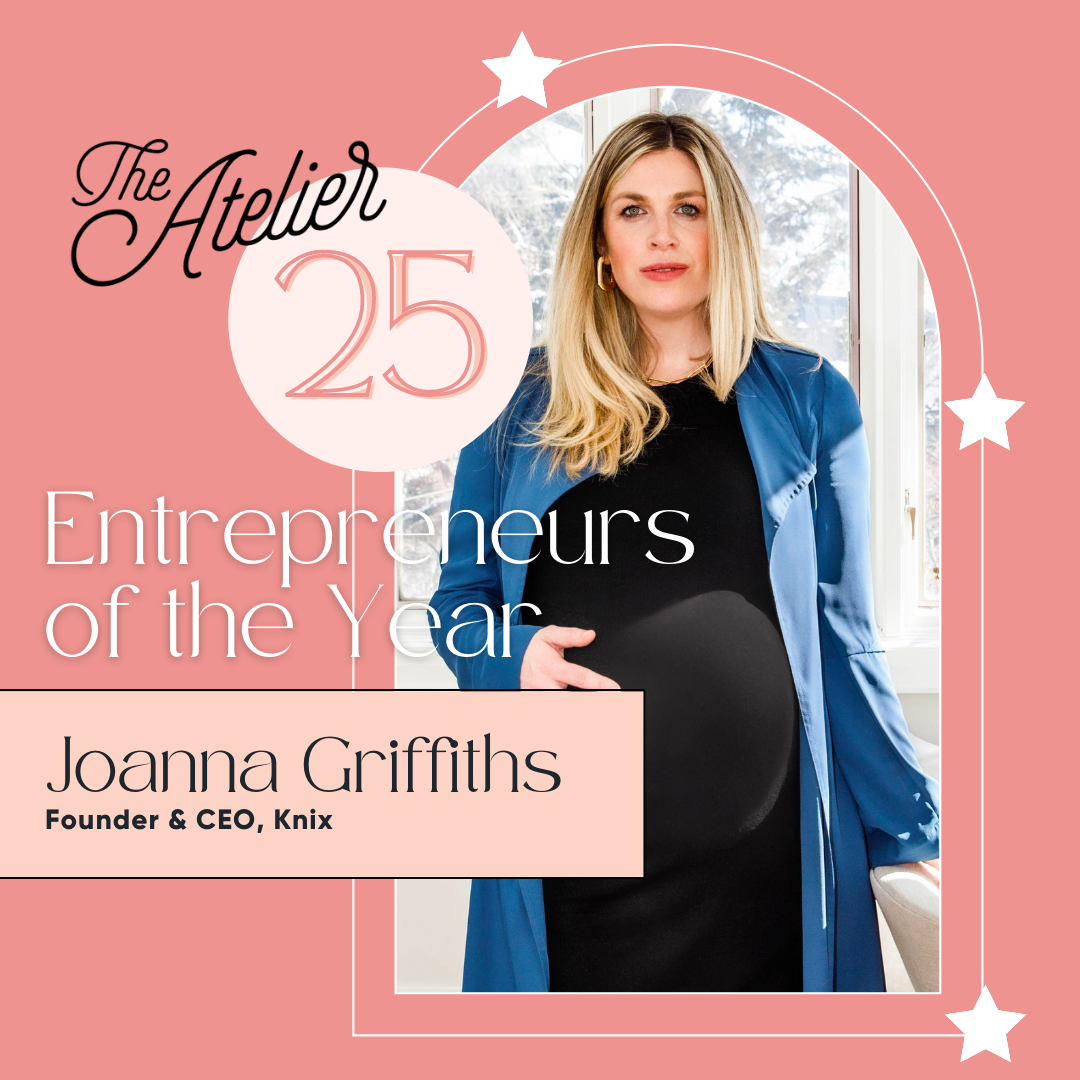 Joanna Griffiths is the Founder and CEO of Knix, which was created with the goal of transforming an underwear market that had too much frill and not enough function. Joanna is the definition of an ambitious woman in business creating massive impact, launching the Life after Birth Project, a gallery that highlights women's postpartum journeys, being featured as one of Adweeks' 2021 Trailblazers, securing Ashley Graham as a spokesperson, nearly surpassing $100 million in revenue, and closed a funding round reported at $53 million – right before having twins! Joanna has created a new industry, breeds innovation, supports diversity + inclusion and has created products for all women.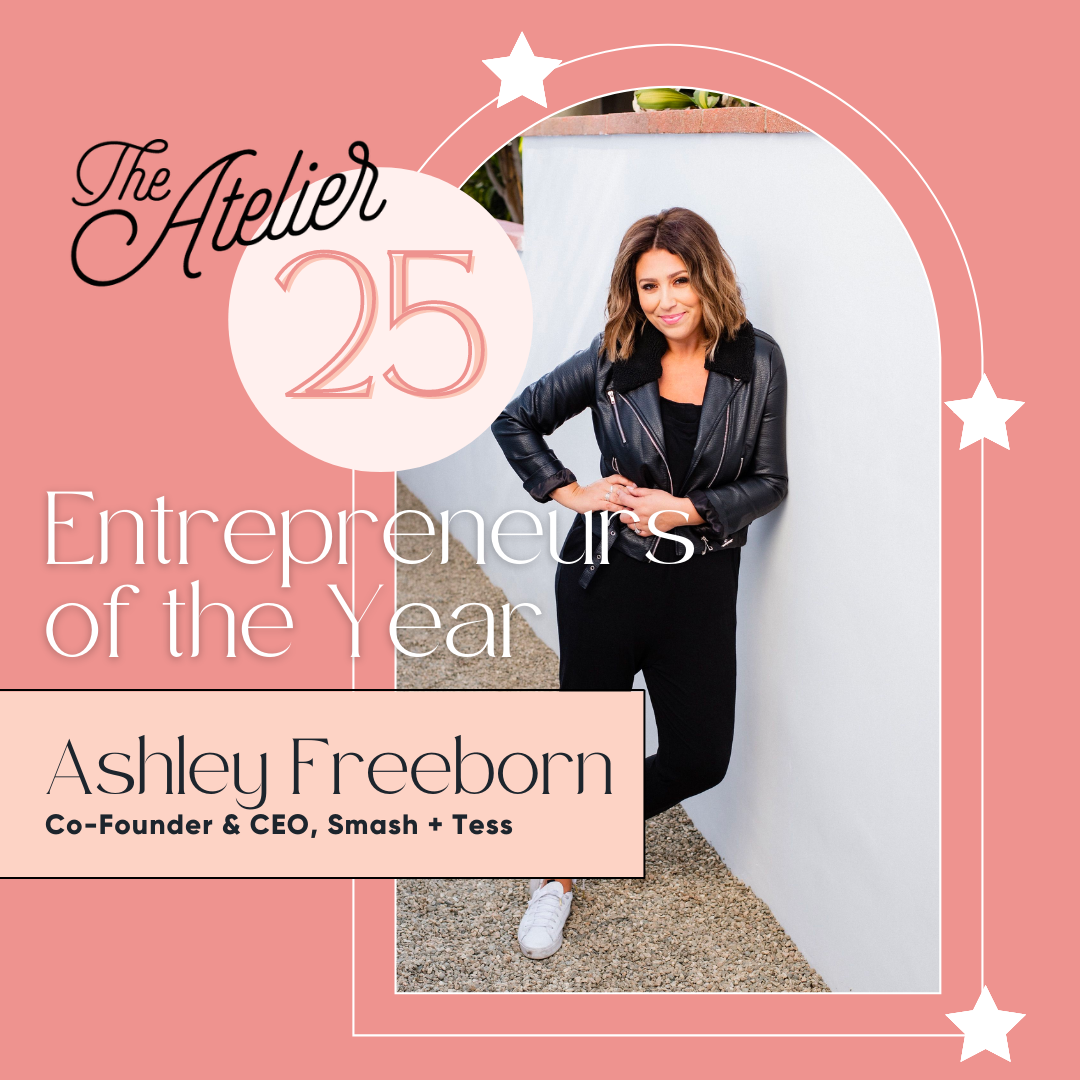 Ashley Freeborn is the Co-Founder and CEO of Smash + Tess, a loungewear company committed to ethical production, social responsibility and unwavering inclusivity. With record sales in 2020 and on the heels of being named one of Canada's Fastest Growing Companies by the country's leading newspaper, The Globe and Mail, Smash + Tess is projecting a growth of 85% in 2020-21. From the start, Ashley's built & maintained a brand rooted in social responsibility & community and her conviction has inspired others to follow. Because of her visionary leadership, she has: Supported fair working conditions and local manufacturing in Canada, led the brand through unprecedented growth and successful collabs, and grown a loyal community.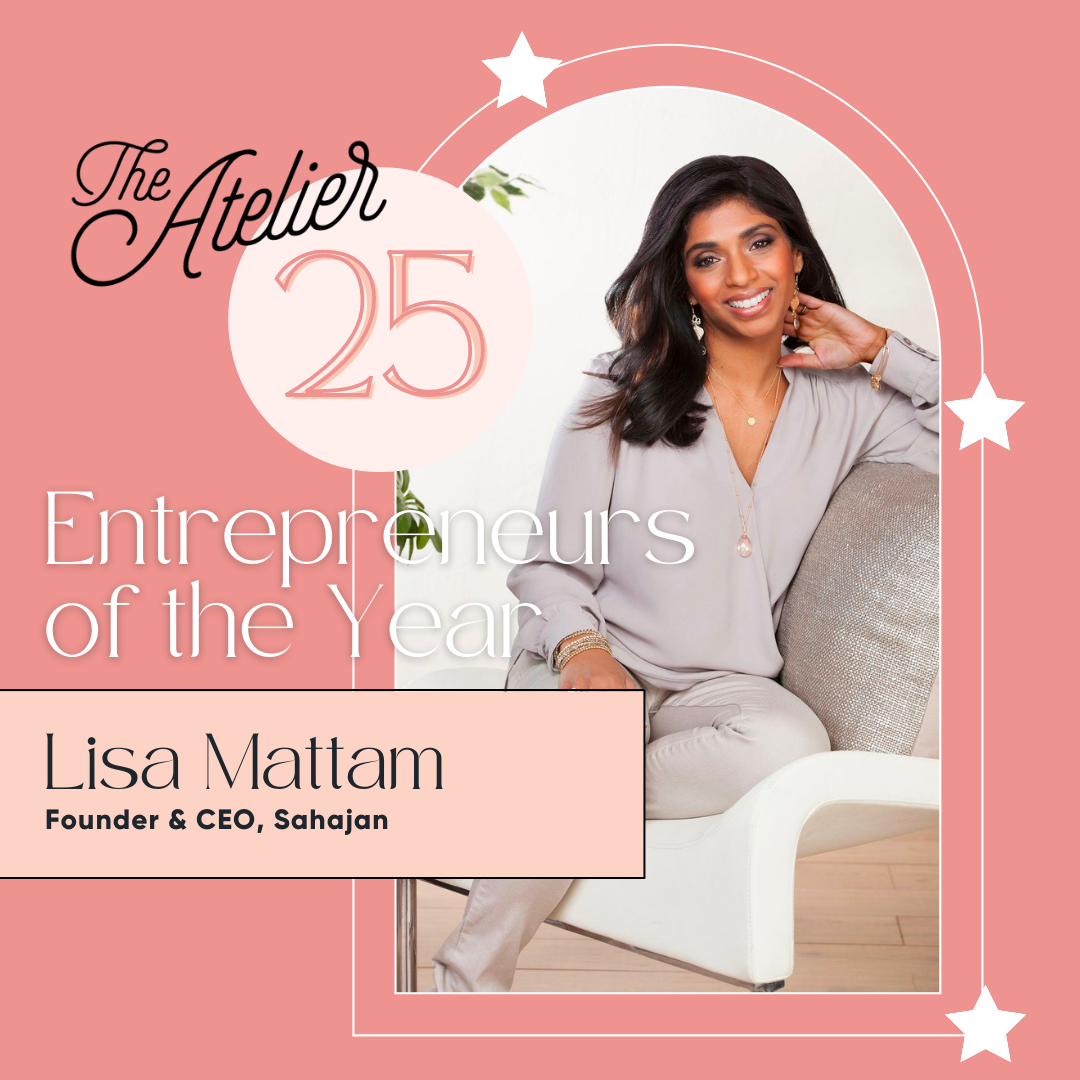 Lisa Mattam is the Founder and CEO at Sahajan, a clean skincare line based on the 5,000 year-old Ancient Indian Science of Ayurveda and has been featured in Vogue Paris, Chatelaine and Forbes. With 4x growth on topline revenue in the last fiscal year, Sahajan made an incredible shift from being a retail first brand to a digital first brand with sahajan.com. One of the biggest moments of the year was Sahajan's Brightening Mask being featured in O Magazine, which cemented the brand as a leader in clean beauty. The mission at Sahajan is clear: to accelerate the adoption of clean beauty, to be a bridge bringing the Indian Science of Ayurveda to the world and to support the community in their journey to wellness.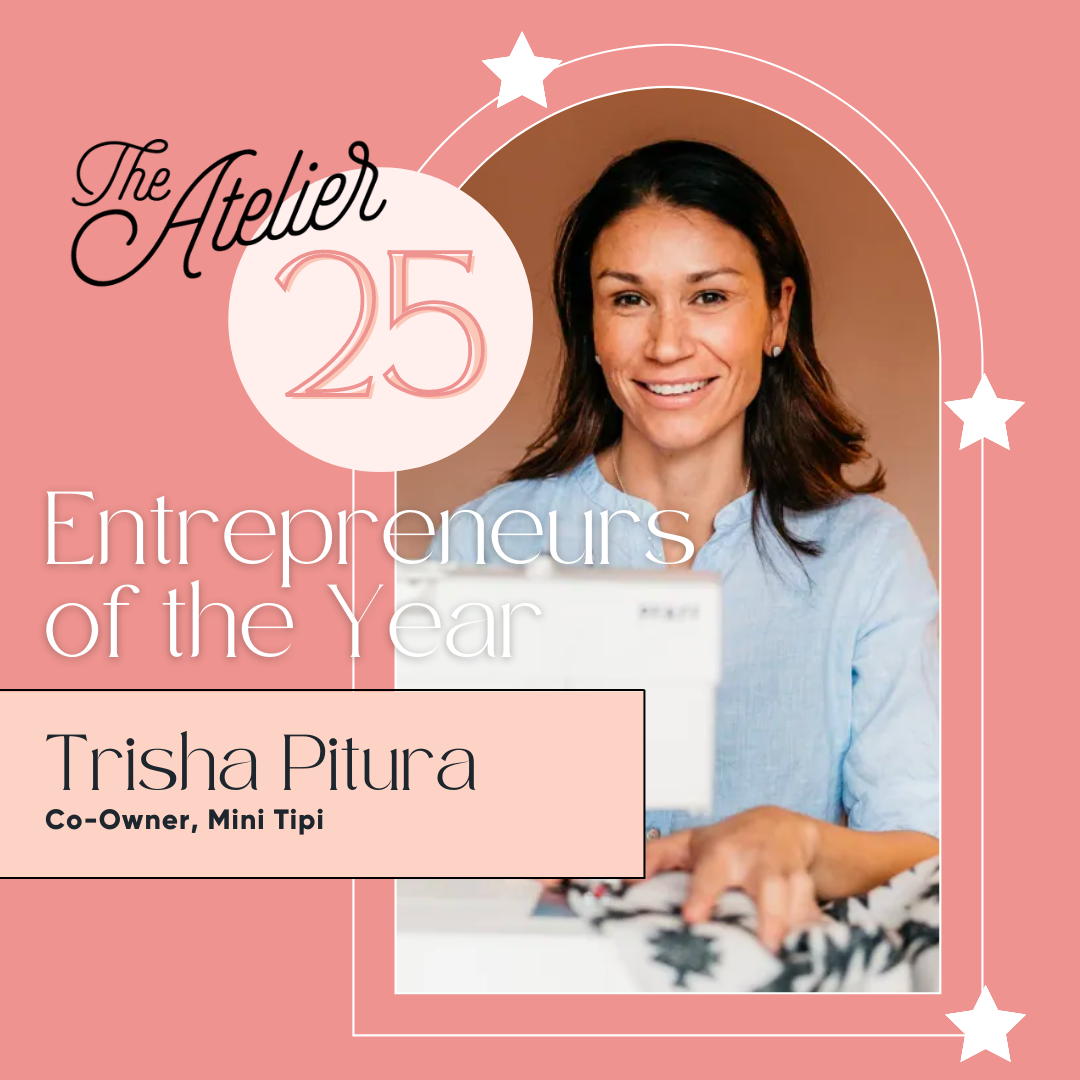 Trisha Pitura is the Co-Owner of Mini Tipi, an indigenous, women-owned handmade accessories brand, available in over 40 stores across the country and internationally. What began as a small creative endeavour focused on her culture has quickly evolved into a thriving business that has been featured in numerous publications, including British Vogue. The year over year growth since launching in 2016—where she worked out of her basement with her three children upstairs—and now working from a flourishing warehouse, 2021 has seen her business expand nation-wide and beyond. Her drive and spirit is the epitome of motivation, and the give-back model ingrained in the business is truly inspirational.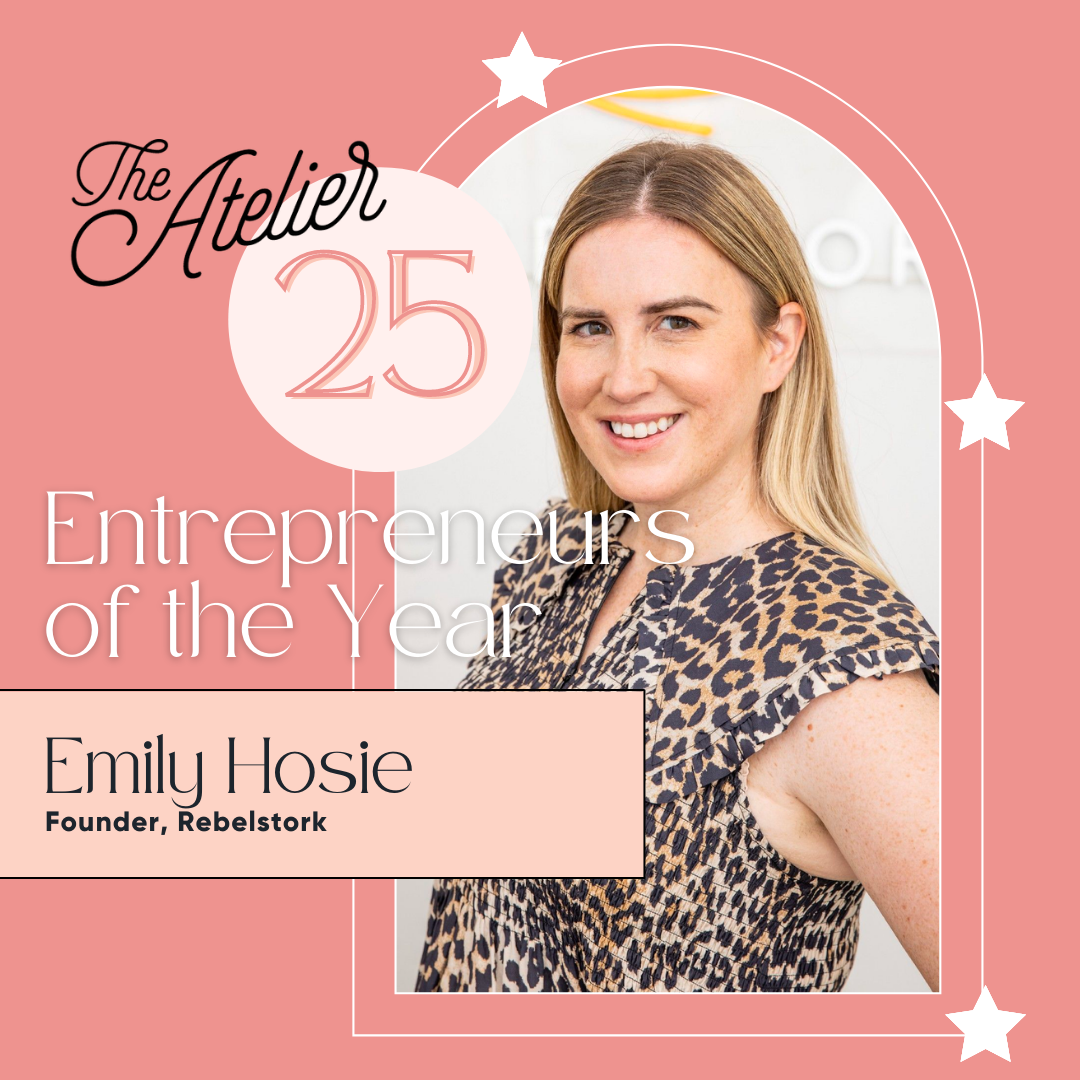 Emily Hosie is the Founder of Rebelstork, a company who is disrupting the baby gear marketplace. This year, Rebelstock has experienced astounding growth: the team grew by 800%, they opened a 2nd warehouse in Vancouver with a 3rd location in the works, developed a first of its kind proprietary resale value estimator (a pricing technology that uses artificial intelligence to determine the potential market value of what the consumer wants to purchase, and before they want to sell it), donated 15,000 new HALO Self-Soothing Swaddle SleepSacks through the FlockGives philanthropic program, diverted more than 50,000 pieces of baby gear from landfills, launched a partnership with HBC and announced a $5M Series A raise. The single biggest moment this year was the birth of Emily's baby girl (Piper), while closing their Series A funding round, demonstrating the possibility of blending career and family, and that we don't need to sacrifice one for the other!
Congratulations to all of this year's winners!