Week 3: The New Storefront Week Recap
As we close off another week of The Atelier: Reimagined, our minds are once again full of valuable, tangible education centred on The New Storefront. The pandemic has accelerated the shift to digital shopping by FIVE YEARS, and during this week we focused on just HOW you can diversify your e-commerce strategy. This was another BIG week (which included our Keynote Conversation with Lilly Singh and Kayla Grey!), and we are grateful for everyone who graced our stage—and as fellow business owners we feel inspired to apply all of the information we learned.
June 14
Coffee with the Collective
We once again set the tone for a positive week ahead by connecting with this community of ambitious women in business through our Coffee with the Collective speed networking session. This week's question focused on "How has your business shifted during COVID?", and we were wow'ed by examples of resilience, creativity and grit. We have to say, this hour may be one of our favourites of the entire week!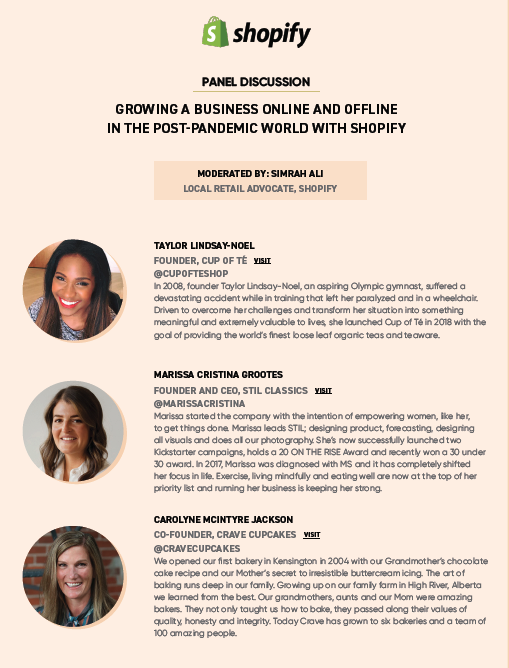 Growing a Business Online & Offline in the Post-Pandemic World with Shopify
After feeling energized through Coffee with the Collective, we were ready to learn from the female-founded small businesses in the Shopify panel. Moderated by Simrah Ali, Local Retail Advocate for Shopify, we got to meet Taylor Lindsay-Noel, Founder of Cup of Te, and Marissa Cristina Grootes, Founder and CEO of Stil. Taylor's story of founding Cup of Té stopped us in our tracks: an aspiring Olympic gymnast, Taylor suffered a devastating accident while in training that left her paralyzed and in a wheelchair. Driven to overcome her challenges and transform her situation into something meaningful and extremely valuable to lives, she launched Cup of Té in 2018 with the goal of providing the world's finest loose leaf organic teas and teaware.
Marissa started the company with the intention of empowering women, like her, to get things done and found a gap in the market of a journal that suited the needs of a twenty-something woman in business.
Between these two ambitious women, we learned of how they grew their companies online and Shopify was a driving force to their success.
June 15

#SoulSessions: In Conversation with Muluba Habanyama
We regularly check in with our community to see if there are particular speakers they'd like to see on our stage. This year, we were introduced to Muluba Habanyama, Communications specialist, health advocate, & content creator. Muluba shared her incredible journey of what life has been like having HIV. When Muluba was two years old, she, her mother and father were all diagnosed with HIV. For years Muluba was told to keep her diagnosis a family secret, which resulted in feelings of shame and isolation. After losing her father to HIV when she was 14, and her mother to cancer when she was 19, Muluba felt a sense of rebellion to ignore the fact she had HIV. Her rebellion ended her up in the hospital, and Muluba was forced to decide how she would live her life. Muluba chose to focus on self-care, fight her illness and finally open up in sharing her secret with the world. Her bravery in sharing her personal journey with HIV opened her eyes to hope, support and strength, and she's realized how normal of a life she can actually live with her condition. Muluba is on a mission to further educate the world about HIV. Although there have been incredible advances in HIV research and treatments, the lack of education and stigma is still very present. We are so honoured Muluba spoke to our community and we are so excited to continue following her journey. She is a true representation of what resilience and optimism looks like.

The Virtual Customer Experience
Having a wonderful experience is what motivates us to repurchase, revisit and essentially, re-experience. Experience is everything—in business and personal life. Customer Experience Design Expert, Crystal D'Cunha, spoke to us about how customer behaviour has shifted with virtual sales and how businesses need to ensure they're offering customers exceptional online experiences. Did you know 86% of buyers are willing to pay a little more for a great customer experience? We totally fall under this statistic! An awesome online customer experience feels so good…it feels VIP! Crystal asked the audience to think about a few questions, like how much would you charge for JUST your service? And what is the top priority for your business in the next five years? These questions got us really thinking and we're excited to dive deeper into them. Crystal shared that designing customer experience is just as important as designing any other aspect of your business. One of our key takeaways from this insightful presentation was to ensure that the experience you're offering is relevant to everybody in your ideal customer persona, but also relevant to the current time and trends.
June 16
The Power of Wholesale, diversify your e-commerce with Faire
Faire kicked off this unique segment by posing the question: Why wholesale? Jen Burke, Head of Sales and Account Management at Faire, took to the Atelier stage and shed powerful insights into how to help scale and unlock brand new sales channels with access to MILLIONS of retailers across the globe! Think about Faire like a curated wholesale marketplace, connecting more than 200,000 independent retailers with thousands of emerging and established brands. We were SO intrigued as she broke down the opportunities on just how you can set your brand up for success in selling wholesale—and how they will support you every step along the way!


Happy Hour with Veuve Clicquot + Keynote Conversation with Lilly Singh & Kayla Grey
We'll just start by saying that if you're looking for a sign to get a Reimagined ticket, take this as your sign (it's not too late)! Before we opened the floor to Lilly and Kayla, we had a beautiful one-on-one chat with Kayla where we got to know a little more about her journey to where she is today (ahem, she's making BIG WAVES!). We're loving Kayla's new show, The Shift, and we admire her beyond words for what she does for women in sports. The work she does for women in sports translates to inspiring, empowering and encouraging women from all walks of life. She is truly one of our favourite people!
Next up was the moment we've been counting down for since we announced The Atelier: Reimagined, our keynote conversation between Kayla, and Actor, Producer and Creator, Lilly Singh! We were literally on the edges of our seats (with Veuve in hand, of course) listening to these two game-changing women talk. We loved hearing Lilly's perspective on money—a topic that isn't often talked about in the world of women in business (or in any relation to women for that matter). Lilly shared money was never her goal when she started out, but the more success she's earned, the more she realizes that money truly is power and helps when influencing and creating change. We loved when Lilly shared that you have to willingly make yourself the dumbest person in the room (and to check your ego at the door). We all know we can't do everything, and she said that by letting go of certain tasks and letting someone better than you take them on, you'll only further succeed and grow. When Lilly feels unmotivated, she borrows motivation from other people. This point was a huge takeaway for us: scheduling inspiration into your day (we're going to start scheduling this tomorrow). There was so much that was said, but we'll leave you with this last piece of gold from Lilly: "Don't be afraid to insert yourself and speak up. Your community wants to see you win." We cannot wait to re-watch this conversation as part of our "scheduled inspiration" next week!
June 17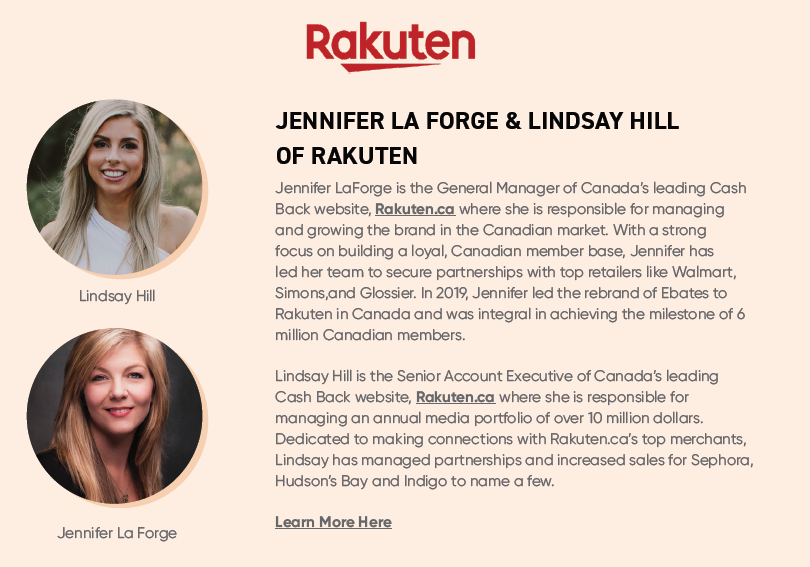 How to Access An Audience of 6 Million Shoppers!
Six million shoppers…SIX MILLION shoppers! Yes, you read that right. Rakuten, a worldwide cash-back service, has an audience of six million active online shoppers (us included). We loved learning more about this incredible platform, which connects businesses (big and small) with shoppers who essentially get paid to shop. Rakuten is a form of affiliate marketing and after we learned more about this form of marketing, it sounds like a no brainer for any business…especially since Rakuten is truly a fit for any brand. Rakuten shared what performance looks like for businesses enrolled in their program and walked us through how to join. We were scribbling down our notes the entire session and we can't wait to further dig into this incredible platform.

The Future of the Retail Shopping Experience: AI + Technology
We always love when we get the opportunity to talk with Jennifer Harper, CEO of Cheekbone Beauty. Jenn's story of how she started Cheekbone Beauty is so inspiring and we admire her ability to speak up, be vocal, educate and share knowledge as a force for change. She is an incredible trailblazer! We loved hearing Jenn's thoughts on social entrepreneurship, where she made such an excellent point in that throwing dollars at a problem isn't a solution, especially with the system as broken as it is. She shared that one small business isn't going to make a large scale impact, but implementing change will at least impact one person's life. Jenn discussed the importance of consistency when it comes to business, but also in making change, and we loved hearing her perspective on their sustainable practices. Jenn's constant innovation in how she is applying unique technology to her website, such as colour matching through filters, BLEW.OUR.MINDS. We truly look up to Jenn and we can't wait to start shopping for Cheekbone Beauty at Sephora!!!
Coming up next week…
We are super excited for next week's theme: Leadership. There are going to be so many amazing takeaways and insight from a roster of incredible leaders. Do you have your tickets? Happy Screen-Free Friday and see you all Monday!