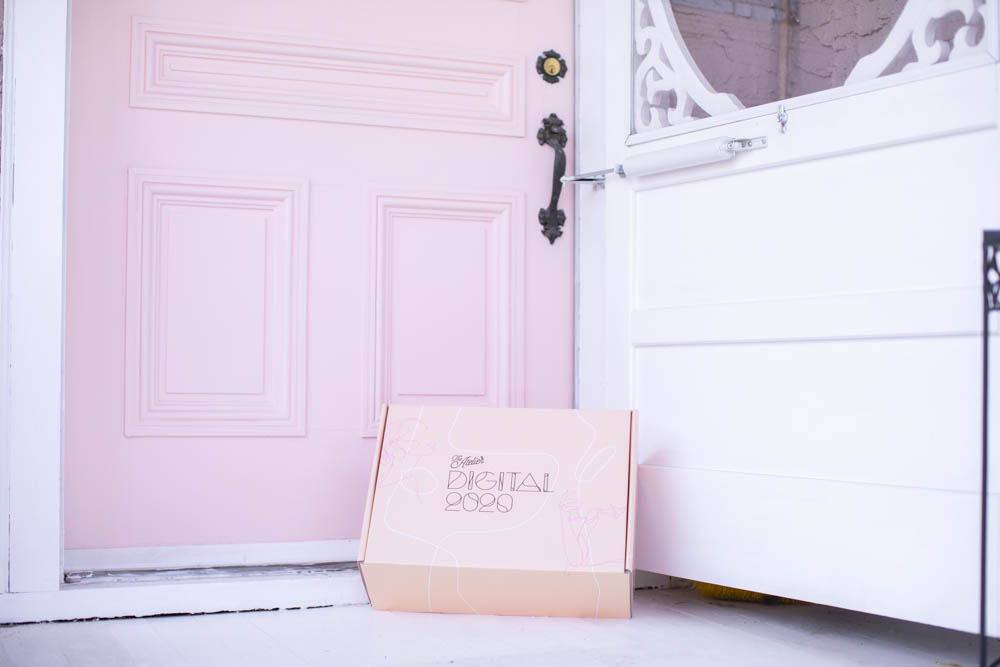 Experience Boxes: From Vision to Your Front Door!
What happens when the aesthetics of an immersive, live event can no longer be experienced as they were before? THIS was the question we were facing earlier this year when all in-person events were cancelled for the foreseeable future. With our 2020 plans needing a complete overhaul, we knew we needed to get creative.
We quickly decided to shift our signature event into the virtual space—but just going digital wasn't going to be enough. We reflected on our brand as a whole, and rooted deep within our mission is that the guest experience is what matters most. But, how does this come to life digitally? We knew we needed to weave the elements that were synonymous with an Atelier event into this new format—and we knew this had to be done through a curated delivery.
We had no choice but to swiftly verse ourselves on logistics and how our vision would translate into a beautiful at-home experience for our conference attendees. So first thing first—we needed to find a reputable company who could create a beautiful, luxe box for all of our products to be delivered in. And for us, the visuals and quality of the box were of the utmost importance—as for many conference attendees, THIS would be the first look into our foray into a hybrid digital world.
A google search proved to be overwhelming. But we remembered our good friends Taylor and Jennifer over at Cardea Auset had previously worked with a company to curate beautiful boxes in packaging their products.
We LOVE how beautiful and unique their packaging is, so we had to ask them… how exactly does their packing build into the brand experience, and how do they approach the design process? This was all new to us, so their rich and helpful response pointed us in the exact right direction:
Brand Experience
"The packaging is the user's introduction to the product. It's the cover of the book. Everything from the shine of the foiled font and chalice to the soft-feel of the box lends itself to this experience. We want our packaging to draw you to it, invite curiosity about the product and the brand, and make you feel good when you look at it or receive it as a gift.
When it comes to packaging design, we follow the same rules as we do in other areas of the business: lead with feeling. What is the product being used for? When and how is the product being used? What is the mood or feeling we want to convey?
When we launched in 2017, our packaging was quite different than it is today. Our guiding principles at launch were clean, feminine, and minimal, while incorporating our eco-conscious values like having stamped glass bottles and jars. Our current assortment was designed to reflect our own shifting tastes, and to be more visually drawing in retail spaces. We adapted the same principles – clean, feminine, minimal, glass – to our v2 design, only integrating the lessons learned over our first year in business as our list of retailers started to grow, and as our vision for the brand developed." – Taylor & Jennifer from Cardea Auset
Discovering our Packaging Partner: Whitebird
This fell completely in line with our mindset of how we wanted to adapt our brand aesthetics into the delivery experience. Our conversation with Taylor and Jennifer proved to be helpful as they let us know that during their hunt for branded mailers, they came across a Hamilton, Ontario-based supplier, Whitebird. They were able to seamlessly customize one of the templates with a simple two-colour palette, which was the most affordable option for them at the time.
Respecting Cardea's feedback and viewpoint, we immediately reached out to Whitebird. We quickly hopped on a call with their sales team, where they probed us on all the preparation questions one should know about steps moving forward with a box…
What size and weight are you looking for?
How many colours on the box?
What is the purpose of the box?
What sort of items need to fit into the box? How much weight do you expect it to carry?
We were armed with the information we needed to give the green light on this project, and off we went to the design process.
Designing the Box
Next step: designing the box. With a focus on the visuals of the box, we needed to bring in all of the design elements of our first virtual conference, Digital 2020, into the unboxing experience—and that begins at first glance. Our graphic design team, Nightshift—who we've been working with since day one—enthusiastically jumped into this project with us. The team at Whitebird provided us with the design specs we needed to share with Nightshift, and they were off to work.
This process was almost TOO easy. The team at Nightshift quickly provided us with a few options for the design of the box, and once we selected one, we sent over the final copy to Whitebird.
Next, Whitebird sent us a "proof" of the box, which could be seen in flat layout, as well as a really unique 3D view! We gave the green light on the box and the countdown was on!
Once confirming our order, we were in queue for the print job. After getting to know the team at Whitebird over the course of the design process, Jo-Anne, our direct contact,  shared the details of the high-tech machine that would be printing the boxes – one that is unique to Canada and worth $8 million!
Check out "How it's Made" in the video below!
When the boxes arrived at our fulfilment centre only a couple weeks later, we were smiling ear to ear at the high-quality, durable and absolutely BEAUTIFUL boxes. These unique boxes provided the special touches we needed in order to make our conference immersive, beautiful and memorable. 
We are so grateful for the referral from Cardea Auset and are so happy with our experience—start to finish—with Whitebird!
If you are looking to incorporate some luxe packing to complement your brand, we highly recommend getting in touch with the incredible team at Whitebird!  Feel free to contact j.swales@whitebird.ca!